February 16, 2017
As we look back on an active 2016, and ahead to the rest of 2017, ushered in by a new administration, Gibson Dunn's Media, Entertainment and Technology practice group has taken stock of a particularly active period in deal-making, including Hollywood going (even more) global and the world coming to Hollywood.  First Amendment cases in privacy, defamation, and the right of publicity have reshaped the landscape and jolted the industry.  Elsewhere in litigation, there was much to consider in copyright, video gaming, and music, and it was a particularly fertile year for developments in art law.  As always, we are pleased to be able to keep you up to date on these cutting-edge issues.
__________________________
TABLE OF CONTENTS
I.        Transaction & Regulatory Overview
1.   NBCUniversal Acquires DreamWorks Animation
__________________________
I.     Transaction & Regulatory Overview
A.     An Active Year in Studio Deal-Making
In addition to the widely reported announcement of the proposed $85 billion merger of AT&T and Time Warner that will combine video content with video distribution, there have been a number of other notable deals in Hollywood over the past year.
1.     NBCUniversal Acquires DreamWorks Animation
In August of 2016, NBCUniversal, part of the Comcast Corporation, acquired DreamWorks Animation ("DWA") for $3.8 billion.[1]  Former CEO of DWA Jeffrey Katzenberg will no longer serve as CEO following the acquisition, but will remain in a leadership position, serving as chairman of DreamWorks New Media, which oversees DWA's two digital ventures: Awesomeness TV and NOVA.[2]
DWA will become part of the Universal Filmed Entertainment Group, alongside Universal Pictures, Fandango and NBCUniversal Brand Development.  Regarding the acquisition, Steve Burke, CEO of NBCUniversal, stated, "DreamWorks will help us grow our film, television, theme parks and consumer products businesses for years to come."[3]  While DWA is best known for its family films such as Shrek and Kung Fu Panda, many took note of Burke's mention of theme parks and consumer products, believing that value in this deal could come from opportunities relating to amusement park integrations and merchandising, in the same vein as Disney's acquisition of Lucasfilm and its early cross-platform successes with the Star Wars franchise.
The $3.8 billion valuation of DWA was a welcome announcement for other entertainment production companies.  After the deal was announced, shares of Lionsgate rose more than 7 percent and Viacom saw its stock jump almost 9 percent.[4]
2.     Lionsgate Acquires Starz
Two other recent mergers have signaled studios' eagerness to diversify their media business and gain more direct distribution to consumers.  In December 2016, Lionsgate closed its acquisition of Starz for $4.4 billion in cash and stock.  The merger, first announced in June 2016, received the overwhelming approval of the two companies' shareholders, receiving 98% and 95% approval at the companies' respective shareholder meetings.[5]  Speculation of a merger began in February 2015, when the companies exchanged minority stakes and Starz investor John Malone joined the board of Lionsgate.[6]  As a result of the merger, Lionsgate has grown into a more diverse media company, now spanning film and TV production as well as cable-based subscription and online-streaming services.
3.     Fox Turns to Sky
On December 15, 2016, 21st Century Fox announced that it had reached an agreement to acquire Sky plc, Europe's largest pay-TV and online streaming service provider.  Fox offered Sky shareholders £10.75 ($13.61) per share in cash for the remaining 61% of shares not already owned by Fox, resulting in a £18 billion ($22 billion) valuation of Sky.[7]  The stock acquisition is being structured as a "scheme of arrangement," which would allow the takeover to move forward with only 75 percent approval of independent shareholders, rather than the standard 90 percent shareholder approval needed for a traditional takeover.[8]  The transaction would result in Rupert Murdoch, the owner of Fox, expanding his U.K. and European media business by growing Fox's direct-to-consumer capabilities in the region.
B.     Consolidation in Cable
1.     Altice's Acquisition of Cablevision
Altice became the fourth-largest broadband provider in the U.S. in 2016 after its $17.7 billion (including debt) acquisition of the New York-based cable operator Cablevision Systems Corp. in June of 2016.[9]
As a condition to approving the acquisition, the New York Public Service Commission required Altice to commit to passing on to customers 25% of its estimated $450 million in savings in operational costs from the merger.[10]  New York state regulators estimate that conditions of the deal will bring $243 million in benefits to New York consumers.  In addition, the FCC required Altice to retain Cablevision's consumer-facing staff for the next five years.
Altice's acquisition of Cablevision follows Altice's 2015 acquisition of St. Louis-based cable company Suddenlink (which was the seventh largest U.S. cable company before being acquired).[11]  Chairman and chief executive of Altice USA, Dexter Goei, indicated that the company plans to continue its acquisitions in the U.S. cable market, but not before integrating its recently acquired assets and units across the country.[12]
Altice's recent acquisitions continue the market trend of cable company consolidation, with large cable companies acquiring smaller operators to take advantage of economies of scale.  As CEO of AT&T Entertainment Group John Stankey announced following AT&T's acquisition of DirecTV, "We didn't buy DirecTV because we love satellite exclusively as a distribution medium, we bought it because it gave us scale in entertainment."[13]  We may see even more consolidation in 2017 as the major cable providers continue to view acquisitions as a way to create cost savings and reach new audiences.
C.     China Comes to Hollywood 
In December 2016, the Chinese State Administration of Press, Publication, Radio, Film and Television announced that there were 40,917 movie screens in mainland China.  Assuming the accuracy of these numbers, China has surpassed the United States in the number of movie screens in a single nation (the US had 40,759 screens in 2016).  With an average rate of twenty-six new screens opening per day in China in 2016, along with a rapid increase in box office revenues, China is on pace to become the biggest film market in the world in 2017.  Additionally, Chinese investors' interest in the U.S. entertainment and media market has continued throughout 2016 and shows no sign of slowing down in 2017.  Between 2014 and the first half of 2016, Chinese investors made thirteen equity investments amounting to $5 billion, including the Wanda Group's acquisition of Legendary Entertainment.  With this uptick in acquisitions by Chinese companies, it is speculated that China's share of the U.S. entertainment and media market is currently around five percent and growing.
As China continues to establish itself as a major player in world-wide entertainment, in October 2016, Wang Jianlin, Chairman of the Wanda Group, announced a forty percent rebate for foreign and domestic films and television shows that film at the Wanda Group's studio in Qingdao, China.  The rebate amounts to a subsidy valued at $750 million over a five-year period.  However, the company has recently caught the attention of sixteen members of Congress who wrote a letter urging greater scrutiny of Chinese investments in the U.S. entertainment and media sectors.  The letter cited the Wanda Group's acquisitions of Legendary Entertainment and AMC, and voiced concerns of possible Chinese efforts to exert political influence on American media.
Despite these concerns, in December 2016, the Justice Department approved AMC's purchase of Carmike Cinemas for $1.2 billion.  As noted, AMC is owned by the Wanda Group and the merger will make the company the owner of the largest U.S. movie theater chain.  This acquisition will help further the Wanda Group's goal of owning twenty percent of the global movie theater seats by 2020.  In order to receive approval, AMC had to agree to sell off some theaters and holdings in fifteen geographic areas that overlap with Carmike Cinemas.  Additionally, AMC must reduce its interest in National CineMedia since Carmike is a major backer of its competitor Screenvision Exhibition.
Meanwhile, proponents of China's investments in Hollywood welcome the influx of investments and the potential to reach the growing Chinese market that is controlled by that country's revenue sharing program, which only permits thirty-four foreign films to reach its market a year.  The increase in Chinese-American co-productions, which can be exempted from the quota, is likely to continue in light of the importance of the Chinese market.
D.     Streaming Goes Global, Skinny, and Social (and Faces Some Resistance)
Chinese companies and investors are not the only ones racing to establish themselves in the global entertainment and media market.  The competition between Netflix and Amazon has heated up in a competitive effort to reach foreign markets and expand their presence, while Hulu continues to carve out its own unique niche in the U.S. market.
1.     The Global Streaming Race
In January 2016, Netflix launched in over 130 countries, reaching more than 190 nations and territories, and was essentially the only major video streaming service operating worldwide, while Amazon Prime Video reached the U.K., Germany, Austria and Japan.  However, in December 2016, Amazon Prime Video launched in over 200 countries and territories at a lower monthly price than Netflix, bringing significant competition to the online streaming market.  For both companies, content selection, outside of their original content, will depend on securing global rights to licensed content.  In 2017, both companies are likely to focus on their new global audience by releasing content that reflects their widespread reach and providing more content in foreign languages.
2.     Hulu's Skinny Bundle
This year, Hulu released more details on its forthcoming internet TV streaming service, commonly referred to as the "Hulu Skinny Bundle," set for release in 2017.[14]  In a press release describing the forthcoming Hulu Skinny Bundle, Hulu executives stated that the streaming service will give its subscribers access to "more than 35 top networks" including various Fox and Disney channels (two of the companies jointly operating Hulu.)[15]
More good news for potential Hulu Skinny Bundle subscribers came in August of 2016, when Time Warner announced that it would acquire 10% of Hulu for an estimated $583 million.[16]  As part of this deal, Hulu's Skinny Bundle will carry all of Time Warner's Turner cable networks (including TNT, with its live sports offerings such as NBA playoff games and March Madness).  Time Warner's investment could also mean Hulu could potentially incorporate HBO into its streaming services.
3.     New Directions at Twitter
This past year, in an effort to broaden its user base, Twitter landed an exclusive deal with the National Football League to deliver a live OTT digital stream of the NFL's Thursday Night games during the 2016 season.  For $10 million, the social media platform received the right to stream ten games, valuing each game at $1 million.  Twitter won the bid for the NFL package against Verizon, Yahoo!, and Amazon.  This deal reflects the NFL's awareness in the growing number of cord-cutters and the trend toward streaming content over the internet, especially among its target demographic of 18-34 year olds.  Deals with social media networks give content producers who traditionally distribute through broadcast or cable another avenue to reach a younger demographic.  If this deal proves successful, we will likely see an increase in live-streaming deals between content producers and social media networks, particularly in sports, which continues to attract viewers for live broadcasts.  Notably, Twitter has already signed a series of live-streaming deals with Wimbledon, CBS News, the National Basketball Association, Major League Baseball, the National Hockey League and the Pac-12 Network.
Additionally, in September 2016, news broke that Twitter might be up for sale, with speculation about potential buyers such as Google, Salesforce.com and The Walt Disney Company.  However, by October it appeared that all potential bidders had backed off, in part over concerns regarding Twitter's approach toward ending user harassment and its ability to generate revenue.  Whether there is a new buyer for Twitter has yet to be seen.
4.     The Rise of the "Netflix Tax"
State and local tax authorities appear eager to fill tax revenue gaps that have resulted from consumers trading in traditional sources of entertainment for online-only sources, such as Netflix, Hulu, Spotify and Xbox Live.  As a result, we have seen the rise of so-called "Netflix taxes," which are specifically designed to tax these digital entertainment services.  The most noteworthy examples so far have been implemented in Chicago, Pennsylvania, and Pasadena (California), each of which takes a unique approach on how the tax is implemented and to what services it applies.  For example, the Pennsylvania Netflix Tax, which passed in 2016, extends the state's 6 percent sales tax to digital downloads, subscription services, music, e-books, apps and games, as well as any updates, maintenance or support of these items.  In contrast, Pasadena city officials announced their own plan to implement a new 9.4 percent tax focused only on paid video streaming services.  Pasadena officials confirmed that the new tax is intended to compensate for lost tax revenue resulting from falling cable TV subscriptions.
On June 9, 2015, the city of Chicago's Finance Department extended its 9 percent "Amusement tax" on entertainment to include all "electronically delivered amusements" and "nonpossessory computer leases."[17]  The Chicago tax is more expansive than its Pennsylvania and Pasadena counterparts, as it targets all paid-for digital media as well as any services utilizing cloud computing or storage.  However, the tax is being challenged by a group of Chicago residents in the Circuit Court of Cook County, Illinois, which alleges two bases for overturning the tax.[18]  First, the plaintiffs claim that the Chicago Finance Department's decision to apply its Amusement tax to streaming services amounts to a new tax that must have been passed by a vote of city officials.[19]  Second, the plaintiffs claim the tax imposes a discriminatory tax on electronic commerce in violation of the Federal Internet Tax Freedom Act by granting tax exemptions to purveyors of live media and entertainment, such as live music and theater, and even Netflix's own DVD delivery service.[20]  The case is still pending in the Circuit Court of Cook County, Illinois.[21]
II.       Litigation Overview
A.        First Amendment Takes Center Stage: Defamation, Privacy, and Publicity Rights
First Amendment cases took center stage in 2016:  President Trump campaigned on, among other things, the promise to loosen libel laws, and threatened to sue several media organizations, including The New York Times, in response to the paper's reporting on his tax returns and sexual assaults.  2016 also featured the first-ever trial pitting a celebrity against a media organization for the posting of a sex tape.  A Virginia jury determined that a news source (Rolling Stone) can be held liable for the republication of defamatory statements, but not necessarily for the original publication of those statements.  And the Ninth Circuit held that an anti-SLAPP motion may defeat a right of publicity claim, while another right of publicity case had the odd procedural posture of having its plaintiff pass away while litigation was pending.
1.       Hulk Hogan v. Gawker
One of the most talked about lawsuits in the press this year was the culmination of Hulk Hogan's four-year battle against Gawker, which ultimately led to the online media company's demise.  In October 2012, Gawker published a less-than-two-minute excerpt of a 30-minute video showing the famous wrestler Hulk Hogan (né Terry Bollea) having sex with Heather Cole, the then-wife of his best friend, Tampa-area radio personality Bubba the Love Sponge (real name Todd Alan Clem).  Gawker posted the sex tape alongside an essay by then-editor-in-chief A.J. Daulerio musing about celebrity sex.
Eleven days later after Gawker posted the video, Hogan filed two lawsuits for invasion of privacy, illegal wiretapping, violation of right of publicity, and intentional infliction of emotional distress–one in federal suit in the Middle District of Florida against Gawker Media, its founder and CEO Nick Denton, and Daulerio;[22] and one in Florida state court against the Clems, who had recorded the video without his knowledge.[23]  After the federal court declined to grant a temporary injunction on grounds that it would constitute a prior restraint on free speech,[24] Hogan dismissed the federal action[25] and amended his state court complaint in December 2012 to add the Gawker defendants.[26]
Florida State Court Judge Pamela Campbell granted Hogan a temporary injunction in 2013,[27] but  Gawker refused to remove the post from its website, arguing that the order "is risible and contemptuous of centuries of First Amendment jurisprudence."[28]  The injunction was stayed on appeal,[29] and then denied in 2015 by the appeals court.[30]  The District Court of Appeal of Florida found that it was an unconstitutional prior restraint under the First Amendment.[31]
At trial, the case became an implicit battle between the First Amendment, which guarantees freedom of the press and freedom of speech, against a citizen's Fourteenth Amendment right to privacy under equal protection of life, liberty, and property.  While Gawker argued that it was within its First Amendment right to determine what was newsworthy, Hogan claimed that the video violated his privacy rights as Terry Bollea, a private citizen untethered from his celebrity wrestling persona as Hulk Hogan.
In March 2016, after a two-week trial, the Florida state jury determined that privacy rights outweighed the right to make speech.  It found Gawker Media liable and awarded Hogan $115 million in compensatory damages and $25 million in punitive damages.[32]
Unbeknownst to Gawker until after the trial had concluded, Silicon Valley billionaire Peter Thiel, who had been outed as gay by a Gawker blog in 2007, secretly provided financial backing for Hogan's lawsuit and others suing the company.  Gawker considered pursuing legal action against Thiel, but three months after the verdict the company filed for Chapter 11 bankruptcy protection and its assets (not including the main Gawker blog) later sold to Univision.  Days later, the Gawker blog announced that it would entirely shutter its operations.  First Amendment advocates saw Thiel's actions as setting a dangerous precedent that could encourage other deep-pocketed individuals or entities to fund lawsuits again media organizations that are critical of them or against which they seek revenge, in effort to put them out of business.
In November 2016, the parties reached a settlement.  Hogan will receive $31 million plus a share of the distributions from a contingent proceeds creditor account in exchange for Gawker forgoing its appeal.  Hogan's lawsuit will unquestionably encourage other celebrities to pursue legal recourse against clickbait news outlets in similar situations.  For instance, in June 2016, Michael Jackson's nephews filed a $100 million defamation suit against Radar Online over multiple decades-old stories alleging that they were sexually abused by their uncle and accepted gifts to cover it up.[33]  The complaint alleges that "Radar has tried to profit by launching a vicious and unrelenting attack on [Jackson] based on claims that, years ago, he was guilty of sexual abuse, even though, at that time, he was found 'not guilty of that very charge.'"[34]  Radar Online filed an answer in September 2016 and litigation remains ongoing.
2.       Eramo v. Rolling Stone
Media companies are also concerned with the potentially chilling impact of a jury verdict finding that the magazine Rolling Stone was liable for defamatory statements stemming not from the original publication of those statements, but in the republication of them in an editor's note.
The magazine published a controversial article, "A Rape on Campus" in its November 19, 2014 issue describing a brutal gang rape of a freshman identified as "Jackie" at a University of Virginia campus fraternity.  Immediately following publication, The Washington Post identified major gaps in the magazine's reporting, which led to Rolling Stone issuing a formal apology for failing to thoroughly fact-check the article.  Following an independent report by the Columbia School of Journalism that faulted the publisher for gross reporting errors, Rolling Strone retracted the story and removed it from the website in April 2015.
A month later, Nicole Eramo, the university's former associate dean, sued the publication, the parent company Wenner Media and the writer Sabrina Rudin Erdely for casting her as the "chief villain" who "silenced" Jackie or "discouraged" her from reporting the alleged gang rape to the police.[35]  The suit survived the summary judgment stage in September 2016 and proceeded to trial.[36]
In November 2016, after a two-week trial, a federal jury decided in less than two hours that the defendants were liable on multiple counts of defamation and awarded $3 million in damages.[37]  The jury, however, did not find actual malice when Rolling Stone published the story.  It was only afterwards–when Rolling Stone republished the assertions in an editor's note the following week and made several other public statements–that the jury held the publication acted with actual malice.
In the immediate aftermath of the verdict, media companies are worried that apologizing or simply refusing to immediately retract a story may expose them to significant legal liability.[38]  As a result, eight media groups including The Washington Post, Associated Press, Gannet Co. and others asked the judge in an amicus brief to overrule the jury as a matter of law.[39]  They argue that "[t]he Court's decision to have the jury determine whether the defamatory information was 'republished' when an editor's note was attached would be harmful for news organizations and those who rely upon them for accurate news reports.  Upholding the current verdict would discourage the news media from correcting errors in their stories, particularly because not mentioning a particular fact from a story in the note constitutes 'republishing' it.  The only recourse available would be to require new sites to completely remove stories when any question of credibility is raised.  Neither choice . . . would serve the interests of the public."[40]
In February 2017, the court heard oral argument regarding Rolling Stone's motion for judgment notwithstanding the verdict, motion to reconsider sanctions, and the bill of costs.  The case remains pending at the post-trial briefing stage.
3.       Sarver v. Chartier
This year, the Ninth Circuit considered whether an anti-SLAPP motion can be used to successfully defend against a right of publicity lawsuit.
In March 2010, Army Sergeant Jeffrey Sarver sued the creators of the Oscar-winning film, The Hurt Locker, claiming that the film's protagonist was based on his experiences as a U.S. Army explosive ordnance disposal technician in Iraq; that he did not consent to such use; and that some scenes in the film falsely portrayed him in a way that harmed his reputation.  He brought multiple state law claims, including misappropriation of his likeness and right of publicity.
The defendants successfully transferred the case from New Jersey to California, and then moved to strike Sarver's complaint under California's anti-SLAPP statute–a powerful law that forces a plaintiff in a case seeking to punish another for invoking their speech rights (e.g., for defamation) to come forth with evidence to substantiate the claim at the very outset of the litigation.  The district court dismissed Sarver's lawsuit in its entirety in October 2011, finding that the anti-SLAPP statute applied because the defendants were engaged in the exercise of free speech (the film) in connection with a public issue, and that the film's use of Sarver's identity was transformative.[41]
In February 2016, the Ninth Circuit affirmed the lower court's dismissal.[42]  It first held that California law was properly applied, instead of New Jersey law, because California had the most significant relationship to the litigation.[43]  On the merits, the Ninth Circuit applied the anti-SLAPP statute's two-prong analysis.  First, the film and its central character spoke directly to issues of a public nature, specifically the Iraq War and the use of improvised explosive devices.[44]  Second, the film was speech fully protected by the First Amendment because the creators had sufficiently "transformed" the material into art.[45]
Because Sarver could not show a compelling state interest in preventing the defendants' speech, applying California's right of publicity law against that speech would violate the First Amendment.  The Ninth Circuit concluded that Sarver had not built up any economic value in a marketable performance of identity to warrant protection under right of publicity.  As a result, the district court did not err in granting defendant's anti-SLAPP motion.[46]
The Ninth Circuit's ruling will not only make it easier for entertainment companies to create stories ripped from the headlines so long as they sufficiently "transform" the material into art, but also empower them to use anti-SLAPP statutes to defend against future lawsuits.
4.       The Straight Outta Compton Case
Last year, former N.W.A. manager Jerry Heller filed a defamation suit against the producers of the hit film Straight Outta Compton, along with Legendary Pictures, Compton Records, director F. Gary Gray, and others, claiming that the film falsely portrayed him as responsible for instigating the breakup of N.W.A.[47]  In June 2016, the Court granted defendants' motion to strike as to all the allegedly defamatory scenes listed in the amended complaint, except for two scenes stating or implying that Heller discouraged the rapper Ice Cube from retaining an attorney during contract negotiations.[48]
The litigation took an unexpected twist in early September 2016 when Heller passed away from a heart attack.  He was set to be deposed in August, but his attorneys canceled the day prior citing an unspecified conflict of interest.  As of January 2017, Heller's nephew was named executor of his uncle's will and in that capacity filed a motion to continue the lawsuit on the estate's behalf.[49]  Should the court permit this case to proceed with Heller's estate as the plaintiff, it will set up an unusual situation where a defamation case is litigated past the death of the plaintiff.
B.        Copyright Litigation
1.       The DMCA and Pre-1972 Sound Recordings
In a decision with far-reaching impact for online hosts, the Second Circuit in Capital Records v. Vimeo ruled that the Digital Millennium Copyright Act's (DMCA) safe harbor provisions protect online hosts, such as Vimeo, from copyright liability for musical recordings that predate 1972, despite the fact that these recordings are not covered by federal copyright law.[50]
The decision also clarified the meaning of "red flag knowledge" and willful blindness in the context of the DMCA.[51]  In doing so, the Second Circuit reversed the lower court's decision categorically excluding any copyright claims based on pre-1972 songs from the DMCA safe harbor, thus becoming the first federal appeals court to rule on this issue.
The DMCA contains safe harbor provisions, which shield qualifying Internet Service Providers (ISPs) from liability for copyright infringement when their users upload infringing material on the ISP's site and the ISP is unaware of the infringement.[52]  So long as the ISP responds to the copyright holder's takedown request by promptly investigating and removing the offending content, the ISP is shielded from liability pursuant to the safe harbor provisions.  These provisions were enacted to shield the still-nascent Internet industry from the potentially crushing burden of copyright liability for sites that host third-party content by shifting the burden of actively monitoring these sites for copyright violations to the copyright-holder herself.
However, it had long been unclear whether this federal safe harbor scheme covered pre-1972 recordings.  This uncertainty stemmed from the fact that Congress created federal copyright protection for recorded sounds in 1972, but did not make this protection retroactive, leaving pre-1972 recorded songs covered by a patchwork system of state-level quasi-copyright laws.[53]  In the past few years, record labels have been somewhat successful in advancing the argument that the DMCA's safe harbor provisions do not, in fact, shield sites from liability for hosting pre-1972 songs.  In a case filed by UMG Recordings against the now-defunct online streaming service Grooveshark, a New York appellate court ruled that the provision did not protect Grooveshark against pre-1972 claims.[54]  The Copyright Office has also endorsed that view.[55]  This position, however, ran directly contrary to an earlier decision by a New York federal judge that found the safe harbor protected online music storage service MP3tunes from state-law copyright claims.[56]
With this backdrop of relative uncertainty, in the Capitol Records case, plaintiffs filed suit against Vimeo, alleging that Vimeo was liable for copyright infringement because it hosted 199 user-generated "lip dub" videos, featuring songs from the Beatles, Jay-Z, Radiohead, Lady Gaga and others.  The plaintiffs further argued that Vimeo had forfeited its protection under the DMCA's safe harbor provisions because it had "red flag" knowledge of the infringement, or was willfully blind to it, because some Vimeo employees had viewed, commented, and "liked" the infringing videos.
With respect to the videos that used pre-1972 songs, District Judge Abrams granted summary judgment to the plaintiffs, holding that "[I]t is for Congress, not the courts, to extend the Copyright Act to pre-1972 sound recordings."[57]  She also held that Vimeo did not void its safe harbor immunity by "willfully blinding" itself to infringement by its users.[58]  Following this decision, Vimeo moved for certification of an interlocutory appeal to the Second Circuit on the pre-1972 sound recordings issue, which was granted.[59]  In its appeal, Vimeo and other web hosts argued that they cannot police their sites for copyright infringement of only pre-1972 recordings without affirmatively monitoring everything that crosses their networks, which would negate the very purpose of the DMCA's safe harbors.
The Second Circuit's ruling, written by Judge Pierre Leval, was a clear victory for online service hosts such as Vimeo and YouTube.  The Court ruled that the DMCA's safe harbors protect online hosts like Vimeo from liability even for pre-1972 recordings that are not covered by federal law, because a ruling to the contrary would "defeat the very purpose Congress sought to achieve in passing the statute."[60]  The Court's opinion largely endorsed Vimeo's concerns, saying that Capitol's position would force ISPs to either "incur heavy costs of monitoring every posting to be sure it did not contain infringing pre-1972 recordings" or face "potentially crushing liabilities under state copyright laws."[61]
In addition to the issue of pre-1972 recordings, the Second Circuit's decision clarified the meaning of the "red flag awareness" and "willful blindness" doctrines related to the DMCA's safe harbors.  The Court resolved both of these issues strongly in favor of Vimeo and other ISPs. First, the Court overturned the district court's ruling that Vimeo might have had "red flag awareness" of the infringement because its employees viewed, commented, and "liked" them.  "A showing by plaintiffs of no more than that some employee of Vimeo had some contact with a user-posted video . . . is not sufficient."[62]  Citing its prior decision in Viacom International, Inc. v. YouTube, Inc.,[63] the court held that in order to make out "red flag" knowledge, Capitol Records needed to present evidence showing that "Vimeo personnel either knew the video was infringing or knew facts making that conclusion obvious to an ordinary person."[64]  Second, the Court rejected Capitol's claim that Vimeo "willfully blinded" itself to infringement by its users by encouraging them to post infringing videos and then looking the other way.  "[A] handful of sporadic instances . . . in which Vimeo employees inappropriately encouraged users to post videos that infringed music cannot support a finding of the sort of generalized encouragement of infringement supposed by their legal theory . . . [and does not] suffice to justify stripping Vimeo completely of the protection of [the DMCA's safe harbor]."[65]
Following the panel's decision, Capitol Records and the Recording Industry Association of America both filed briefs urging the Second Circuit to reconsider, or rehear en banc the panel's ruling.  They argued that the decision had ignored decades of precedent separating federal copyright law from state-level protections, and that it represented "a slippery slope" about what other aspects of federal copyright law might now be applied to pre-1972 recordings.  However, the Second Circuit denied their petition for rehearing en banc.[66]
On December 16, 2016, Capitol Records filed a petition for certiorari with the Supreme Court.[67]
2.       Licensing and Sampling: UMG Recordings v. Global Eagle Entertainment
In a closely watched case involving licenses to stream music as in-flight entertainment, Universal Music Group and Global Eagle Entertainment settled in August 2016, with Global Eagle's payout to Universal valued at almost $30 million.[68]  Universal had sued Global Eagle back in 2014, alleging that Global Eagle and its subsidiaries provided airline passengers with unauthorized access to works by Taylor Swift, Katy Perry, Elton John, Paul Simon, Eminem, and others.  The district court rejected Global Eagle's argument that the parties had reached an oral licensing agreement, stating that "[t]here is ample evidence that IFP knew it had no licenses from plaintiffs" and yet was "repeatedly making the business decision to continue its unauthorized use" of the songs.[69]  The district court granted Universal's motion for summary judgment, finding that Global Eagle willfully infringed more than 4,500 works owned by Universal and other related publishers.  Statutory damages for willful infringement under the Copyright Act can reach up to $150,000 per track.  A trial to determine damages was scheduled, but Global Eagle, facing a potential payout of $675 million, signaled its intent to settle.[70]  Commentators have noted that this litigation, and others like it, is a reflection of the music industry's decision to crack down on the "murky environment" surrounding in-flight streaming services.  However, facing such substantial penalties, some in-flight entertainment companies have elected to err on the side of safety, and have suspended music streaming services until formal licensing requirements have been satisfied.[71]
3.       VMG Salsoul LLC v. Ciccone
This past year, the Ninth Circuit shot down a copyright lawsuit against Madonna over a split-second music sample she used in her 1990 smash hit "Vogue," and in doing so, set up a circuit split on the important issue of whether a very small amount of music sampling constitutes copyright infringement.[72]  The decision was the first by a federal appeals court to directly reject the Sixth Circuit's controversial 2005 ruling in in Bridgeport Music, Inc. v. Dimension Films, which held that the de minimis defense to copyright infringement does not apply to sound recording copyrights.[73]  That decision has been controversial in the musical community, since it effectively turned any amount of sampling into copyright infringement, opening up sampling musicians to liability and rendering the Sixth District a plaintiff-friendly jurisdiction in song-theft cases.[74]
The Ninth Circuit's decision affirmed the district judge's 2013 ruling that Madonna's use of a 0.23-second "horn hit" from the Salsoul Orchestra's song "Love Break" was de minimis, and thus did not constitute copyright infringement.  The court noted the "consistent application of the de minimis exception across centuries of jurisprudence," including other artistic works (visual art, photography), and saw "no principled reason" to carve out an exception for sound recordings.[75]  Therefore, until and unless the Supreme Court grants certiorari on the issue, this decision affords musical artists a bit more room to experiment with sampling, so long as they are confident that any claims will be litigated in the Ninth Circuit, and remain conscious of the fact that other circuits, such as the Sixth Circuit, may look less favorably upon the de minimis defense.
4.       Discipline and Attorneys' Fees: Kirtsaeng v. John Wiley & Sons
The Supreme Court handed down a significant ruling in June 2016, clarifying when judges should award attorneys' fees to successful copyright litigants under the Copyright Act's discretionary fee-shifting provision, 17 U.S.C. § 505.  The Court held that the "objective reasonableness" of a losing party's position should be given "substantial weight" – but not necessarily control –the outcome of a fee petition.[76]
In a 1994 decision, Fogerty v. Fantasy Inc., the Supreme Court said that fees should be equally available to victorious plaintiffs and defendants, but did not establish a "precise rule or formula" for when they should be awarded.[77]  Rather, the Court handed down four "non-exclusive" factors for lower courts to consider – the frivolousness of the case, the losing party's motivation, objective unreasonableness, and considerations of compensation and deterrence.  Given the relative lack of guidance, lower courts began to diverge in how they weighed these factors.  Some weighed them evenly, others tried to serve "the purposes of the Copyright Act," and others, like the Second Circuit, placed a strong emphasis on the "objective unreasonableness" factor.
In this case, Supap Kirtsaeng attempted to recover more than $2 million in attorneys' fees after prevailing in a copyright infringement case brought against him by textbook giant John Wiley & Sons.  Kirtsaeng had been buying cheap foreign editions of Wiley's textbooks, and then reselling them in the United States.  However, in 2012, the Supreme Court ruled that the first-sale doctrine applies to works sold overseas, meaning that Kirtsaeng's scheme was lawful and did not violate Wiley's copyright.[78]  When Kirtsaeng sought attorneys' fees, both the district court and Second Circuit refused on the ground that Wiley's position in a difficult, unresolved issue of first impression – that the first sale doctrine did not apply to works sold abroad – had been objectively reasonable.[79]
In its decision, a unanimous Supreme Court largely endorsed the approach of the Second Circuit, writing that "a district court should give substantial weight to the objective unreasonableness of the losing party's position, while still taking into account all other circumstances relevant to granting fees."[80]  However, the Court nonetheless vacated the Second Circuit's decision, saying that it had perhaps placed too much emphasis on the reasonableness question.[81]  Thus, moving forward, the Court's opinion emphasizes that reasonableness is an important factor; however, it should not be a controlling one.  For example, the Court specifically mentioned two situations that could weigh in favor of granting attorneys' fees in cases other than ones involving unreasonable legal positions: one involved litigation misconduct, and the other "overaggressive assertions of copyright" in which a copyright holder filed hundreds of suits on an overbroad legal theory, many of which were reasonable, but which still led to fee awards for the other side.  In future cases, therefore, courts should weigh the reasonableness of the parties' positions, but also take into account factors such as misconduct or improper litigation strategies.
The Court described fee awards as "a double-edged sword" that both "increase the reward for a victory–but also enhance the penalty for a defeat."[82]  Therefore, the Court concluded that favoring awards in close cases, as Kirtsaeng had urged, would likely discourage parties from litigating those cases to completion by raising the stakes in suits where the outcome was already uncertain.  Rather, the Court reasoned that giving substantial weight to the "objective reasonableness" of the losing party's position "both encourages parties with strong legal positions to stand on their rights and deters those with weak ones from proceeding."[83]  Lastly, the Court noted that the "objective reasonableness" standard is an "administrable" one that the district courts can easily assess, having litigated the merits of the case.[84]
5.       Copyrightable Subject Matter
There were a few interesting developments in the area of copyrightable subject matter during the latter half of 2016.
In Solid Oak Sketches, LLC v Visual Concepts, Inc. (the "NBA 2K tattoo" case), a federal judge threw out claims for statutory damages by tattoo artist shop Solid Oak Sketches in its lawsuit against the maker of the popular NBA 2K video game series.[85]  Solid Oak had alleged that its designs–inked into the skins of NBA stars Kobe Bryant, LeBron James, DeAndre Jordan, and others–were used in the video game without permission and violated their copyrights.  The judge ruled that statutory damages were not available because the designs were registered with the U.S. Copyright Office in 2015, after the alleged infringement occurred.[86]  However, the judge ruled that Solid Oak may pursue actual damages related to lost income for the tattoos' appearances in the NBA 2K series.
A federal judge in Atlanta allowed a suit by 54 Sudanese refugees who say that their interviews with a screenwriter about their persecution in Darfur and ultimate journey to America are subject to copyright protection, and that they are entitled to joint authorship of the taped interviews.[87]  The refugees' interviews formed the basis of The Good Lie, a 2014 film starring Reese Witherspoon.  The judge ruled that the interviews were a "creative process designed to create material for a screenplay and film," and that this "likely includes enough creativity to render the Interviews an original work of authorship" under the Copyright Act.[88]  The case has proceeded to the discovery phase, and may impact the way that interviews and narratives are collected from real-life participants, and how those interviews are used in or form the basis of films or television programs.[89]
Late in 2015, Paramount Pictures and CBS Studios filed a lawsuit against the makers of a crowd-funded Star Trek inspired fan film ("Axanar"), accusing them of copyright infringement over various concepts in the Star Trek universe, including the Klingon language.[90]  Despite director J.J. Abrams' assurances at a Star Trek fan event that the case would soon be over, the movie studios were not prepared to give up.[91]  Studios have long tolerated, and sometimes even supported, fan-made films so long as they did not attempt to capitalize financially on copyrighted material.  While most fan-made films are modest, humble affairs, "Axanar" raised over $1.2 million through a crowd-funding campaign.  However, the producer of "Axanar" insists that this project was never about making money or competing with the official Star Trek movies.  After all, no one could "mistake it [Axanar] for an officially released 'Star Trek' movie that costs $150 million."[92]  Regardless, the movie studios refused to drop the suit, and both sides filed dueling summary judgment motions in federal court in Los Angeles in November 2016.  In early January 2017, a federal judge granted partial summary judgment for the plaintiffs, rejecting Axanar's claims that the project fell "squarely within the protection of fair use" and that it would not have "any negative impact on plaintiffs' market."  Rather, the judge held that "[t]he Axanar works are rightfully considered derivative works of the Star Trek copyrighted works," that Axanar "evidently intend[ed] for their work to effectively function as a market substitution to the Star Trek copyrighted works," and that "there is little doubt that unrestricted and widespread conduct of the sort engaged in by defendants would result in a substantially adverse impact of market substitution for the Star Trek copyrighted works."[93]  This decision set the stage for trial, scheduled for late January 2017.  Two weeks later, however, the parties reached a settlement in which Axanar acknowledged that its film had "crossed boundaries acceptable to CBS and Paramount" and "agreed to make substantial changes" to the film and follow new Star Trek fan fiction guidelines released as part of the settlement for future films.[94]
6.       Other Copyright Developments
 a.        GS Media v. Sanoma Media
In a case with implications for companies that operate abroad, in September 2016, the European Court of Justice issued a decision in GS Media v. Sanoma Media, holding that for-profit websites that hyperlink to unauthorized works are liable for copyright infringement.[95]  This decision was greatly praised by copyright holders, and heavily criticized by Internet companies.  In 2011, the popular Danish news website Geenstijl published multiple stories containing hyperlinks to various third-party sites where users could view and download nude photos of Dutch Playboy model Britt Decker.  Sanoma Media, which publishes the Dutch version of Playboy, complained to the third party websites, most of which took down the offending photos.  However, GS Media continued to thumb its nose at Sanoma by posting more hyperlinks to other third party site that had the photos.[96]
Sanoma Media initiated legal proceedings against GS Media in the Netherlands, where the Dutch Supreme Court referred the case to the European Court of Justice. EU law states that "Member States shall provide authors with the exclusive right to authorize or prohibit any communication to the public of their works . . . ."  At issue in the case was whether posting a hyperlink to infringing conduct qualified as a "communication with the public."  The court determined that in the case of a for-profit website like GeenStijl, it did.[97]  Practically speaking, this ruling means that commercial websites in the EU will have to conduct some due diligence to check whether the publication of content on another's website is made with or without the copyright owner's consent.  Not-for-profit websites, however, are under no such burden and can wait until they receive a takedown request.
b.        Fox v. FilmOn & Fox v. Aerokiller
The Ninth and DC Circuits are poised to issue decisions in 2017 in dueling cases on whether streaming services are eligible for a compulsory license to stream copyrighted television content, potentially setting the stage for a trip to the Supreme Court.  Section 111 of the Copyright Act gives cable companies automatic access to broadcasters' content, and the question in these cases is whether this compulsory license provision is limited to traditional cable companies, or applies to online streaming services as well.  In the past, web-based television services have generally been considered ineligible for the license, but in July 2015, a federal judge in Los Angeles ruled that FilmOn, a web-based streaming service, was eligible.[98]  The plaintiff in the case, Fox Television Studios, appealed to the Ninth Circuit.  Then, a few months later, a federal judge in Washington D.C. said the opposite – that Section 111 was intended only for traditional cable companies, and web-based streaming services did not qualify.[99]  Both cases have been appealed to their respective circuits, and a decision in both cases seems likely to come down in 2017.  The dueling cases have big implications for the growing Internet streaming industry and for the statutory license at issue.
C.        Agency Wars
Competition between the major talent agencies including WME, CAA, UTA, and ICM Partners is, as it has always been, fierce in Hollywood.  However, in March 2015, one of the largest mass migrations from one agency to another occurred when ten CAA comedy department agents departed to UTA, taking many of their clients along with them.
Two days after the agents left, CAA filed suit against UTA and the former agents who were not under contract, alleging multiple causes of action including intentional interference with contractual relations, international interference with prospective economic advantage, and breach of fiduciary duty, among others.[100]  Some agents were under employment contracts when they quit and those agreements demanded that any disputes be handled in arbitration, whereas others were not under contract, but could be sued for helping others break their contract.
After CAA amended their complaint twice, UTA fired back in its response, claiming that the former CAA agents were within their rights to make a move because the employment agreements only bound them to employment with CAA for a seven year period, and the agents at issue had exceeded that threshold.[101]  CAA sought to stay the proceedings pending a separate arbitration for the former agents under employment contracts, which the Court granted in September 2016 and remains pending.
D.        Video Games:  Original Madden Creator Loses Big on Royalties
The Ninth Circuit recently affirmed a district court ruling wiping out a large copyright infringement jury verdict against the developer of the "Madden NFL" franchise.  In 2011, a software developer brought an action against Electronic Arts ("EA") seeking contact damages for unpaid royalties.  Robin Antonick was originally hired by EA in 1984 to develop what later became the first game in the popular Madden series.[102]  At the time, his employment contract gave him the right to royalties on "Derivative Works," defined as "any computer software program or electronic game which . . . constitutes a derivative work of the Work within the meaning of the United States Copyright law."[103]  Antonick sought royalties for subsequent versions of the Madden game he did not work on, but which he alleged utilized his intellectual property.[104]  In 2013, Antonick secured a jury verdict in his favor.[105]  The successful verdict stood to be valued in the "tens of millions of dollars" in light of the $4 billion in sales Madden Football has generated.[106]
But in 2014, the district court overturned the verdict in favor of the video game developer.  The Court granted EA's motion for judgment as a matter of law.[107]  In accordance with Ninth Circuit law, the court found that Antonick's Madden game must be compared against the allegedly copied Madden games as a whole to determine whether "they are sufficiently similar to support a finding of illicit copying."[108]  The Court found that they were not.[109]  At trial and on motion, Antonick argued that his original work and EA's allegedly derivative works were similar "to their counterparts," using an element-by-element comparison.[110]  The court noted that because the jury had no evidence of Antonick's or EA's allegedly derivative works "as a whole," it could not make a subjective comparison that the works were "virtually identical."[111]  The Court also found that "because copyright law protects only similarity in protectable expression," similarities in the look of the game–that is, "unprotectable ideas"–will not be protected by copyright law.[112]
In November 2016, the Ninth Circuit agreed that the video game developer was not entitled to royalties for games created for different Madden platforms under his contract with the game manufacturer.[113]
E.        Music:  Mo' Streamers, Mo' Problems?
2016 was the year in which streaming became the primary mode of music consumption, with more than 251 billion on-demand streams, which accounted for 38% of the entire music-listening market, passing total digital sales for the first time.[114]  With its success, streaming has become a target of lawsuits.  Recently, several musicians have attempted to wield class actions as a sword in the ongoing battle between musicians and online streaming music services.  At the end of 2015, an independent rock musician filed a $150 million putative class action against Spotify, accusing the music streaming service of conducting an egregious and ongoing campaign of copyright infringement.[115]  The musician, David Lowery, alleges that Spotify is knowingly and willfully infringing on his rights to his music, and is wrongfully withholding royalty payments.[116]  According to the complaint, Spotify has publicly admitted to its failure to obtain licenses for some of the music it distributes or pay royalties to the copyright owners.[117]
A wave of class action suits against online streaming services followed.  In January 2016, Melissa Ferrick filed a similar suit against Spotify alleging copyright infringement.[118]  Then, in February 2016, the band The American Dollar filed a similar suit against Jay Z and his Tidal streaming service.  The suit alleged that Tidal failed to properly pay mechanical royalties, which go to songwriters when their compositions are recorded or reproduced.[119]  While streaming services can pay mechanical royalties either through direct deals with copyright holders or through a compulsory license from the Copyright Office, here, Tidal allegedly did neither.  And later, one of the bands Lowery performs with–Camper Van Beethoven–launched a class action against Rhapsody International Inc., seeking $150 million for alleged copyright infringement.
In the Spotify action, Lowery sought to obtain and review all of Spotify's communications with class members in its National Music Publishers Association (NMPA) settlement, one condition of which was that its members would waive their ability to participate in any legal action against Spotify, including Lowery's class action.[120]  Lowery was concerned Spotify might not be informing publishers and songwriters they are entitled to the settlement royalty payments and do not need to waive any claims to get them.  The district judge, however, denied Lowery's request because he did not name the NMPA in his suit.  Ultimately, the large percentage of the NMPA's members opting in to the settlement may imperil or at least significantly weaken Lowery's suit.
F.        A Banner Year in Art Litigation
 1.        The Battle Over VARA's Scope Continues
In 2016, courts limited the Visual Artists Rights Act of 1990's ("VARA") already narrow protections.  While VARA was designed to protect the moral rights of artists, the statute explicitly limits its protection to works of "visual art."[121]  The definition of "visual art" is "a critical underpinning of the limited scope of the [Act]."[122]  And because "applied art" does not receive VARA protections, the distinction between visual and applied art is important.  In June, the Ninth Circuit weighed in on the battle, attempting to draw the line between visual and applied art: "an object constitutes a piece of 'applied art'–as opposed to a 'work of visual art'–where the object initially served a utilitarian function and the object continues to serve such a function after the artist made embellishments or alterations to it."[123]
In essence, the Ninth Circuit limited what can be considered "visual art."  In following the Second Circuit, the Ninth Circuit considered the purpose of the art to be determinative in its analysis.[124]  The Court ruled that a replica 16th Century Spanish galleon created out of a school bus for the Burning Man counterculture festival was not "visual art" and thus is not protected under VARA.[125]  Two artists, Simon Cheffins and Gregory Jones, created the galleon, "La Contessa," by adding a façade, hull, decking, and masts to a school bus.[126]  While the structure was being stored on private property, the landowner of the property burned La Contessa so that a scrap metal dealer could remove the underlying school bus.[127]  The artists sued for damages under VARA, with the Ninth Circuit holding that the artists could not recover because the structure "began as a rudimentary utilitarian object, and despite being visually transformed through elaborate artistry, it continued to serve a significant utilitarian function upon its completion."[128]  The structure was used at Burning Man as a vehicle providing rides, as a venue for hosting weddings, as a stage for poetry shows, and as a centerpiece for a children's treasure hunt.[129]  In short, because the bus retained a largely practical function, it was not deserving of VARA protections.
Despite the limitations on VARA, artists continue to attempt to utilize its protections to obtain damages awards.  In January 2016, a Detroit artist asked a district court for VARA protection for her mural on a brick building on one of Detroit's main thoroughfares.[130]  The court's ruling is anticipated this coming year.
2.        Authentication Triumph for Peter Doig
In a case that had potential far-reaching consequences for artists in the market and courts dealing with art law, a district court judge ruled in favor of an artist in a bizarre suit that sought to determine the legitimacy of a painting where the alleged artist denied ever having painted it.  A private owner and art dealer filed an action against artist Peter Doig requesting a determination that a disputed work in their possession be ruled as an authentic Peter Doig painting, which would have rendered it very valuable (worth approximately $10 million, according to the complaint).[131]  The district judge, after a bench trial, however, found in favor of Doig.[132]  In a ruling that had the potential to significantly increase the courts' power over the art market, the judge declined to find in favor of the owner of the disputed work where a living artist himself contested the authenticity of his alleged painting and the evidence did not establish otherwise.
3.        California Resale Royalty Act Preempted by Copyright Law
In April 2016, a federal district judge ruled that the California Resale Royalty Act (CRRA) is preempted by federal copyright law.[133]  The CRRA requires the seller of fine art to pay the artist a five percent royalty as long as "the seller resides in California or the sale takes place in California."[134]  The act also applies to art agents, such as art galleries.[135]  In a long-running class action saga, plaintiff artists in several related suits have alleged that two auction houses and an online retailer failed to comply with the CRRA by selling art without paying royalties.[136]  In 2015, the Ninth Circuit held that the CRRA violated the dormant commerce clause, but that act could be saved because the offending provision was severable.[137]  The district court's April ruling finding copyright preemption, however, may eviscerate the CRRA.  An appeal to the Ninth Circuit is again pending.
4.        Fair Use and Richard Prince Go Another Round
As we recognized in our 2016 Mid-Year update, fair use issues in the copyright context have been front and center of late.  Blockbuster cases–Authors Guild v. Google, Inc. and Fox News Network, LLC v. TVEyes, Inc.–have set the stage for a continuing battle in 2017 over the scope of the fair use protection.  Although codified in the Copyright Act, the fair use defense remains an intensely factual issue making the application of the defense to different fact patterns through case law especially important.
In August 2016, Richard Prince, the successful appropriation artist who has long pushed the boundaries of copyright law, was sued (along with the Gagosian Gallery) for his Instagram-based "New Portraits" series in which he created enlarged photographs of other users' Instagram posts that he had commented on.  Below is an excerpt of Exhibit B to the latest lawsuit, Graham v. Prince et al., which centers around an Instagram post by an anonymous user containing a photograph that was taken by Donald Graham, on which Prince had commented and then enlarged into an artwork.  Prince previously secured a victory in a similar case by arguing that the fair use doctrine protects his work.  In 2013, the Second Circuit ruled in Prince's favor finding that because the defense is based on an analysis of several factors, the application of one factor is not dispositive: "the law does not require that a secondary use comment on the original artist or work, or popular culture."[138]  At issue in that suit was Prince's work based on photographs of another artist, Patrick Cariou.[139]  On appeal, the Second Circuit concluded that twenty-five of the thirty pieces of art at issue "make fair use Cariou's copyrighted photographs."[140]  Prince has since been sued four times, three times in 2016 alone, over his appropriation of other artists' works.[141]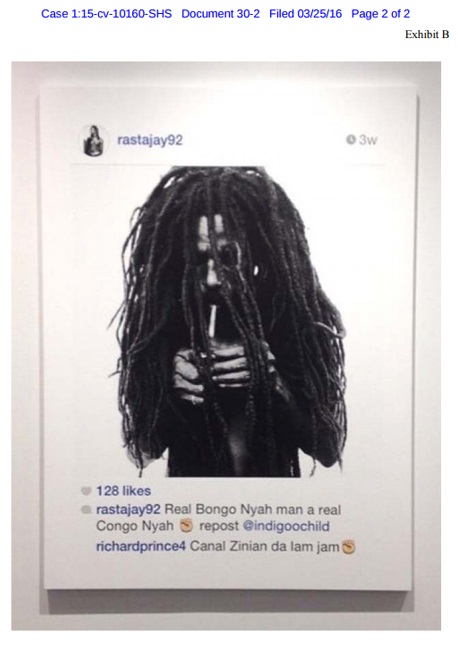 Given the differences between the specific works and posts at issue, it remains unclear whether Prince's fair use defense will be as successful as it was in the Cariou case.   In Cariou, Prince was sued over works where "the entire source photograph is used but is also heavily obscured and altered to the point that Cariou's original is barely recognizable."[142]  But in Prince's subsequent suits, he often does little to alter the allegedly appropriated work, including in the "New Portrait" series.[143]  Whether or not Prince's latest works are protected fair use, they will continue to be featured in the age-old debate, "what is art?"
---
   [1]   Brent Lang and Cynthia Littleton, NBCUniversal to Acquire DreamWorks Animation for $3.8 Billion, (Apr. 28, 2016), available at http://variety.com/2016/biz/news/dreamworks-animation-3-8-billion-nbcuniversal-comcast-1201762634/.
   [2]   Borys Kit, Jeffrey Katzenberg Bids Farewell to DreamWorks Animation Staff as Comcast's $3.8B Deal Closes, (Aug 22, 2016), available at http://www.hollywoodreporter.com/news/jeffrey-katzenberg-bids-farewell-dreamworks-921895.
   [3]   Frank Pallotta and Matt Egan Comcast Buys DreamWorks Animation in $3.8 Billion Deal, (Apr. 28, 2016), available at http://money.cnn.com/2016/04/28/media/comcast-dreamworks-nbcuniversal/.
   [4]   Etan Vlessing and Georg Szalai, Hollywood Feeding Frenzy: How DreamWorks Deal Could Impact Paramount, Lionsgate (April 28, 2016), available at http://www.hollywoodreporter.com/news/hollywood-feeding-frenzy-how-dreamworks-888597.
   [5]   Oriana Schwindt, Lionsgate, Starz Close $4.4 Billion Acquisition, (Dec. 8, 2016), available at http://variety.com/2016/biz/news/starz-lionsgate-close-acquisition-1201937471/.
   [6]   Anousha Sakoui & Alex Sherman, Lions Gate Buys Starz for $4.4 Billion in Premium Cable Push, (June 30, 2016), available at https://www.bloomberg.com/news/articles/2016-06-30/lions-gate-buys-starz-for-4-4-billion-for-premium-cable-outlet.
   [7]   Chad Bray, 21st Century Fox Reaches $14.8 Billion Deal for Remainder of Sky, (Dec. 15, 2016), available at http://www.nytimes.com/2016/12/15/business/dealbook/21st-century-fox-reaches-14-8-billion-deal-for-remainder-of-sky.html?_r=1.
   [8]   Sky and 21st Century Fox Agree 18.5bn Takeover Deal, (Dec. 15, 2016), available at http://www.bbc.com/news/business-38326530.
   [9]   Georg Szalai, Europe's Altice Closes Cablevision Acquisition, Expanding U.S. Presence, (June 21, 2016), available at http://www.hollywoodreporter.com/news/europes-altice-closes-cablevision-acquisition-889911.
[10]   Nick Kostov, Altice Closes Buy of Cablevision, (June 21, 2016), available at http://www.wsj.com/articles/altice-closes-buy-of-cablevision-1466515394.
[11]   Marie Mawad, Elco van Groningen and Gerry Smith, Altice to Acquire Suddenlink Stake in $9.1 Billion U.S. Deal, (May 19, 2015), available at https://www.bloomberg.com/news/articles/2015-05-19/altice-said-to-seek-purchase-of-suddenlink-in-u-s-expansion.
[13]   Paul Bond, DirecTV Exec Promises Return to Growth "Soon", (Mar. 2, 2016), available at http://www.hollywoodreporter.com/news/directv-executive-promises-return-growth-872122.
[14]   Jason Lynch, AT&T and Hulu Share More Details About Their Upcoming Skinny Bundle Streaming Offerings Time Inc. Says Its New OTT platform is Off to a 'Fantastic' Start, (Sept. 28, 2016), available at http://www.adweek.com/news/television/att-and-hulu-share-more-details-about-their-upcoming-skinny-bundle-streaming-offerings-173786.
[15]   Peter Kafka, How Skinny will Hulu's New Bundle be?, (Nov. 1 2016), available at http://www.recode.net/2016/11/1/13490026/hulu-disney-fox-espn-fox-sports-streaming-tv.
[16]   Matt Pressberg, Time Warner Just Made Hulu the Skinny Bundle to Beat, (Aug. 3, 2016), available at http://www.thewrap.com/time-warner-just-made-hulu-the-skinny-bundle-to-beat/.
[17]   Kele Bigknife, Customers are NOT "Amused" by Chicago's New 9% Streaming Tax, Michigan Business & Entrepreneurial Law Review, (Oct. 1, 2015), available at http://mbelr.org/consumers-are-not-amused-by-chicagos-new-9-streaming-tax/;  Chicago Provides Cloud Computing, Software, and Related Guidance on Nonpossessory Lease Tax Exemptions and Sourcing, PricewaterhouseCoopers LLP, (June 30, 2015), available at https://www.pwc.com/us/en/state-local-tax/newsletters/salt-insights/assets/pwc-chicago-provides-guidance-cloud-computing-software-lease-tax.pdf.
[18]   Complaint for Declaratory and Injunctive Relief at 1, Labell v. City of Chicago, No. 2015-CH-13399 (Ill. Cir. Ct. Sept. 9, 2015).
[22] Bollea v. Gawker Media, LLC, No. 8:12-cv-02348-JDW-TBM (M.D. Fla. Oct. 16, 2012), Dkt. 1.
[23] Bollea v. Clem, Case No. 12012447-CI-011 (Fla. 6th Cir. Ct. Oct. 15, 2012).
[24] Bollea v. Gawker Media, LLC, No. 8:12-cv-02348-JDW-TBM (M.D. Fla. Nov. 14, 2012), Dkt. 47.
[25] Bollea v. Gawker Media, LLC, No. 8:12-cv-02348-JDW-TBM (M.D. Fla. Jan. 4, 2013), Dkt. 70.
[26] Bollea v. Clem, Case No. 12012447-CI-011 (Fla. 6th Cir. Ct. Dec. 28, 2012).
[27] Bollea v. Clem, Case No. 12012447-CI-011 (Fla. 6th Cir. Ct. Apr. 25, 2013).
[28] John Cook, A Judge Told Us to Take Down Our Hulk Hogan Sex Tape. We Won't., available at https://web.archive.org/web/20130428130143/http://gawker.com/a-judge-told-us-to-take-down-our-hulk-hogan-sex-tape-po-481328088.
[29] Bollea v. Clem, Case No. 12012447-CI-011 (Fla. 6th Cir. Ct. May 2, 2013).
[30] Gawker Media, LLC v. Bollea, 129 So. 3d 1196 (Fla. Dist. Ct. App. Jan. 17, 2014).
[31] Id. at 1202.
[32] Bolea v. Gawker Media, LLC, Case No. 12012447-CI-011 (Fla. 6th Cir. Ct. June 8, 2016).
[33] Jackson v. Radar Online LLC, Case No. BC628510 (LA Sup. Ct. July 27, 2016).
[34] Id. at 1-2.
[35] Eramo v. Rolling Stone, LLC, Case No. 3:15-CV-00023-GEC, at ECF 1 (W.D.Va. May 29, 2015).
[36] Eramo v. Rolling Stone, LLC, Case No. 3:15-CV-00023-GEC, at ECF 189 (W.D.Va. Sept. 22, 2016).
[37] Eramo v. Rolling Stone, LLC, Case No. 3:15-CV-00023-GEC, at ECF 366 (W.D.Va. Nov. 4, 2016).
[38] Ashley Cullins, Why the Defamation Verdict Against Rolling Stone Could Chill Media Apologies, (Nov. 7, 2016), available at http://www.hollywoodreporter.com/thr-esq/why-defamation-verdict-rolling-stone-could-chill-media-apologies-944393.
[39] Eramo v. Rolling Stone, LLC, Case No. 3:15-CV-00023-GEC, at ECF 400 (W.D.Va. Dec. 8, 2016).
[40] Id. at 7-8.
[41] Sarver v. Hurt Locker LLC, Case No. 2:10-cv-09034-JHN-JCx, 2011 WL 11574477 (C.D. Cal. Oct. 13, 2011).
[42] Sarver v. Hurt Locker LLC, 813 F.3d 891 (9th Cir. 2016).
[43] Id. at 899.
[44] Id. at 902.
[45] Id. at 903-07.
[46] Id.
[47] Heller v. NBCUniversal, Inc., Case No. 2:15-cv-09631, at ECF 1 (C.D. Cal. Dec. 15, 2015).
[48] Heller v. NBCUniversal, Inc., Case No. 2:15-cv-09631, at ECF 54 (C.D. Cal. June 29, 2016).
[49]  Heller v. NBCUniversal, Inc., Case No. 2:15-cv-09631, at ECF 65 (C.D. Cal. Jan. 4, 2017).
[50]  Capitol Records LLC v. Vimeo, LLC, 826 F.3d 78, 93 (2d Cir. 2016).
[51] Id. at 97-99.
[52] 17 U.S.C. § 512(c) (1998).
[53] Sound Recording Act of 1971, Pub. L. No. 92-140, 85 Stat. 391 (1971), amended by Pub. L. No. 93-573, 88 Stat. 1873 (1974) (codified as amended at 17 U.S.C. § 102).
[54] UMG Recordings, Inc. v. Escape Media Group Inc., 964 N.Y.S.2d 106 (N.Y. App. Div. 2013).
[55] See Federal Copyright Protection for Pre–1972 Sound Recordings, (Dec. 2011), available at http://www. copyright.gov/docs/sound/pre–72–report.pdf.  Although the Copyright Office Report notes that there is "no reason" why DMCA safe harbors should not apply to the use of pre–1972 recordings, based on a reading of the statute it concludes that "it is for Congress, not the courts, to extend the Copyright Act to pre–1972 sound recordings." Id. at 130, 132.
[56] Capitol Records Inc. v. MP3tunes, LLC, 821 F.Supp.2d 627 (S.D.N.Y. 2011).
[57] Capitol Records, LLC v. Vimeo, LLC, 972 F.Supp.2d 500, 537 (S.D.N.Y. 2013).
[58] Id. at 524-525.
[59] Capitol Records, LLC v. Vimeo, LLC, 972 F.Supp.2d 537, 552 (S.D.N.Y. 2013) ("This issue is a question of first impression in the Second Circuit, and aside from these two decisions [Grooveshark and MP3tunes] no other federal court appears to have addressed the issue.").
[60] Capitol Records v. Vimeo, 826 F.3d at 90.
[61] Id.
[62] Id. at 97.
[63] 676 F.3d 19 (2012).
[64] Capitol Records v. Vimeo, 826 F.3d at 98.
[65] Id. at 99.
[66] Petition for Reh'g en banc, Capitol Records v. Vimeo, 826 F.3d 78 (2d Cir. 2016), denied.
[67] Petition for Writ of Certiorari, Capitol Records v. Vimeo, 826 F.3d 78 (2d Cir. 2016) (No. 14-1048).
[68] Andy, Universal Music Settles In-Flight Music Lawsuit for $30m+, (Aug. 17, 2016), available at https://torrentfreak.com/universal-music-settles-in-flight-music-lawsuit-for-30m-160817/.
[69] UMG Recordings, Inc. v. Global Eagle Entm't, Inc., Case No. 14-cv-3466-MMM, 2015 U.S. Dist. LEXIS 102659, at *26 (C.D. Cal. Jun. 22, 2015).
[70] Daniel Siegal, UMG, Media Co. Delay In-Flight IP Trial to Try and Settle, (Apr. 28, 2016), available at http://www.law360.com/articles/790409/umg-media-co-delay-in-flight-ip-trial-to-try-and-settle?article_related_content=1.
[71] Kaveh Waddell, Why In-Flight Music Is In Trouble, (July 9, 2015), available at http://www.theatlantic.com/politics/archive/2015/07/why-in-flight-music-is-in-trouble/458478/.
[72] VMG Salsoul, LLC v. Ciccone, 824 F.3d 871 (9th Cir. 2016).
[73] 410 F.3d 792, 801 (6th Cir. 2005) ("Get a license or do not sample. We do not see this as stifling creativity in any significant way.").
[74] Colin Stutz, Justin Bieber & Skrillex Sued Over 'Sorry': Report, (May 26, 2016), available at http://www.billboard.com/articles/columns/pop/7385928/justin-bieber-skrillex-sued-sorry-white-hinterland-dance.
[75] VMG Salsoul  v. Ciccone, 824 F.3d at 883, 885.
[76] 136 S. Ct. 1979, 1986-87 (2016).
[77] 510 U.S. 517 (1994).
[78] Kirtsaeng v. John Wiley & Sons, Inc.,133 S.Ct. 1351, 1356 (2013).
[79] John Wiley & Sons, Inc. v. Kirtsaeng, No. 08-cv-07834 (DCP), 2013 WL 6722887, at *2-3 (S.D.N.Y. Dec. 20, 2013); John Wiley & Sons, Inc. v. Kirtsaeng, 605 Fed.Appx 48, 49 (2d Cir. 2015).
[80] 136 S.Ct. at 1981-82.
[81] Id. at 1983 ("Its language at times suggests that a finding of reasonableness raises a presumption against granting fees, and that goes too far in cabining the district court's analysis.").
[82] Id. at 1987.
[83] Id. at 1986.
[84] Id. at 1988.
[85] Solid Oak Sketches, LLC v. 2K Games, Inc., No. 16CV724-LTS, 2016 WL 4126543, at *4 (S.D.N.Y. Aug. 2, 2016).
[86] Id. at *3.
[87] Found. for Lost Boys and Girls of Sudan, Inc. v. Alcon Entm't, LLC, No. 1:15-cv-00509-LMM (N.D. Ga. Mar. 22, 2016).
[88] Id. at *21.
[89] Eriq Gardner, Judge Lets 54 Sudanese Refugees Pursue Copyright and Fraud Claims Over Reese Witherspoon Film, (Mar. 24, 2016), available at http://www.hollywoodreporter.com/thr-esq/judge-lets-54-sudanese-refugees-878021.
[90] Complaint, Paramount Pictures Corp. v. Axanar Prods., Inc., No. 2:15-cv-09938-RGK-E (C.D. Cal. Dec. 29, 2015).
[91] Josh Rottenberg, Remember How J.J. Abrams Said the Lawsuit Against the 'Star Trek: Axanar' Fan Film Had Been Dropped? Not Quite., (June 20, 2016), available at http://www.latimes.com/entertainment/movies/la-et-mn-star-trek-axanar-lawsuit-update-20160617-snap-story.html.
[92] Id..
[93] Paramount Pictures Corp. v. Axanar Prods., Inc., Order Re: Plaintiffs' Motion for Partial Summary Judgment and Defendants' Motion for Summary Judgment, Case No. 2:15-CV-09938-RGK-E (C.D. Cal. January 3, 2017), at 13.
[94] Bill Donahue, Paramount Settles 'Star Trek' Fan Film Copyright Suit (January 20, 2017), available at https://www.law360.com/articles/883119/paramount-settles-star-trek-fan-film-copyright-suit.
[95] Case C-160/15, GS Media BV v. Sanoma Media Netherlands BV, 2016 http://curia.europa.eu (Sept. 8, 2016).
[96] Court of Justice of the European Union Press Release No 92/16, Judgment in Case C-160/15 GS Media BV v. Sanoma Media Netherlands BV (Sept. 8, 2016).
[97] Case C-160/15, GS Media BV v. Sanoma Media Netherlands BV, 2016 http://curia.europa.eu (Sept. 8, 2016).
[98] Bill Donahue, FilmOn Wins Big Ruling on Compulsory Copyright License, (July 16, 2015), available at http://www.law360.com/articles/680282.
[99] Bill Donahue, FilmOn Can't Use Compulsory Copyright License, Judge Says, (Nov. 12, 2015), available at http://www.law360.com/articles/726444.
[100] Creative Artists Agency, Inc. v. United Talent Agency, LLC, Case No. SC123994 (LA Sup. Ct. Apr. 2, 2015).
[101] Creative Artists Agency, Inc. v. United Talent Agency, LLC, Case No. SC123994 (LA Sup. Ct. May 31, 2016).
[102] See Antonick v. Elec. Arts Inc., No. C-11-1543-CRB, 2014 WL 245018, at *1 (N.D. Cal. Jan. 22, 2014), aff'd, 841 F.3d 1062 (9th Cir. 2016).
[103] Id.
[104] Compl., Antonick v. Electronic Arts, Inc., 2011 WL 7942206 , (No. CV-11-1548-EDL) (N.D. Cal. Mar. 30, 2011).
[105] Appellant's Br., Antonick v. Electronic Arts, Inc., 2014 WL 3909266, at *20 (No. 14-15298) (9th Cir. Aug. 1, 2014).
[106] Compl., Antonick, 2011 WL 7942206.
[107] Antonick, 2014 WL 245018, at *1.
[108] Id. at *6 (citing Mattel, Inc. v. MGA Entm't, Inc., 616 F.3d 904, 913–14 (9th Cir.2010)).
[109] Id.
[112] Id. at *12.
[113] Antonick v. Elec. Arts, Inc., 841 F.3d 1062, 1066, 1069 (9th Cir. 2016).
[114]   Matthew Strauss, Streaming Now Officially the Number One Way We Listen to Music in America, (Jan. 6, 2017), available at http://pitchfork.com/news/70724-streaming-now-officially-the-number-one-way-we-listen-to-music-in-america/.
[115] Class Action Compl. for Damages and Injunctive Relief at 8, Lowery v. Spotify USA Inc., (No. 2:15-cv-09929-BRO-RAO) (C.D. Cal. Dec. 28, 2015).
[116] Id.
[117] Id.
[118] Ryan Faughnder, Spotify Hit with Second Songwriter Lawsuit in Two Weeks, (Jan. 8, 2016), available at http://www.latimes.com/entertainment/envelope/cotown/la-et-ct-spotify-songwriter-lawsuits-20160108-story.html.
[119] See Kia Kokalitcheva, Jay-Z's Tidal Music Streaming Service Hit with $5 Million Copyright Lawsuit, (Feb. 29, 2016), available at http://fortune.com/2016/02/29/tidal-copyright-lawsuit/.
[120] Plaintiffs' Notice of Mtn and Mtn for Corrective Action to Prevent Misrepresentations to Putative Class Members, Case No. 2:15-cv-09929-BRO-RAO, (C.D. Cal. Apr. 18, 2016).
[121] 17 U.S.C. § 106A(a)(3).
[122] Pollara v. Seymour, 344 F.3d 265, 269 (2d Cir. 2003) (quoting H.R.Rep. No. 101–514, at 1990 U.S.C.C.A.N. 6915, 6920–21) (internal quotations omitted).
[123] Cheffins v. Stewart, 825 F.3d 588, 593 (9th Cir. 2016).
[124] Id. at 593.
[125] Id. at 595.
[126] Id. at 591.
[127] Id.
[128] Id. at 595.
[129] Id.
[130] Compl. at 1-2, Katherine Craig v. Princeton Enterprises LLC, (No. 2:16-cv-10027) (E.D. Mich. Jan. 5, 2016).
[131] Verified Compl. for Declaratory and Other Relief, Robert Fletcher v. Peter Doig, 2013 WL 3058713, (No. 1:13-cv-03270) (N.D.Ill. Apr. 30, 2013).
[132] J. in a Civil Case, Robert Fletcher v. Peter Doig, 2016 WL 4708999, (No. 1:13-cv-03270) (N.D.Ill. Aug. 23, 2016).
[133] Estate of Graham v. Sotheby's, Inc., 178 F. Supp. 3d 974, 991 (C.D. Cal. 2016).
[134] Cal. Civ. Code § 986(a).
[135] Id.
[136] Graham, 178 F. Supp. 3d at 980.
[137] Sam Francis Found. v. Christies, Inc., 784 F.3d 1320, 1326 (9th Cir. 2015), cert. denied, 136 S. Ct. 795 (2016).
[138] Cariou v. Prince, 714 F.3d 694, 698–99 (2d Cir. 2013), cert. denied, 134 S. Ct. 618 (2013).
[139] Id. at 697.
[140] Id. at 698-99.
[141] Compl., Donald Graham v. Richard Prince, (No. 1:15-cv-10160-SAS), (S.D.N.Y. Dec. 30, 2015); Compl. for Copyright Infringement, Dennis Morris v. Richard Prince (No. 2:16-cv-03924) (C.D. Cal. June 3, 2016); Compl., Ashley Salazar v. Richard Prince, (No. 2:16-cv-04282) (C.D. Cal. June 15, 2016); Compl., Eric McNatt v. Richard Prince, No. 1:16-cv-08896 (S.D.N.Y. Nov. 16, 2016).
[142] Cariou, 713 F.3d at 710.
[143] See, e.g., Compl., Ashley Salazar v. Richard Prince, (No . 2:16-cv-04282).
---
The following Gibson Dunn lawyers assisted in the preparation of this client update:  Scott Edelman, Ruth Fisher, Howard Hogan, Nathaniel Bach, Corey Singer, Colleen Kenny, Sean O'Neill, Sara Ciccolari-Micaldi and Lauryn Togioka.
Gibson Dunn lawyers are available to assist in addressing any questions you may have regarding these developments.  Please contact the Gibson Dunn lawyer with whom you usually work, the authors, or the following leaders and members of the firm's Media, Entertainment & Technology Practice Group:
Scott A. Edelman – Co-Chair, Los Angeles (+1 310-557-8061, [email protected])
Ruth E. Fisher – Co-Chair, Los Angeles (+1 310-557-8057, [email protected])
Orin Snyder – Co-Chair, New York (+1 212-351-2400, [email protected])
Howard S. Hogan – Washington, D.C. (+1 202-887-3640, [email protected])
Ari Lanin – Los Angeles (+1 310-552-8581, [email protected])
Benyamin S. Ross – Los Angeles (+1 213-229-7048, [email protected])
Helgi C. Walker – Washington, D.C. (+1 202-887-3599, [email protected])
---
© 2017 Gibson, Dunn & Crutcher LLP
Attorney Advertising:  The enclosed materials have been prepared for general informational purposes only and are not intended as legal advice.