As reflected in our 2018 Pro Bono Annual Report, Gibson Dunn's pro bono program is as diverse as the firm itself. Over the last several months, the firm has continued to be engaged in many incredible pro bono efforts. We are proud to showcase some of our work here, and we hope you have a wonderful rest of your summer!
Gibson Dunn Celebrates Pro Bono Pride with a Series of Asylum Wins for LGBTQ Clients
In June 2019, the New York office hosted a reception to celebrate Pride Month, and our brave and inspiring LGBTQ asylum clients and the attorneys who have worked on their cases, including our co-counsel on these matters from AIG, Barclays, Goldman Sachs, JPMorgan, and Merck. 
Lawyers in New York have taken on approximately 80 LGBTQ asylum matters since 2013.  We have been achieving life-changing results for our clients on these cases, in spite of various challenges and a rapidly changing legal landscape.  In 2018 and 2019, we have received over 20 asylum wins for these clients.  We were thrilled that many of these clients and their friends and families joined us to celebrate this past June, along with the lawyers who represent them, including Joe Evall, Barbara Becker, Jim Hallowell, Matthew Hurlock, May Beth Maloney, Laura O'Boyle, Andrew Bernstein, Stella Cernak, Elisa Dun, Patrick Hayden, Kyle Guest, Clifford Hwang, Zach Kady, Esther Lifshitz, Gatsby Miller, Mark Mixon, Alyssa Ogden, Laura Raposo, Alexandra Perloff-Giles, Elisabeth Ponce, Elizabeth Snow, and Marc Aaron Takagaki.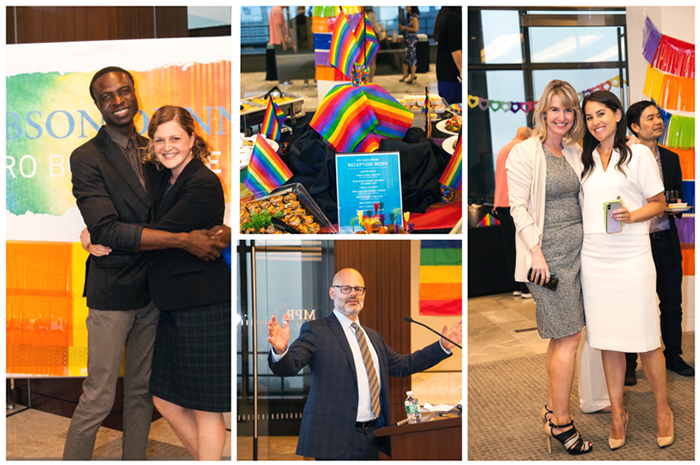 ---
Gibson Dunn Obtains Supreme Court Review of Hague Convention Case
On June 10, 2019, the United States Supreme Court granted certiorari in Monasky v. Taglieri, a case concerning the Hague Convention on the Civil Aspects of International Child Abduction.  Gibson Dunn represents Michelle Monasky, the petitioner. 
Ms. Monasky is a U.S. citizen who escaped an abusive Italian husband, Domenico Taglieri, by fleeing Italy with their eight-week-old daughter. Before her child was born, Ms. Monasky had demanded a divorce and made plans to leave Italy, but was prevented from traveling due to a difficult pregnancy. After the child was born, she lived almost exclusively with her mother until the two left for the United States.
After their departure, Mr. Taglieri filed a return petition under the Hague Convention, which prescribes that custody issues in international child custody disputes should be resolved in the country where the child has her "habitual residence" – an undefined term. After the district court held that the child's country of habitual residence was Italy, Gibson Dunn handled the appeal. A divided panel of the Sixth Circuit affirmed and, after Gibson Dunn successfully obtained en banc review, a fractured 10-8 en banc court affirmed under clear-error review. The majority reasoned that the child's parents had a "shared parental intent" to raise her in Italy despite the fact that Ms. Monasky had intended to return to the United States with her as soon as possible.
Gibson Dunn successfully persuaded the Supreme Court to grant certiorari to decide the standard of appellate review for habitual residence determinations and whether an infant's habitual residence can be established in the absence of a mutual agreement by the parents to raise the child in that country.  This will be the Supreme Court's first Hague Convention case on the threshold habitual residence issue. 
The Gibson Dunn team includes Amir Tayrani, Melanie Katsur, Kellam Conover, Shannon Han, Charlotte Lawson, and Claire Chapla, as well as former associates Chris Baum and Aidan Taft Grano.
---
Gibson Dunn Helps Change New York Law on Cross-Racial Eyewitness Identifications
Gibson Dunn recently reached the conclusion of a years-long journey in New York State courts concerning jury instructions on cross-racial eyewitness identifications.  Mr. Otis Boone, an African-American man, had been sentenced to 25 years for allegedly stealing two iPhones and brandishing a knife at one victim, but police were unable to find the iPhones or anything connecting him to the scene other than the eyewitness identifications of the two white victims.  At trial, Mr. Boone's attorney asked the jury to be instructed on the potential inaccuracy of cross-racial eyewitness identifications.  The trial court, relying on New York legal precedent, denied the request because the parties had not put the race of the defendant "at issue."
Gibson Dunn wrote an amicus brief signed by former judges and prosecutors who agreed that erroneous cross-racial eyewitness identifications plagued the justice system and supported a change.  The signatories on the amicus brief included our very own Mylan Denerstein, as well as: former Court of Appeals judges Carmen Beauchamp Ciparick, Howard Levine (senior counsel at Whiteman Osterman & Hanna), and Albert Rosenblatt (counsel at McCabe & Mack); former Appellate Division, First Department Justices Bernard Malone Jr. and James McGuire; and former Manhattan prosecutors Daniel Alonso (a managing director and general counsel at Exiger) and Eric Corngold (a partner at Friedman Kaplan Seiler & Adelman).  The New York Law Journal released an article on March 20, 2017, focused on our amicus brief ("Ex-Judges and Prosecutors Ask to Join Case on Cross-Racial Identification"), noting the unusual (and prestigious) line-up of signatories to the brief.
On December 14, 2017, the Court of Appeals issued an opinion holding that "when identification is an issue in a criminal case and the identifying witness and defendant appear to be of different races, upon request, a party is entitled to a charge on cross-racial identification." The opinion adopted many of the standards suggested by Gibson Dunn in its amicus brief and the Court granted Mr. Boone a new trial. On March 6, 2019, Otis Boone was acquitted by a jury.
Kathryn Cherry took the lead on the brief, with help from Lisa Bender, Erica Sollazzo, and others.
---
Gibson Dunn Promotes Environmental Education in the United Kingdom
Wastebuster, a nonprofit environmental education company, aims to bring waste education to life with exciting films, media-rich resources, and campaigns designed to inform, inspire, and empower children to care for the environment.  It harnesses the power of entertainment for social change and inspires young people by showing them the difference they can make by adopting more sustainable lifestyle choices.  Wastebuster supports individuals, teachers, parents, schools, and governments to ensure responsible consumption stays at the top of the education agenda, so we might all help protect our planet for generations to come. 
The organization is "very grateful to have had the invaluable support" from London associate Tony Downes and the Gibson Dunn team who enabled Wastebuster to safeguard its position as a small social enterprise working with large international corporations, and to forge new partnerships to improve the quality and coordination of sustainable development education in the UK and globally.  This legal support has included: partnership agreements with well-known media corporations and production companies; IPR agreements around character licensing, talent, and media release; partnership agreements with groups ranging from local government to the UN; and the acquisition of one of the largest environmental education programs in the UK. 
---
Gibson Dunn Advocates for Immigrants from Central America
Over the past few years, thousands of people have fled the rampant violence, crime, and corruption in El Salvador, Honduras, and Guatemala to seek safety and refuge in the United States.  The firm proudly represents a number of these brave individuals and families.  Below are just a few stories that exemplify our work. 
***
In 2016, lawyers in our Los Angeles office began representing Jimmy, a young boy with disabilities from Central America.  Shortly after we began working with Jimmy, two of his brothers – Jose and William – were brought to the United States to be reunited with Jimmy and their mother.  Although this tripled the work, our team stretched to meet the challenge and took on all three siblings as clients.  The boys had been subjected to a variety of traumatic events, including physical and sexual assault.  Last year we successfully obtained asylum for Jose and William, and their green card applications are now underway.  In April 2019, we received the wonderful news that Jimmy had been granted asylum, too.  Finally, this family can really begin their life in the U.S. without the fear of deportation.  The team working on these cases included Karen Bertero, Matt Hoffman, Miguel Loza, Caitlin Dudley, Scott Sherwood, Marisa Choy, Shirin Asherian, Veronica Guerrero, Ramona Gonzalez, and Sara Miramontes. 
***
In April 2019, we learned that USCIS granted asylum to two sisters from Guatemala represented by Perlette Jura, Miguel Loza, and Corey Singer.  The team filed their applications in January 2017, but the girls were not interviewed until October 2018.  Their asylum claims were on the basis of domestic violence, including rape and sexual and physical assault they had both been subjected to by a family member in their home country.  After former Attorney General Sessions issued his opinion in Matter of A-B, changing the landscape for claiming asylum on the basis of domestic violence, the girls were called back for a re-interview in December 2018.  The team argued that they were part of a family-based Particular Social Group and fortunately this approach was successful.  
***
San Francisco associate Dan Bruggebrew took on Victor as a pro bono client in 2016.  He was a young boy who had fled from Central America to seek a better, safer life in the U.S.  Dan successfully obtained Special Immigrant Juvenile Status for Victor.  Then, in April 2019, Dan learned the heartwarming news that Victor had been granted Legal Permanent Resident status!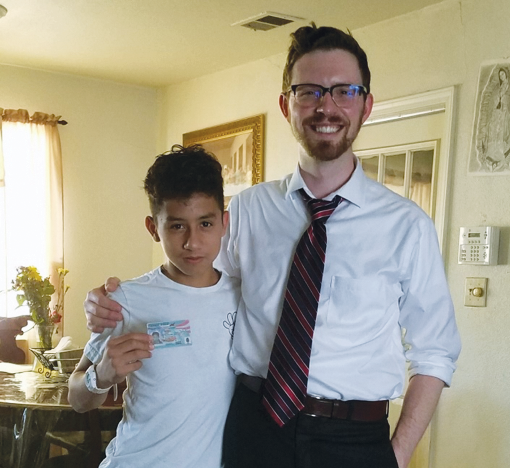 ***
In May 2019, Sydney Sherman, Michael Galas, Abiel Garcia secured a win for their client, who had fled El Salvador at age 17, fearing for his life after he was violently targeted for recruitment by the MS-13 gang. The gang repeatedly threatened to kill our client and his family. The gang members also informed our client's friend that they would kill our client if he ever returns to El Salvador. Another firm handled the initial case, where the Immigration Judge (IJ) denied the application for asylum, withholding of removal, and protection under the Convention Against Torture (CAT). After an appeal to the Board of Immigration Appeals resulted in a remand, Gibson Dunn took over the case. We briefed and won both asylum and withholding of removal for our client.
---
Gibson Dunn Helps Human Rights Charity Access Information on Death Penalty Autopsy Reports
Over the last year, Gibson Dunn's London office has acted as a global legal advisor to Reprieve, a prominent international charity that focuses on human rights advocacy, including eradicating the death penalty.  Reprieve approached Gibson Dunn for assistance in the filing of U.S. Freedom of Information Act (FOIA) requests in various states in the United States that use lethal injection as their method of execution.  Reprieve had found state coroners' offices unresponsive to their previous requests, and they were often unsuccessful in accessing the information they needed. 
Gibson Dunn attorneys Jeremy Robison, Lisa Bender, Christopher Jones, Timothy Kolesk, Charlotte Lawson, Miguel Loza Jr., Ana Mihanovic, Kenneth Oshita, Stephanie Pearl, and Frances Waldmann from the Washington D.C., New York, and Los Angeles offices have been working on obtaining autopsy reports (some dating as far back as 1984) from various state coroners.  The reports depict the cruel and inhumane treatment of those on death row, often due to the death penalty being effected by drug overdose or the use of a cocktail of unsuitable drugs (which were, in some cases,  obtained illegally).  Reprieve will use these autopsy reports to raise awareness of these botched executions and further its mission more generally. 
---
Gibson Dunn Restores Princeton Scholarship Student's Immigration Status
In mid-2018, a Princeton college student was returning to school in the United States after visiting his mother in Canada. To his surprise, he was refused entry and turned back at the border in Buffalo, learning that he and his mother had been ordered removed from the U.S. in 2010 – a year after their family, originally from Colombia, already had moved from the United States to Canada. He was forced to give up his student visa, with which he had been entering the U.S. for years without incident, and he worried that he might not be able to finish his degree.
Daniel Harris from the New York office coordinated with counsel in Buffalo and arranged for the student to enter the U.S. on humanitarian parole in time to attend the fall 2018 term. Then, Gibson Dunn advocated with the Miami ICE Office of Chief Counsel, which agreed to a joint motion to reopen and terminate the removal proceedings, vacating the 2010 order of removal. The Miami Immigration Court granted the motion in November 2018, the student visa was re-issued, and our client entered the U.S. in valid student status in time for his final exams in January.
After ICE refused to join a motion to secure the same relief for the student's mother, Gibson Dunn filed a non-joint motion on her behalf in May 2019. The Immigration Court granted the motion. She now will be able to visit her son at school and proudly sit in the audience at his graduation in 2020.
---
Gibson Dunn Reunites Journalist Family Fleeing Persecution
After a three year battle, Gibson Dunn client Jwana Aljaf, the wife of prominent Kurdish-Iraqi journalist Namo Aljaf, was finally able to join her husband in the United States in May 2019.  Mr. and Mrs. Aljaf served as journalists in Iraq, where they faced significant personal danger as a result of their reporting.  Mr. Aljaf received asylum in the United States in July 2015.  The recipient of a scholarship from the White House Correspondents' Association, Mr. Aljaf subsequently graduated from Columbia University and became a U.S. permanent resident.
Mrs. Aljaf applied for a derivative asylum status in February 2016, received preliminary approval from USCIS in April 2016, and was interviewed at the U.S. Embassy in Baghdad in September 2016. But then her case stalled in "administrative processing" for almost three years. In 2017, Gibson Dunn intervened on her behalf with USCIS, the State Department, and Congress. The team also encouraged Mr. Aljaf to use his platform as a popular journalist to advocate on her behalf.
Mrs. Aljaf was finally granted a visa after one of Mr. Aljaf's tweets stirred a response from the U.S. embassy in Iraq. The case serves as a powerful reminder of the combined impact of legal advocacy and media outreach. Gibson Dunn attorneys Stephanie Brooker, Stephanie Connor, Patricia Herold, and Laura Sturges represented Mrs. Aljaf.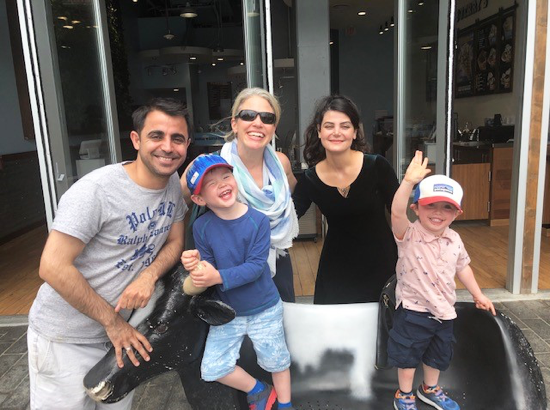 ---
---