This last year has brought with it unprecedented challenges to our personal and professional lives as we sought to deal with the widespread ramifications of the coronavirus pandemic.  Amidst this backdrop, we all watched in horror as the brutal killing of George Floyd by the police was captured on camera, sparking activism, protests, and discussions about racism and inequality in the United States and around the world, including here at Gibson Dunn.  Immediately the firm spoke out and, more importantly, acted to reaffirm its commitment to addressing and tackling racial justice and equity issues.  As part of that, we refocused and recommitted our efforts to take on pro bono matters that directly impact systemic racism and racial justice, including police reform, criminal justice reform, equity in education and health care, and much more.  We have also launched several racial justice-focused pro bono collaborations with many of the Firm's corporate clients.  In the past six months, nearly 400 lawyers have dedicated more than 16,000 hours to over 50 matters dedicated to achieving racial equity. 
As we all know, when this Firm puts its mind to a cause, we can achieve great things.  And, just as we have with issues like LGBTQ rights and immigrant rights, Gibson Dunn is dedicated to playing a meaningful role in the fight against policies, practices, and actions that produce unequitable outcomes for people of color.  Together we will achieve lasting, real change.
As we embark on a new year, we wish you and yours a peaceful and joyous season and very healthy year ahead. 
---
Protecting the First Amendment Right to Peacefully Protest

Deon Jones v. City of Los Angeles
On December 9, 2020, Gibson Dunn filed a lawsuit challenging the Los Angeles Police Department's use of brutal and indiscriminate force against protesters exercising their inalienable, constitutional right to protest peacefully and demanding an end to the use of so-called "rubber bullets" or "less lethal" munitions against peaceful protesters. Our client, Deon Jones, 29, is a Los Angeles-based performance artist, entrepreneur, and Truman Scholar. Mr. Jones was shot at close range in the face with a rubber bullet by the Los Angeles Police Department while peacefully protesting on May 30, 2020. The rubber bullet was millimeters away from blinding Mr. Jones, or even worse, killing him. The mental and physical trauma he endured – and is still recovering from – is something no person should ever have to experience.

The lawsuit was met with wide acclaim and broad support, including from Giffords Law Center to Prevent Gun Violence, the ACLU, the NAACP LDF, Congresswoman Maxine Waters, Professor Jody Armour of the University of Southern California Gould School of Law, and Professor James Forman, Jr. of Yale Law School and Pulitzer Prize winning author.  Gibson Dunn is proud to bring this case and is committed to vindicating Mr. Jones's constitutional rights.  The Gibson Dunn team includes partners Orin Snyder, Mylan Denerstein, Matthew Kahn, Greta Williams, Katie Marquart, and Lauren Blas, counsel Karin Portlock, and associates Lee R. Crain, Lauren Dansey, Courtney Johnson, Leni Ackerman, MacKenzie McCullough, and Cassarah Chu, with assistance from Katy Baker, Abi Averill, and Caiti Bush in finalizing the papers.

The Los Angeles Times featured the case in a December 9, 2020 article.  Additional information is available in our press release and in the complaint. 




Buchanan v. Trump
| | |
| --- | --- |
| On June 1, 2020, peaceful protesters gathered in Lafayette Square park near the White House to protest the murder of George Floyd and demand racial justice. That evening, in a shocking display of unprovoked violence, federal officials used military force to remove the protesters, spraying the crowd with tear gas, rubber bullets, smoke bombs and even flash grenades. | |
Our clients are three amazing young women, Radiya Buchanan, Ann Dagrin, and Lindsey Field – all educators who live in DC and showed up at the park to stand up for racial justice and demand change. The trauma they experienced that night is something no American should ever have to endure and our federal government should never have inflicted on its own people.

Gibson Dunn lawyers including Randy Mastro, Orin Snyder, Mylan Denerstein, Greta Williams, Anne Champion, Katie Marquart, Lee Crain, Amanda LeSavage, Naima Farrell, Matthew Aiken, with additional invaluable help from Karin Portlock, Brittany Raia, Caiti Busch, Alexandra Perloff-Giles, Venus Allahyarzadeh, Michael Klurfeld, Megan Meagher, Nealofar Panjshiri, Taonga Leslie, Teddy Kristek, Parker Knight, Bina Nayee, and Praatika Prasad, filed suit against President Donald Trump, Attorney General William Barr and other members of the administration, alleging the incident violated the First, Fourth, and Fifth Amendments as well as "long-standing federal law prohibiting use of such military force on domestic targets."  The complaint, which has received extensive press coverage including by the National Law Journal and Lawyer Monthly, describes this case as one that "concerns a day that will live in infamy.  It's the day that our federal executive branch unleashed a military and paramilitary force on a band of peaceful protesters assembled in historic Lafayette Park across from the White House."

We have since filed oppositions to three motions to dismiss from the federal Defendants in their official capacities, Defendants Barr and Monahan in their individual capacities, and law enforcement officers at the Arlington County Police Department.  We are currently responding to a fourth motion to dismiss, filed by law enforcement officers at the Metropolitan Police Department, and we expect to receive a fifth motion to dismiss from law enforcement officers at the U.S. Park Police in January.  We remain determined to get justice for our clients and to ensure that nothing like this happens again.

Martinez v. City of Asbury Park et al.
| | |
| --- | --- |
| | Gibson Dunn represents journalist Gustavo Martinez in connection with a lawsuit against three municipal law enforcement units ("Defendants") alleging violations of his constitutional rights based on his unlawful attack, arrest, and detention while reporting on police misconduct at a Black Lives Matter protest earlier this year. Specifically, on June 1, while Mr. Martinez was live-streaming police misconduct in Asbury Park for the Asbury Park Press, the Defendants targeted him, yelled "F--- him, he's the problem!" and then tackled him, slapped his phone out of his hand, and took him to jail. |
New Jersey Attorney General Gurbir Grewal called Mr. Martinez the next morning to apologize for the violation of his constitutional rights and said all charges would be dropped.  Mr. Martinez subsequently accepted an invitation to brief a Congressional Subcommittee investigating First Amendment violations at Black Lives Matter protests and testify before the Inter-American Commission on Human Rights.
 
Although the case is in its early stages, the team has achieved several early and significant wins.  First, Gibson Dunn successfully opposed a stay of discovery, and the Court ordered the Defendants to comply with their discovery obligations, which they initially resisted vigorously in an attempt to hide the identities of officers involved in Mr. Martinez's arrest.  Second, Gibson Dunn successfully moved to dismiss an improper counterclaim asserting a baseless claim for attorneys' fees against Mr. Martinez.  Third, on the heels of Mr. Martinez's victory obtaining dismissal of the counterclaim, counsel for one Defendant agreed to withdraw four of affirmative defenses, based on Gibson Dunn's persuasive arguments regarding their frivolousness.  And finally, Gibson Dunn successfully argued that one police officer Defendant—who had filed a "motion to dismiss" that did not challenge any claim and asserted only that Mr. Martinez could not seek injunctive relief—was required to promptly answer Mr. Martinez's complaint.
 
The Gibson Dunn team is led by Shireen Barday and includes Andrew Bernstein, Michael Bopp, Lee Crain, Abiel Garcia, Cate Harding, Patrick Hayden, Roscoe Joe Jr., Kate Lee, Marjorie McLean, Michael Nadler, Bina Nayee, Stephanie Silvano, Steven Spriggs, Connor Sullivan, and former associate Chase Weidner, with help from Angel Arias, LaToya Best, Laura Coppola, Steve Raber, and Spencer Scott.  We look forward to vindicating Mr. Martinez's rights and remain confident that this case will help to spark much needed reform in the police training curriculum as far as the treatment of journalists is concerned.
Police Accountability & Misconduct Civil Rights Cases
| | |
| --- | --- |
| Teams led by New York partners Lee Dunst, Alex Southwell, Joel Cohen, and Avi Weitzman are working with The Legal Aid Society's "Cop Accountability Project" and/or Neighborhood Defender Service of Harlem's "Police Misconduct Project" to provide pro bono representation to individuals detained, arrested, or attacked while peacefully protesting in New York City. | |
We have taken on around 10 clients, who include a Black man from Queens who helped lead the "Occupy City Hall" protests urging the defunding of the NYPD and who was dragged onto the ground, kicked, and stomped on to the point of losing consciousness during his baseless arrest; a young woman who was hit on the head with a baton by a police officer at a protest; and a protest passerby ambushed by multiple officers while witnessing their harassment of protesters, who experienced physical and emotional trauma from her unfounded arrest.
---
Advocating for Police Reform
On June 1, 2020, President Barack Obama published a blog post, "How to Make this Moment the Turning Point for Real Change," in which he shared the link to a milestone community-based policing report and toolkit created last year by the Leadership Conference Education Fund (the "Leadership Conference").  That report and toolkit are the products of the hard work of over 160 Gibson Dunn partners and associates who worked to conduct research into best practices and recommendations to reform policing in collaboration with community advocates and law enforcement experts.  President Obama described it as a "starting point" to an effective policing reform agenda.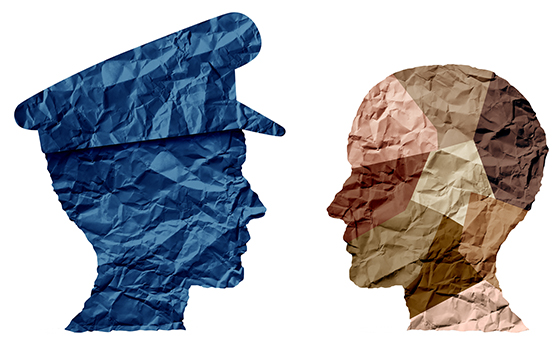 This past summer, a team led by Marcellus McRae and Frances Waldmann launched a Gibson Dunn Police Reform Task Force to re-examine a variety of critical issues in the police reform space, including dismissal policies, police unions, transparency, and excessive militarization in local police departments.  The Task Force has also been able to leverage this expertise and knowledge to take on a variety of police reform matters on behalf of the following clients, as well as newer collaborations underway with Stanford Law School Center for Racial Justice, New York University Law School Policing Project, and the American Bar Association. 
The Leadership Conference 
The Firm is once again working with the Leadership Conference, now in connection with police reform efforts in Dallas, Texas.  The Leadership Conference is a coalition of more than 200 civil rights organizations focused on democracy, justice, and civil rights issues.  Member organizations include the Human Rights Campaign, the NAACP, and the Southern Poverty Law Center, among others. 
The Leadership Conference is working with a statistician to analyze arrest data for low-level, non-violent crimes to identify which state laws and local ordinances predominantly result in citizens of low-income communities having negative contacts with law enforcement.  Based on this empirical analysis and Gibson Dunn's legal analysis regarding options for elected officials and the Dallas Police Department to repeal and de-prioritize the enforcement of certain offenses, the Leadership Conference will present the findings to the Dallas City Council in early 2021. 
Gibson Dunn attorneys from Dallas, New York, and Washington D.C. worked on the matter.  Zoey Goldnick, Tafari Lumumba, Philip Spear, Blair Watler, and Brian Robison were instrumental to the project's completion.
City of Geneva
The Firm is currently also advising the City Council of Geneva, New York, as it considers whether to establish a police accountability board ("PAB").  The proposed PAB would investigate and make recommendations regarding complaints of Geneva Police Department ("GPD") officer misconduct and review the GPD's patterns, practices, policies, and procedures.  Local social justice organizations and advocates have called for the creation of the PAB to reduce racial inequities in policing in the City, to assure accountability of GPD officers, to increase the transparency of the GPD's operations, and to improve public confidence in the GPD. 
At a City Council meeting in September, Gibson Dunn presented an analysis of whether the proposed legislation to establish the PAB is consistent with New York state law, the Geneva City Charter, and the collective bargaining agreement with the local police union.  In particular, Gibson Dunn focused on the PAB's disciplinary and investigative authority, its appointment and removal provisions, and its composition, to identify potential amendments to further protect the proposed law from legal challenge.  We also provided recommendations regarding aspects of the proposed law that the City Council may wish to amend to better satisfy its goals.  Gibson Dunn continues to advise the City Council regarding subsequent amendments to the proposed legislation, which has been designated for a public hearing in January 2021.
The team includes Shireen Barday, Joel Cohen, Michael Li-Ming Wong, Katie Marquart, Roscoe Jones Jr., Laura Sturges, Fiona Carmody, Allison Chapin, Naima Farrell, Tarana Riddick, and Ronit Wineman.
Lawyers' Committee for Civil Rights Under Law
Gibson Dunn represented the Lawyers' Committee for Civil Rights Under Law in support of pushing Congress to pass robust and comprehensive legislation on police reform.  Specifically, Gibson Dunn assisted in advocating on the client's behalf for Congress to pass the George Floyd Justice in Policing Act of 2020, which represents the first comprehensive approach by Congress to combat police brutality, hold police accountable for egregious misconduct, increase transparency through better data collection, and improve police practices and training.  Gibson Dunn attorneys advocated before Senate offices in support of the Justice in Policing Act.  The historic legislation passed in the U.S. House of Representatives, but was not taken up by the full U.S. Senate for a vote.  The efforts to advance comprehensive police reform legislation will continue next year in the 117th Congress and before the incoming Biden-Harris Administration.  Members of Gibson Dunn's Public Policy Group led this initiative, including Roscoe Jones and Michael Bopp. 
This fall, Gibson Dunn also assisted the Lawyers' Committee for Civil Rights Under Law in researching and analyzing new and novel proposals for federal legislation on policing.  Gibson Dunn provided strategic legal and political counsel concerning police reform proposals that would (1) make law enforcement agencies and federal prosecutors bear the cost of police misconduct through changes to federal criminal procedure and (2) implement oversight structures and reforms on federal law enforcement agencies that have succeeded at local levels.  Gibson Dunn attorneys from five offices across the firm assisted with the project.  Reuben Aguirre, Leah Bower, Yair Galil, Lydia Lulkin, Tafari Lumumba, Praatika Prasad, and Craig Streit were instrumental in preparing the analysis that resulted in the delivery of a comprehensive report to the client, with supervision from Roscoe Jones, Michael Bopp, and Alex Southwell.
Gibson Dunn Files Critical Amicus Briefs in Police Accountability Cases
On June 9, 2020, the New York Legislature repealed N.Y. C.R.L. § 50-a ("Section 50-a"), a law that made New York one of two states in the country that restricted public access to police misconduct records.  Almost immediately, unions representing police officers, firefighters, and correction officers (the "Unions") in both New York City and Buffalo filed lawsuits requesting injunctions to prevent the release of such information.
Gibson Dunn submitted an amicus brief in the case pending in New York City on behalf of Girls for Gender Equity, Inc. and Transgender Law Center, nonprofit organizations that serve girls and women of color and transgender and gender nonconforming people, in opposition to the Unions' request to block the relevant records from public view.  The brief explained to the Court that the marginalized groups that these nonprofits serve experience disproportionate mistreatment by law enforcement, particularly in the form of sexual violence, and that access to law enforcement disciplinary records, including Unsubstantiated and Non-Final Allegations, is critical to exposing patterns and isolated incidents of sexual violence. 
In the Buffalo case, Gibson Dunn represented 10 community organizations (including the National Center for Law and Economic Justice, the Center for Constitutional Rights and Open Buffalo) and 13 concerned Buffalo citizens in a motion for amicus curie relief.  The amici argued that the Unions' effort to prevent the release of these records thwarts the clear intent of the Section 50-a repeal and would amount to a shadow reversal of the repeal.
In both cases the courts, recognizing (among other things) the important public interests at stake, rejected the Unions' arguments and held that, with limited exceptions, the disciplinary records at issue should be released.  The attorneys who put together the brief for these important matters are Joel Cohen, Shireen Barday, Katie Marquart, Sarah Segal, Julie Hamilton, Maya Nuland, Allison Chapin, Genevieve Quinn, Maya Danaher, Sara Schalfstein, Jevon Potts, Matthew Aiken, Vladimir Semendyai, Taonga Leslie, Elizabeth Niles, Katy Sharp, Kelly Herbert and Ronald Lee.
In December 2020, Gibson Dunn signed on to represent the Lawyers' Committee for Civil Rights Under Law, the ACLU of Hawaii, and the Honolulu Civil Beat (a nonprofit news agency) and its nonprofit law firm, the Civil Beat Law Center, in an amicus brief supporting the defendants in State Hawaii Organization of Police Officers (SHOPO) vs. City and County of Honolulu.  In October 2020, Hawaii passed into law Act 47, which (1) repealed a carve-out in the state's public records law that effectively shielded from public disclosure the records of police officers who were suspended but not discharged, and (2) required that local police departments provide to the legislature the names of officers who were suspended or discharged, but who have yet to compete the grievance process.  The state police union, SHOPO, has challenged both provisions in Honolulu, where the Court is still considering whether an injunction is appropriate on the second issue.  The Firm's brief will focus on whether the Act serves the public interest.
Ninth Circuit Section 1983 Appeal
A group of Orange County attorneys including Blaine Evanson, Joseph Edmonds, Jennafer Tryck, Katie Henderson, and Jessica Pearigen are currently engaged in a Ninth Circuit pro bono appeal in which they represent the appellant, a single Black grandmother, in the Section 1983 case of Winkler v. City of Phoenix (No. 19-16034).  Ms. Winkler was wrongfully arrested for misdemeanor trespassing in a gas station parking lot.  The arresting officer performed an unjustified takedown on her where he smashed her face into the pavement and fractured her skull in the process.  Among other issues on appeal is a Batson challenge to the defense's exclusion of the only Black prospective juror. 
Significant Pro Bono Win in SDNY Civil Rights Case
In the fall of 2019, the Firm took on a Section 1983 case for Mr. Ramirez, a wheelchair-bound former prison inmate.  While in prison, Mr. Ramirez was brutally beaten by guards and denied medical care.  The Gibson Dunn team persuaded the Court to reopen discovery, at which point additional medical records revealed grounds to amend the complaint to reassert our client's dismissed deficient medical care claim, as well as assert a new Eighth Amendment inhumane conditions of confinement claim and new Americans with Disabilities Act and Rehabilitation Act claims.  Earlier this month, the Court granted the team's motion for leave to amend in a ruling that was a complete sweep in our favor and systematically dismantled each of the Government's arguments.  The team of Matthew Biben, David Kusnetz, Jason Bressler, and Vinay Limbachia overcame the challenge of convincing the Court to change its prior decision of dismissing our client's claim.  Mr. Ramirez can now reassert his claims arising from the reprehensible treatment he received as a severely disabled inmate.  Our client is thrilled by the decision and we look forward to pursuing these new claims against the Government.  
---
Combatting the Impacts of Systemic Racism in our Communities
Assisting Minority-Owned Small Businesses
We also continued our longstanding pro bono work that affects people of color and those affected by systemic racial inequality.  In 2020, more than ever, that included recognizing the great need that exists in minority communities to assist small business owners navigate the complexities of successfully running a business amidst the pandemic, which has caused unimaginable damage to small businesses across the globe, plunging them into deep economic uncertainty. 

Many of our existing pro bono clients turned to Gibson Dunn for help navigating these unchartered waters. 
Start Small Think Big (SSTB), a long-term pro bono partner, has always been singularly focused on providing pro bono legal assistance to under-resourced small businesses.  Nearly all of their clients are minority-owned or women-owned small businesses.  In the wake of the pandemic, SSTB's work has become all the more urgent.  The Firm quickly jumped in to assist SSTB with their newly developed Rapid Response program.  Throughout the last several months, the Firm assisted more than 140 small businesses from across the country, advising them on the PPP loan process, employment, and leasing.  We engaged in legal consultations designed to help business owners assess their legal needs and position themselves to get full-scope representation if necessary. 
Overall, nearly 200 lawyers from 13 offices contributed approximately 4,000 hours between March and mid-November 2020 to the COVID-19 response to small business needs through efforts including the SSTB Rapid Response Program.  Their initiative during this unprecedented time and dedication to helping those in need is truly inspiring.  The crisis is not over, and we are so proud of Gibson Dunn for stepping up to meet the needs of the small business community during the pandemic.
Election Protection
As we approached the November 2020 general election, lawyers from across the United States dedicated their time to the nonpartisan, election protection efforts led by the Lawyers' Committee for Civil Rights Under Law.  Volunteers assisted with the call center/hotline to help ensure every voter's voice was counted.  More than 90 lawyers contributed nearly 2,500 pro bono hours to these efforts to ensure access to the polls for all Americans and to help combat voter suppression, which historically has been shown to primarily and disproportionately affect minority communities.  In addition to various laws passed that have underlying racial biases, making it more difficult for minorities to engage in the election process, other institutional issues also create challenges.  For example, surveys have showed that the location of polling places often makes it more difficult for low-income, minority communities to access them.  Efforts like the Election Protection Hotline attempt to ensure that every American – regardless of party or skin color – has a meaningful opportunity to cast their vote.
In the days leading up the election, the Election Protection Hotline was receiving anywhere from 5,000 to 7,000 calls a day.  The questions varied in complexity and topic including about voter registration, mail-in ballots, non-responsive boards of elections, people being turned away at early voting places, COVID-19, voting from overseas or from a nursing home, or voting without a place to call home.  The organization also received voter intimidation, suppression and electioneering reports.  One Gibson Dunn volunteer, Kelly Herbert, shared a story of a 90-year-old Pennsylvania woman who was unable to go to the polls in person or her nearby drop-box as she lived alone and was disabled.  Kelly worked hard to get her access to a mail-in ballot and shared that as she hung up the call, the woman thanked her through tears. As Kelly noted, "while this work didn't make headlines, every call was an opportunity to empower, educate and support one of the most fundamental structures in our democracy: the right to vote."
---
Tackling Mass Incarceration and the Criminal Justice System
| | |
| --- | --- |
| | Over the past couple of years, the Firm has partnered with the Innocence Project to help screen cases that may have colorable claims of actual innocence worth pursuing. The Innocence Project receives approximately 2,400 of such requests for assistance every year, and Gibson Dunn lawyers from all practice areas help by thoroughly reviewing some of the cases to determine whether DNA testing has the ability to prove innocence and ultimately exonerate the defendant.  |
Since May 2020, attorneys from the Firm's Dallas, Los Angeles, New York, Palo Alto, San Francisco, and Washington, D.C. offices have taken on a total of seven new cases, all in collaboration with attorneys working in-house at some of the Firm's most longstanding corporate clients. People of color are disproportionately represented at every stage of the criminal justice system, and it is our privilege to try to bring some justice to those who have been treated unfairly, perhaps in large part because of the color of their skin.
In November 2020, the Firm launched a collaboration with Promise of Justice Initiative, a New Orleans-based nonprofit working to repair the systemic harms caused by so-called Jim Crow juries, which allowed individuals to be convicted of a crime by a non-unanimous jury in Louisiana for over 100 years.  More than 80% of the over 2,000 people still imprisoned due to Jim Crow juries are Black, and most are serving life sentences.  On April 20, 2020, the Supreme Court held the practice to be unconstitutional in Ramos v. Louisiana.  However, those already convicted and incarcerated pursuant to this abhorrent practice were not granted automatic relief by the decision in Ramos and will need to file a petition for review.  Our Firm jumped in to help by triaging possible cases that might be eligible for relief. Within a week, dozens of lawyers from various Gibson Dunn offices reviewed the cases of 90 defendants. 
We look forward to assisting further in this important work in 2021, including taking on some of the individuals impacted by this policy as clients, and filing motions to reopen and rehear their original cases. 
Racial Justice & Equity Initiative GDConnect Page
Please check out our newly created Racial Justice & Equity Initiative page on GDConnect to keep apprised of the various pro bono and diversity initiatives underway in this space and learn how to get involved. A big thank you to Marina Szteinbok, as well as Kelsi Oliver, Margarita Tseytlin and many others, for your hard work putting this together!