Gibson Dunn Frank Wheat Memorial Award 2020
The Pro Bono Committee is thrilled to recognize the winners of this year's Frank Wheat Memorial Awards.  The Frank Wheat Memorial Award is given annually to individual lawyers and teams that have demonstrated leadership and initiative in their pro bono work, obtained significant results for their pro bono clients, and served as a source of inspiration to others.  This year's winners reflect the very best of what it means to be a Gibson Dunn lawyer, and we are so proud to honor them for their work. 
Frank Wheat, a former Los Angeles partner, was a superb transactional lawyer, SEC commissioner, and president of the Los Angeles County Bar.  He was also a giant in the nonprofit community, having founded the Alliance for Children's Rights in addition to serving as a leader of the Sierra Club and as a founding director of the Center for Law in the Public Interest.  He exemplified the commitment to the community and to pro bono service that has always been a core tenet of the Gibson Dunn culture.  Recipients of the Frank Wheat Memorial Award each receive a $2,500 prize to be donated to pro bono organizations designated by the recipients. 
As you will note, this year's winners and nominees worked on a variety of matters ranging from immigration work and first amendment defense to pandemic response efforts and critically important racial justice work.  Ultimately, we selected two winners in each category.  In the team category we chose to honor the work of two teams of lawyers who rose to meet the challenges thrown at various communities amidst the COVID-19 pandemic – the small business community and the immigrant community.  We similarly chose to honor two individual attorneys this year.  One devoted stood up and fought zealously to defend first amendment rights – and won, while the other worked tirelessly to further the firm's work on police reform and accountability.
Despite facing myriad challenges in 2020, Gibson Dunn remained steadfast in its commitment to pro bono work, devoting approximately 158,000 pro bono hours globally to hundreds of efforts around the world.  Our attorneys averaged 118 pro bono hours per attorney in the United States and 106 pro bono hours per attorney worldwide.  Last year we also rejoiced at the Supreme Court's decision that the Trump Administration's termination of the Deferred Action for Childhood Arrivals ("DACA") policy was arbitrary and capricious in violation of the Administrative Procedure Act.  The Supreme Court's decision was a victory for Gibson Dunn and its clients, as well as hundreds of thousands of other DACA recipients. To learn more about Gibson Dunn's work on this case, please check out this short video. 
Please read about the inspiring work of this year's winners and nominees, and join us in congratulating them for all they have accomplished.

Happy New Year!
---
TEAM AWARD WINNERS
COVID-19 Response to Small Business Needs (Multi-Office)
Amidst the significant uncertainty and challenges of the last year, we are so proud of the Gibson Dunn attorneys who stepped up to meet the needs of the small business community in an unprecedented way.  Beginning in March 2020, the coronavirus pandemic plunged small business owners into deep economic uncertainty as they had to grapple with closures, restrictions, and a loss of income.  In this uncertain and unprecedented time, many of our lawyers worked tirelessly to set up outreach efforts and compile guidance on the complex new regulations and laws promulgated in the wake of the crisis, and to provide much needed legal advice to this community.  Snapshots of some of the most impactful projects in this space are included below.   
Start Small Think Big: Start Small Think Big ("SSTB"), a long-term pro bono partner, has always been singularly focused on providing pro bono legal assistance to under-resourced small businesses, nearly all of which are minority- or women-owned.  In the wake of the pandemic, SSTB launched a Rapid Response program to assist small businesses trying to weather the crisis.  The program aimed to provide these businesses with a quick legal consultations designed to help them assess their legal needs in certain areas, as well as to help position them to receive full-scope representation for their needs, if necessary.  Ultimately, the Firm assisted more than 200 small businesses across the country through this program, including many consultations conducted in collaboration with in-house attorneys from some of the Firm's corporate clients.

New York Moves Forward: In the early days of the crisis, Gibson Dunn collaborated with the New York Governor's office and Empire State Development to quickly set up an online portal and hotline to help small businesses and nonprofits navigate the complex CARES Act loan program.  Ultimately, Gibson Dunn lawyers addressed requests from over 70 nonprofits, small business owners, and independent contractors all over the state, including medical practices, communications agencies, hair salons, bakeries, and transportation providers.

La Cocina: When San Francisco's small business community began to feel the impacts of COVID-19, local nonprofit La Cocina, which provides business advice to women, immigrants, and people of color, turned to Gibson Dunn for help regarding commercial lease obligations, rent abatement possibilities, small business loans, and force majeure clauses.  Gibson Dunn was quick to rise to the challenge.  As noted by a La Cocina Board of Directors member, the Firm's "support has allowed La Cocina staff and volunteers to spend even more time on critical entrepreneur and community support including The Emergency Relief Fund, an ongoing fundraising effort that has already distributed much-needed support to our La Cocina applicants as well as growing membership."

Guides for Small Businesses and Nonprofits: Drawing on expertise from multiple practice groups and nearly all of our U.S. offices, Gibson Dunn created comprehensive overviews, FAQs, best practice guides, and webinars with resources and considerations for several key areas that are particularly important to small businesses and nonprofits.  These guides were made widely available to the Firm's pro bono and corporate clients.
Approximately 200 lawyers from 13 offices contributed approximately 4,300 hours between March and mid-November 2020 to the COVID-19 response to meet small business owners' needs. These attorneys' initiative and dedication is truly inspiring, and we are so proud to honor their collective work and achievements here. Click here for the full list of attorneys who participated in this important initiative.
Farmville Detention Center – COVID 19 Response Efforts
During the coronavirus pandemic, Farmville Detention Center in Virginia became the scene of a grave humanitarian crisis.  On June 2, ICE transferred 74 individuals to Farmville from detention facilities in Florida and Arizona, despite knowing that those facilities were experiencing active COVID-19 outbreaks.  Farmville accepted the 74 transferees even though officials knew the facility did not have the capacity to quarantine, isolate, or adequately screen the transferees at intake.  51 of the transferees subsequently tested positive for COVID-19, and the virus spread like wildfire throughout the facility—with devastating consequences for those trapped inside.
Ultimately, nearly 90% of the civil immigration detainees housed there contracted COVID-19, several were hospitalized and one man died.  Beyond the issues with the transfer itself, ICE and Farmville failed to follow CDC guidance to prevent and control the spread of the virus, including by packing detainees in poorly ventilated dorm rooms where they slept inches apart from one another and failing to provide detainees with sufficient personal protective equipment like masks and hand sanitizer.  They also failed to provide detainees with adequate medical care, denying them treatment for days after they started showing COVID-19 symptoms, and then providing just one or two doses of Tylenol or cough medicine each day.  To make matters worse, the facility also failed to provide detainees with adequate food, frequently serving rotten or bug-infested meals. 

Gibson Dunn learned of the tragedy unfolding within Farmville from long-time client Christian Santos Garcia, a young man who fled gang and police violence in El Salvador as a teenager and who has been detained at Farmville for over three years.  Gibson Dunn, along with the National Immigration Project and the Legal Aid Justice Center, filed a lawsuit in the U.S. District Court for the Eastern District of Virginia on behalf of Christian and several of his fellow detainees challenging the appalling conditions and alleging that ICE, Farmville, and the other officials and contractors violated the detainees' Fifth and Fourteenth Amendment rights to reasonable safety and to be free from punitive conditions of confinement, and that they violated the Administrative Procedure Act for failing to follow their own rules and CDC guidance concerning detention conditions.  Concurrently, the team also engaged in legislative outreach to members of Virginia's federal and state congressional delegations to put a spotlight on the deplorable conditions at Farmville and to ask lawmakers to take action. These efforts bore fruit, as multiple legislators, including Senators Mark Warner and Tim Kaine, sent letters to ICE officials expressing concern about the outbreak and urging ICE to work with the CDC to assess the facility and to ensure that detainees received proper care.
The team obtained tangible benefits for individuals detained at Farmville, including a grant-in-part of its preliminary injunction, a grant of its motion to enjoin transfers into and out of the facility, and a significant reduction in the detainee population over time, providing more space for social distancing and less risk of transmission of COVID-19 from outside the facility. The Gibson Dunn team will continue to aggressively litigate this case in the months to come, with the hope of obtaining justice for the detained individuals who have been harmed by ICE and Farmville's egregious misconduct.
The team includes partners David Debold, Joseph West, Katie Marquart, and Michael Bopp, counsel Roscoe Jones Jr., associates Naima Farrell, Tommy McCormac, Aaron Smith, Katie King, Sarah Akhtar, Blair Watler, Emily Maxim Lamm, Matthew Rozen, Andrenna Berggren, Chantalle Carles Schropp, and Paige Burroughs, and former associates Daniel Osher, Chad Squitieri, and Abigail Bush.
---
INDIVIDUAL AWARD WINNERS
Lee Crain, New York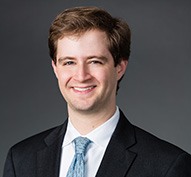 The firm is pleased to honor Lee Crain, a litigation associate in the New York office, for his advocacy to protect the journalistic freedom and integrity of federally funded news organizations, including Voice of America, Radio Free Europe/Radio Liberty, Radio Free Asia, Radio Martí, and the Middle East Broadcasting Networks.
These news agencies are overseen by a United States federal agency, the United States Agency for Global Media (the "Agency"), and function as a form of soft-power foreign policy, providing truthful and accurate news to places where propagandists typically rule the airwaves.  In spring 2020, President Trump launched a series of political and baseless attacks on Voice of America ("VOA"), claiming it was reporting too favorably on China, and promising that the installation of his nominee, former right-wing documentary filmmaker Michael Pack, to lead the Agency would result in a marked change to the networks.  Already poised for action, Lee co-wrote a Law360 article positing that political appointees should not interfere with VOA's reporting because—despite being government employees—VOA journalists are entitled to First Amendment protections. 
Mr. Pack took office in mid-July and immediately fired almost all of the heads of networks.  In August, news broke of further employment actions Pack had taken to diminish the Agency, and the Firm was quickly engaged to help.  Under Lee's leadership, the team penned an 83-page Complaint, a Preliminary Injunction brief with 55 accompanying exhibits, and more than 10 witness declarations, including declarations from Steve Capus, former President of NBC News, all of Gibson Dunn's clients, and two anonymous VOA journalists.  Lee also executed a brilliant media strategy to ensure the Firm's clients their rightful place as the heroes of the story, seeking to protect bona fide journalism broadcast to the parts of the world that need it most.  In addition to the quick turnaround briefing on the preliminary injunction motion, Lee prepared for and argued the merits and standing aspects at oral argument (with New York partner Zainab Ahmad arguing the irreparable harm and balance of the equities issues). On November 20, the Court granted a preliminary injunction with respect to the First Amendment claim in a 76-page opinion, enjoining Pack and the Agency from taking or influencing personnel actions against individual journalists or editors, attempting to influence content through communications with individual journalists or editors, and investigating purported breaches of journalistic ethics.
This victory established that VOA journalists, acting in a journalistic capacity, are entitled to First Amendment protections despite being government employees, and protected these journalists from improper threats of investigation or punishment for seeking and revealing truth.  Lee was at the center of this victory, and we are so proud to honor him here.
Frances Waldmann, Los Angeles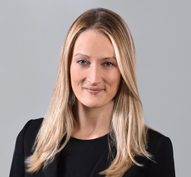 The firm is pleased to honor Frances Waldmann, a litigation associate in the Los Angeles office, for her exceptional and tireless work on the issues of police accountability and reform.  As the Firm dived into its Racial Justice Initiative over the last year, Frances was at the forefront of work in the police reform space—a keystone of the Firm's racial justice work that has garnered the attention of prominent racial justice organizations and many corporate clients.
Long before the current racial justice movement took off in response to the brutal murder of George Floyd, Frances already was very active in the police reform space.  Together with Los Angeles partner Marcellus McRae and Palo Alto partner Ben Wagner, she led a Gibson Dunn team of about 160 lawyers who collaborated with the Leadership Conference Education Fund on a comprehensive report and toolkit on police reform in the United States.  The team's research provided best practices and recommendations to reform policing, reflecting input from community advocates and law enforcement experts.  On June 1, 2020, President Barack Obama published a blog post, "How to Make this Moment the Turning Point for Real Change," in which he shared the link to the milestone community-based policing report and toolkit.
Beginning in the summer of 2020, Frances helped organize and lead a firm-wide Police Reform Task Force.  The Task Force aims to tackle a broad array of police reform and accountability issues, including the power of police unions, transparency, dismissal policies, the excessive militarization of the police, and much more.  In just a few short months, Frances has accomplished impressive results, fostering relationships with leading racial justice organizations across the country and managing dozens of associates working on various research projects.  Frances has helped develop relationships with organizations across the country, and has helped distinguish Gibson Dunn as a firm with deep expertise and passion in the police reform space.   She has forged relationships with the American Bar Association, various ACLU affiliates, the Lawyers Committee for Civil Rights, and several prominent law schools, including Stanford and New York University.  She also planned a Firm-wide webinar, "Reimagining Policing: A Discussion on Next Steps and Solutions," which also has been presented to Gibson Dunn colleagues, alumni, and corporate clients.  As the Firm embarks on its Racial Justice Initiative, we are so proud of the work Frances already has accomplished and are so excited to see what is still to come.
---
2020 Frank Wheat Award Nominees
Team:
Individuals:

Anthony Moreno & Craig Streit (San Francisco)