As we enter this season, we are especially grateful for the tireless efforts of Gibson Dunn attorneys around the world on behalf of our pro bono clients. Thank you for all of your incredible work.

Happy Holidays!
---
Defending the Dreamers
Since 2012, the Deferred Action for Childhood Arrivals (DACA) program has allowed nearly 800,000 undocumented individuals, who arrived in the United States as children, to live normal, productive lives without fear of deportation from the only country most of them have ever called home.  The program has been an unqualified success, and these young "Dreamers" – the name often used to refer to recipients of DACA's protection – have captured the attention and the hearts of millions of Americans.
Nevertheless, on September 5, 2017, the Trump administration announced that it was ending the DACA program.  This threw the lives of these hundreds of thousands of people and their loved ones into chaos, destroying the foundation they had been building their lives upon and casting their futures into doubt.
Shortly after the announcement, lawyers around the country stepped up to challenge DACA's rescission and protect those affected by it.  Gibson Dunn is very proud to represent, along with our partners at Public Counsel, six individual Dreamers in a lawsuit in the Northern District of California seeking to vacate the government's decision to end DACA.  It was challenged as both arbitrary and capricious under the Administrative Procedure Act, and unconstitutional under the Due Process and Equal Protection clauses of the U.S. Constitution.
Our clients include a lawyer, a law student, a medical student, a special education teacher, a teacher, and a graduate student.  All of them have grown up in the United States and have worked hard to better themselves, build full and productive lives, and support their families. They all also dedicate substantial amounts of time to giving back to their communities.  As the Ninth Circuit observed, our clients truly embody the "American Dream."  They are fantastic representatives of the hundreds of thousands of other young people around the country who have built similarly fulfilling, impressive, and impactful lives in the United States.
In January 2018, Gibson Dunn – working with plaintiffs in related cases – secured a nationwide preliminary injunction temporarily halting the termination of DACA.  Judge William Alsup of the Northern District of California rejected the government's threshold "reviewability" arguments and found that a preliminary injunction was appropriate.  Accordingly, Judge Alsup enjoined the rescission and ordered the government, with limited exceptions, "to maintain the DACA program on a nationwide basis on the same terms and conditions as were in effect before the rescission on September 5, 2017, including allowing DACA enrollees to renew their enrollments…" 
In November 2018, a three-judge panel of the Ninth Circuit upheld Judge Alsup's injunction.  As a result of this injunction that continues to be in place nearly two years after it was entered, Dreamers have been able to renew their applications for DACA and work authorization.
In June 2019, the Supreme Court granted certiorari in the Ninth Circuit case as well as two other DACA-related cases from the Second and D.C. Circuits.  On November 12, 2019, Gibson Dunn partner Ted Olson and California Solicitor General Michael Mongan represented the non-state and state respondents, respectively, at oral argument before the Supreme Court.  Notably, Ted's second-chair was Luis Cortes – the first DACA recipient to become a member of the Supreme Court bar and a stark reminder of the stakes of this case.  A decision is expected by June 2020. 
Gibson Dunn is proud to have represented the Dreamers from the filing of the complaint through Supreme Court arguments as it fights for those who face the loss of work authorization and the prospect of deportation and separation from their families following the administration's sudden decision to terminate this program.
Additional members of the Gibson Dunn team include Stuart Delery, Ethan Dettmer, Nathaniel Bach, Suria Bahadue, Kelsey Helland, Charlotte Lawson, Salvatore Mancina, Katie Marquart, Haley Morrison, Matthew Rozen, Jonathan Soleimani, and Andrew Wilhelm.

---
Gibson Dunn Secures Repayment of Improperly Seized Veterans Disability Benefits for Pro Bono Client
Gibson Dunn represented a disabled veteran in connection with his challenge to the Government's unilateral seizure of veterans disability benefits from his inmate trust account for restitution repayment.  Originally retained through the Ninth Circuit's Pro Bono Program, Gibson Dunn prepared multiple rounds of briefing and argued before the Ninth Circuit, filed a successful certiorari petition before the United States Supreme Court, secured remands from the Supreme Court and Ninth Circuit, and negotiated a resolution that allows our client to retain a portion of the funds that the Government had erroneously seized.  Not only did this case represent an important check on the Government's often-unbridled invocation of broad criminal restitution collection power, but more importantly, the recovered funds will go a long way in assisting the client with a smooth transition upon his imminent release from prison.
The Gibson Dunn team included Ashley Johnson and Wesley Sze, with assistance from Eric Vandevelde and former associate Matthew Greenfield.
---
Gibson Dunn Honored with National Immigration Law Center's Courageous Luminary Award
On October 3, 2019, the firm was recognized for its work on behalf of the immigrant community generally, and specifically for its work in collaboration with NILC and other groups filing a lawsuit in Vermont challenging retaliatory, unlawful actions by ICE and other government agencies.  Amanda Aycock, who plays a leading role on the Vermont litigation, accepted the award on behalf of Gibson Dunn.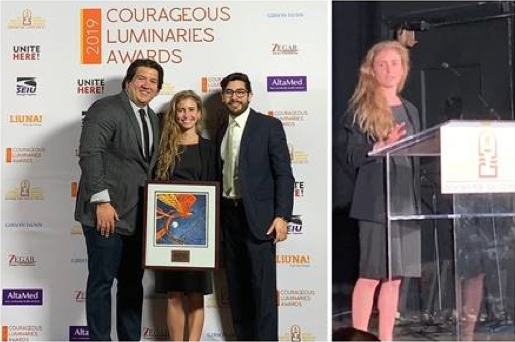 ---
Gibson Dunn Assists Detained Immigrants at Aurora Detention Center with Asylum Claims
In May 2019, the Gibson Dunn Denver office began participating in a newly launched program led by the Rocky Mountain Immigrant Advocacy Network (RMIAN), the Colorado Lawyers Committee, and the Immigration Justice Campaign.  Through this initiative, known as the PASS Program for "Preparing Asylum Seekers for Success," lawyers visited the Aurora Detention Center in Colorado monthly to prepare detained asylum-seekers for credible fear interviews ("CFIs").  In these interviews, immigrants give their stories to an immigration official in order to explain the dangers facing them in their home countries and essentially begin the asylum application process.  Receiving help with preparing for a CFI can be invaluable, as a detainee who does not successful establish credible fear will be placed in removal proceedings.
To date, associates Peter Baumann, Josiah Clarke, Yamini Grema, Julie Hamilton, Patricia Herold, Eva Michaels, Jeremy Ochsenbein, Jacob Rierson, and Laura Sturges have assisted 20 detained immigrants with their CFI preparation.  Their work was recently recognized in Law Week Colorado.  The clients, who have all been extremely appreciative of the team's efforts, are from countries including Honduras, Guatemala, Mexico, and El Salvador.  Greg Kerwin supervises the firm's participation.  The Denver office recently committed to another year of PASS Program participation. 
---
Gibson Dunn Supports Domestic Violence Survivor in Supreme Court Case
Along with co-counsel Professor Paul Cassell, one of the nation's foremost advocates for victims' rights, we represent Lynn Denton—a surviving member of the family slain by Kraig Kahler—as well as the Arizona Voice for Crime Victims, Inc. and the Utah Crime Victims Legal Clinic.  In 2009, in a horrible act of domestic violence, Kahler shot and killed virtually his entire family: his two teenaged daughters, their mother (who was in the process of divorcing Kahler and had a protective order against him), and Lynn's grandmother.  He was subsequently sentenced to death.  Kahler has argued on certiorari to the U.S. Supreme Court that the State of Kansas's decision not to adopt one form of the insanity defense—which focuses on whether the defendant knew the rightness or wrongness of his actions—violated his constitutional rights.  Kansas instead recognizes a variation of the defense that concentrates on whether the defendant could form the requisite mens rea to commit the crime.  Gibson Dunn filed an amicus brief in support of Kansas, arguing that states need flexibility in this complex, sensitive area to balance the needs of the mentally ill with the concerns of victims and survivors.  The Gibson Dunn team includes Allyson Ho, Brad Hubbard, and John Ehrett.
---
Gibson Dunn Obtains Second Department Affirmance of Pro Bono Client's Suppression Order
On September 18, 2019, Gibson Dunn and Brooklyn Defender Services obtained a victory at the Second Department, winning the affirmance of a trial court's order suppressing evidence of a firearm and our client Thomas Ravenell's post-arrest statements. 
Mr. Ravenell was charged with, among other crimes, possession of a firearm and resisting arrest.  Specifically, following Shotspotter reports of possible gunshots in the middle of the night in a particular Brooklyn neighborhood, an unidentified bystander informed police that he saw two men in the vicinity: one in a dark jacket and one in a white jacket.  After officers saw Mr. Ravenell and a friend walking in the area wearing clothing that matched the bystander's report, one officer chased Mr. Ravenell, who discarded a firearm at the end of the chase.  At the trial court, the Supreme Court granted Mr. Ravenell's motion to suppress the firearm and his post-arrest statements, concluding that the officer lacked reasonable suspicion to chase Mr. Ravenell after he fled the scene. 
On appeal to the Appellate Division, Second Department, Gibson Dunn submitted a brief that contended that Mr. Ravenell's flight, even in combination with the ShotSpotter reports and the information from the unidentified bystander, did not amount to reasonable suspicion permitting police to give chase following Mr. Ravenell's flight, which was a lawful exercise of his constitutional right to be let alone.  The panel, convinced that the police lacked reasonable suspicion to chase our client, and that discarded firearm and post-arrest statements were unlawful fruits of the poisonous tree, affirmed the suppression order.  A full dismissal is expected in the Supreme Court.       
The Gibson Dunn team includes Avi Weitzman, Ashley Fernandez, and former associate Trevor Gopnik.
---
Gibson Dunn Advocates for the Right to Counsel Before the Seventh Circuit
At the request of the Seventh Circuit, Gibson Dunn represents the petitioner Nicolas Subdiaz-Osorio in a Fifth Amendment habeas corpus appeal that was argued on November 7.  The case was heard by Judges Hamilton, St. Eve, and Scudder, and New York associate Declan Conroy presented the argument.  The central question before the circuit is whether Mr. Subdiaz-Osorio's statement to an interrogating officer, "[h]ow can I do to get an attorney here because I don't have enough to afford for one [sic]" was an unequivocal invocation of his right to counsel. 
On direct review, the case was heard by the Wisconsin Supreme Court which, in a divided opinion, accepted the state's argument that it was reasonable for the interrogating officer to interpret "here" as referring to an extradition hearing that Mr. Subdiaz-Osorio and the interrogating officer had discussed earlier in their conversation.  In the briefs and in oral argument, Gibson Dunn has argued that the Wisconsin Supreme Court defied clearly established law by not crediting as valid a request to "get[] an attorney here," and that the state court's reliance on surrounding context over the plain meaning of Mr. Subdiaz-Osorio's words was unreasonable.  On a broader level, the briefing and arguments have also emphasized the need to enforce the Supreme Court's bright-line rule that post-invocation context cannot be used to undermine the validity of a suspect's invocation of the right to counsel in an interrogation, and stressed the importance of crediting any unequivocal request for counsel made in an interrogation as valid, regardless of whether other judicial proceedings were referenced in the interrogation.
The Gibson Dunn team includes Avi Weitzman, Andrew LeGrand, Declan Conroy, Sheri Pan, Oliver Fong, and Andrew Kuntz.
---
Gibson Dunn Wins Pro Bono Team of the Year from DV LEAP
On October 10, 2019, Gibson Dunn was named Pro Bono Team of the Year by the Domestic Violence Legal Empowerment and Appeals Project (DV LEAP) at its annual Tip the Scales of Justice Celebration.  DV LEAP makes the law work for survivors of domestic violence through expert pro bono advocacy, training lawyers and judges on best practices, and spearheading domestic violence litigation in the Supreme Court.  Since 2016, Gibson Dunn has partnered with DV LEAP in representing a survivor of domestic abuse in an appeal—now before the Supreme Court—concerning the Hague Convention on the Civil Aspects of International Child Abduction.  The Gibson Dunn team includes Amir Tayrani, Melanie Katsur, Kellam Conover, Shannon Han, Charlotte Lawson, and Claire Chapla, as well as former associates Chris Baum and Aidan Taft Grano.  Chris presented oral argument to the Sixth Circuit, Aidan presented oral argument to the en banc Sixth Circuit, and Amir will present oral argument to the Supreme Court.  The case is the Supreme Court's first Hague Convention case on the habitual-residence issue and will be argued on December 11, 2019.
---
Gibson Dunn Represents Homeowners in Housing Discrimination Appeal in the Ninth Circuit
For years, the Morris family hosted a Christmas program at their home, giving all donations from attendees to children's charities.   When the Morrises moved to a new neighborhood, they checked with their new homeowners association to make sure they could continue the program and were assured that they could.  Once they moved in, however, the Morrises were subjected to a campaign of hostility and religious discrimination orchestrated by the homeowners association—even leading to death threats against the Morrises.  The Morrises sought relief by filing Fair Housing Act claims in federal court, and they found in their favor.  The district court, however, reversed the verdict and rendered judgment for the homeowners association, concluding that the Morrises had not put forward sufficient evidence to permit a finding of religious discrimination. Gibson Dunn attorneys Allyson Ho, Katie Yarger, Travis Andrews, Thomas Swanson, Kayla Ferguson, and John Ehrett filed an opening brief in the Ninth Circuit on behalf of the Morris family on October 11, 2019.
---
Gibson Dunn Wins Excellence in Pro Bono Award at The Law Society Excellence Awards 2019
Gibson Dunn was named winner of the Excellence in Pro Bono Award at The Law Society Excellence Awards 2019.  The firm was recognized for Ryan Whelan's work leading the legal and political campaign in the UK against "upskirting," the act of capturing images under a woman's skirt without her permission.  The Law Society said of the firm's work: "Gibson, Dunn & Crutcher have achieved lasting and dramatic change in an area of significant public importance, by bringing the concerning trend of 'upskirting,' a practice of taking photos up someone's skirt without their consent, into the courts.  The judges were especially impressed with the breadth of legal skills used and the ambition of the project – this firm have shown how much can be achieved when solicitors get creative with pro bono."  The awards were presented on October 23, 2019.
---
Gibson Dunn Secures Series of Asylum Wins on Behalf of LGBTQ Immigrants in New York City
The New York office has continued its winning streak on behalf of LGBTQ asylum-seekers from countries including Russia, Jamaica, Colombia, Kazakhstan, South Korea, and Dominica.  In 2019, over 20 clients have been granted asylum due to the efforts of dozens of lawyers.  Many of these lawyers are now helping these clients with their adjustment of status applications so that they can become lawful permanent residents (green card holders).  
***
One recent win required overcoming the statutory one-year deadline to apply for asylum after entering the United States.  On November 12, 2019, Jonathan Seibald, with Jim Hallowell supervising, obtained asylum for a gay man from Ghana who had suffered extensive persecution in his home country based on the perception that he may be gay.  The client was subjected to beatings and an arson attack on his home, and was run over and knocked unconscious by a motorcycle driven by a man who frequently made homophobic comments to him.
Our client came to the United States in the spring of 2017, and did not immediately apply for asylum, in part due to confusion about the complicated U.S. immigration system.  He remained in New York past the expiration of his visa.  In May 2019, our client volunteered at a pride prom for LGBTQ high school students in New York.  At that event, he was spotted by a member of his Ghanaian mosque in New York, who coincidentally worked at the facility hosting the prom.  Members of his mosque then angrily confronted our client about his sexual orientation, and he confirmed that he is gay.  By July 2019, word had spread back to Ghana, as family members still in Ghana called him to say that people in their community were discussing his acknowledgement that he is gay. 
Given the persecution that he had previously suffered based on the perception that he may be gay, our client became incredibly afraid of returning to Ghana now that it was known he is gay.  Gibson Dunn took his case in September 2019.  Since he had not applied for asylum within the required one year of arriving in the United States, it was critical for his lawyers to demonstrate that the events in 2019 constituted changed circumstances that provided him an exception to the one-year filing deadline.  The asylum officer considering his case agreed with our changed circumstances argument.  Our client's asylum application was approved in November 2019.
***
We had another success in a challenging case earlier in November.   On November 6, 2019, the Newark Asylum Office recommended for approval the affirmative asylum application of an applicant named Jenny, a transgender woman from Mexico who was represented pro bono by Gibson Dunn.  The firm took on Jenny's case following an LGBTQ asylum clinic hosted at the New York office in partnership with lawyers from JPMorgan Chase, as part of a series of clinics organized together with Legal Services NYC, an organization which assists low-income individuals in the New York City area.  Jenny's case was particularly challenging due to a number of procedural issues, but the firm was able to successfully demonstrate the client's fear of future persecution on account of her history of trauma and victimization, as well as the lack of resources to maintain her transition in Mexico if she were forced to return there.  Michael Klurfeld represented Jenny, with assistance and supervision from Joe Evall and Phil Shapiro, and valuable assistance from Ileana Rivera, Marina Szteinbok, Marcos Pueyrredon, Andrew Bernstein, and former associate Camila Vega.
---
Gibson Dunn Helps Secure Legislation Helping Victims of Human Trafficking in California
After five years of advocacy, Gibson Dunn helped secure ground-breaking new legislation for victims of human trafficking in California.  Governor Newson signed AB 629, which amends California's victim compensation laws to allow human trafficking victims access to compensation for "lost income" suffered while laboring for their traffickers.  Lost income compensation for trafficking victims is the first legislation of its kind in the United States.  The Gibson Dunn team, led by Dhananjay Manthripragada and Cynthia Mullen, represented the Coalition to Abolish Slavery and Trafficking (CAST) through attempted regulatory reform before the Victim Compensation Board then served as subject matter experts throughout the legislative process. 
---
Gibson Dunn Wins Client Benefits Under Adoption Assistance Program
In November 2019, Alexander Swanson and Milagros Villalobos secured a complete victory for their client, Serena, a nine-year-old girl, through a settlement of their writ petition against the California Department of Social Services (CDSS).  Serena's parents overcame years of resistance from the Los Angeles County Department of Child and Family Services (DCFS) to adopt Serena, but then DCFS denied Adoption Assistance Program (AAP) funding for Serena, claiming that she was ineligible because her family had not executed the AAP agreement that DCFS was required to provide but never did.  Gibson Dunn's writ petition, filed in December 2018 in Los Angeles Superior Court, challenged CDSS's approval of DCSF's denial of benefits, arguing that DCFS had failed to fulfill its statutory duty to provide Serena's family with information about the AAP process.  Shortly after Gibson Dunn filed its opening brief in support of the writ petition, CDSS offered to settle the case, agreeing to recognize Serena's eligibility for AAP funding and providing for payment of all retrospective and prospective AAP benefits owed to Serena.
---
Gibson Dunn Advocates for Rights Under the First Amendment's Establishment Clause
The firm represents Judge Wayne Mack, a Texas Justice of the Peace, in a First Amendment case.  Judge Mack is authorized to act as a coroner because his small county does not have a medical examiner.  In the course of performing those duties, he quickly discovered that one of the hardest parts of his position was being a first responder and having to simultaneously investigate the death while comforting the friends and families of the deceased.  To accommodate the needs of the bereaved while permitting Judge Mack to focus on investigating the cause of death, Judge Mack began recruiting volunteer chaplains who were willing, upon the request of the deceased's friends and family, to provide care and counsel on the scene.  Judge Mack invited all of the county's religious leaders—of all faiths—to participate in the volunteer chaplain program.  In this program, Judge Mack asks friends and family at the scene whether they would like him to invite a chaplain and, if so, whether they have a preference for a chaplain of any particular faith.  If a chaplain is requested, Judge Mack will send for one.  To honor the volunteer chaplains' service and to solemnize his courtroom proceedings, Judge Mack invites the volunteer chaplains to open the courtroom proceedings with a short invocation. 
Judge Mack's practice was recently challenged under the Establishment Clause.  Attorneys Allyson Ho, Brad Hubbard, Bennett Rawicki, and John Ehrett recently filed a motion to dismiss the complaint, arguing that Judge Mack's practice comports with the Establishment Clause under the Supreme Court's recent decisions in Town of Greece v. Galloway and American Legion v. American Humanist Association.
---
Gibson Dunn NY Associates Recognized for KIND's Pro Bono Attorney Spotlight
Associates Alina Wattenberg, Magan Haycock, Rachel Beckman, and David Sterngold were featured in the KIND-New York September 2019 Pro Bono Attorney Spotlight article for their immigration work on behalf of two young sisters from Guatemala.  KIND (Kids in Need of Defense) is a national organization dedicated to protecting unaccompanied children who enter the U.S. immigration system alone.  The New York associates began working on their clients' asylum matter in early 2018.  They were recognized by the organization for their thoughtful approach to developing trust with the clients and ability to advocate for their clients within the complex U.S. immigration legal system.