In honor of Pro Bono Month, celebrated in October each year, we'd like to highlight some of the Firm's tremendous pro bono achievements from 2021, as well as to recognize our attorneys' tireless dedication to expanding access to justice, providing high-quality representation to some of the most vulnerable members of our communities, and responding to some of the most urgent issues of our day. Throughout the course of the last few years, as the Firm and the world grappled with a rapidly changing world, we have doubled down on our efforts to fight for racial justice, to bring relief to those most directly impacted by the pandemic, to defend the immigrant community, and, most recently, to tackle head-on the heartbreaking humanitarian crisis unfolding in Afghanistan.

We hope this newsletter gives you a taste of the types of work the Firm takes on through its pro bono practice, including advising small businesses and nonprofits, appellate litigation, immigration, racial justice and criminal justice reform, and veterans advocacy.  We are so proud of our attorneys' work on these issues and look forward to seeing what the rest of the year brings!
---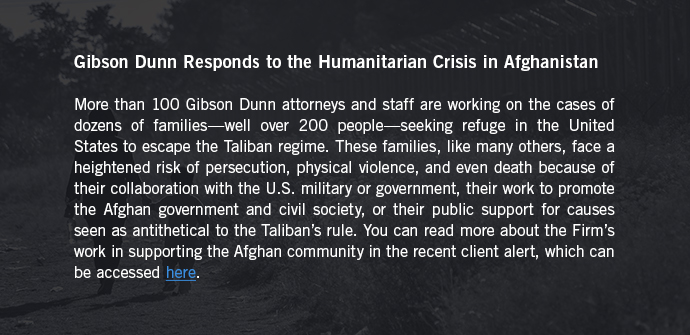 ---
Pro Bono Awards and Accolades
In May 2021, the National Legal Aid & Defender Association ("NLADA") announced Gibson Dunn as a recipient of its 2020 Beacon of Justice Award in recognition of the firm's efforts to address systemic racial disparities and advance racial equity in 2020.  Also in May 2021, Giffords Law Center honored Gibson Dunn with its Pro Bono Partner Award in recognition of the firm's action on gun safety, including leading litigation to regulate ghost guns and elevating the voices of shooting survivors.  And in April 2021, Union Settlement—which provides approximately 10,000 East Harlem residents each year with vital education, wellness, and community-building programs and services—awarded Gibson Dunn its 2021 Law Firm Partner Award. 
Theane Evangelis, a partner in Gibson Dunn's Los Angeles office and Co-Chair of the firm's global litigation practice group, was appointed by the Los Angeles County Board of Supervisors to a new Blue Ribbon Commission on Homelessness. The Commission's 12 members will assess existing structures and systems; meet with relevant County agencies, stakeholders, service providers, and other leaders; and recommend reforms to help Los Angeles County increase affordable housing and address homelessness.
---
Advising Small Businesses and Nonprofits

Gibson Dunn Advises Peer Health Exchange on Privacy and IP Issues

Peer Health Exchange ("PHE") is a platform that empowers young people with the knowledge, skills, and resources to make healthy decisions. Building on an initiative by Yale undergraduates to teach health workshops in New Haven public schools, PHE was founded in 2003 to train college students in other communities to teach an inclusive, skills-based health curriculum to young people—traditionally in under-resourced public schools and now also through virtual platforms. In April 2021, Gibson Dunn advised PHE on various privacy and intellectual property issues to help launch "selfsea," a virtual platform for young people to learn from and engage directly with their college-aged, diverse near-peers, and to help connect them to health resources. Specifically, Gibson Dunn helped navigate the complexities of creating a tech product that reaches minors and discusses sensitive topics, including health information. Alex Southwell, Howard Hogan, Carrie LeRoy, Sarah Segal, Mary Bischoping, Brendan Krimsky, and Mandy Robertson-Bora have been instrumental in assisting PHE with these efforts, and look forward to advising PHE as it continues to grow and develop its platform.

Gibson Dunn Provides Training on Political Neutrality for Non Profit Organizations

A Frankfurt-based team conducted a webinar for the German Parity Welfare Association, an umbrella organization for thousands of non profit welfare organizations, focused on the requirement for non profit organizations to be politically neutral to receive beneficial tax treatment.  Non profit organizations that enter the public discourse on politically polarizing topics are sometimes accused of violating the requirement of political neutrality, jeopardizing their non profit status. To help enable non profit organizations to maximize the impact of their work while not running afoul of the requirement to be politically neutral, the webinar provided background knowledge and specific guiding principles on the legal framework and the resulting boundaries of non profit work.  The German Parity Welfare Association asked Gibson Dunn's Mark Zimmer, Jan Schubert, Mattias Prange, and Linda Vögele to conduct the training in the context of the recent federal elections in Germany and after the German Federal Fiscal Court revoked the non profit status of an organization for failing to maintain neutrality last year.
Gibson Dunn Provides Corporate Advice to Nazava Water Filters
Earlier this year, Elaine Chao and Eliza Teo of the Singapore office helped Nazava Water Filters ("NWF") draft certain template agreements and provided corporate law advice related to the manufacture and distribution of water filter products.  NWF's water filter products are the brainchild of founder Lieselotte Heederik, who was working in Indonesia in the aftermath of the 2014 tsunami and realized that lack of access to safe, affordable drinking water is a prevalent issue and a main cause of health issues in low-income countries.  She later built more sophisticated water filters that are able to remove bacteria and impurities from water without the need for users to rely on electricity or other means of boiling or purifying the water.  Today, NWF's water filters are being distributed and sold at a low cost to countries such as Indonesia, Ethiopia, and Kenya.  The Gibson Dunn Singapore office is proud to have helped advance NWF's mission of providing safe, affordable drinking water to everyone everywhere.
Gibson Dunn Provides Corporate and IP Advice to Borderless360
Gibson Dunn's Singapore and Hong Kong offices are currently working with Borderless360 ("B360"), a Singapore-based social enterprise that seeks to raise awareness of, and public engagement with, refugee issues.  B360 currently has two main projects, both hosted on an online platform: a literary magazine that amplifies and develops the work of refugee citizen journalists and a dynamic music library that allows visitors to stream music produced by refugee communities.  Saptak Santra, Connell O'Neill, Marcus Tan, and Eliza Teo have been providing B360 corporate and intellectual property law advice and are proud to help advance B360's mission of promoting cultural integration, networking opportunities, and greater exposure for refugees.
---
Gibson Dunn Represents Senate Co-Sponsors of Landmark Victims' Rights Legislation

As in previous years, the Firm has fought for the rights of crime victims throughout the nation by filing amicus briefs regarding crime victims' procedural rights—including "the right to confer with the government concerning any critical stage of disposition of the case." Gibson Dunn previously submitted an amicus brief in In re Wild on behalf of Sens. Dianne Feinstein, Jon Kyl, and Orrin Hatch (the co-sponsors of the Crime Victims' Rights Act) in support of rehearing en banc before the Eleventh Circuit.  After rehearing en banc, the Eleventh Circuit held that Courtney Wild, one of Jeffrey Epstein's victims, had no judicially enforceable rights under the Act because the government never charged Mr. Epstein. Ms. Wild sought review in the U.S. Supreme Court, and the senators again retained Gibson Dunn to file an amicus brief urging the Supreme Court to grant review and reverse the Eleventh Circuit's decision, which "roll[s] back the clock to the days before the Crime Victims' Rights Act was signed into law—back when 'victims, and their families, were ignored, cast aside, and treated as non-participants in a critical event in their lives.'" Gibson Dunn urged that the Court's intervention was "critical to avoid that tragic result, restore nationwide uniformity on an exceedingly important issue of federal law, and vindicate the rights of crime victims across the Nation." The case is pending before the Supreme Court. The Gibson Dunn team includes Allyson Ho, Brad Hubbard, Phil Axt, Michael Zarian, Joseph Barakat, Matt Capoccia, and Matt Scorcio.
Gibson Dunn Files Brief Asking Supreme Court to Uphold "Proper Cause" Requirement for Concealed Carry Licenses Under the Second Amendment

In September 2021, Gibson Dunn filed an amicus brief with the U.S. Supreme Court on behalf of members of the business community—including a publicly traded financial institution, a Regional Chamber of Commerce, and a large real estate developer—in New York State Rifle & Pistol Association, Inc. v. Bruen.  The case addresses the constitutionality of a New York law requiring individuals to show "proper cause" to obtain a concealed carry license in the state.  Amici, as businesses, argue that the more lax concealed carry regime the Petitioners demand the Court impose nationwide will increase gun violence across the country.  Businesses are on the front lines facing the resulting violence and bear a disproportionate share of the associated risks and costs.  Gibson Dunn's brief argues that holding the proper cause requirement unconstitutional would hamstring the ability of governments to protect their communities by implementing common-sense gun safety regulations—particularly in the midst of the deadliest year of gun violence in the last two decades.  Amici urge the Court to adhere to its promise in District of Columbia v. Heller that the Second Amendment does not provide the "right to keep and carry any weapon whatsoever in any manner whatsoever and for whatever purpose," and to retain the long-established commonsense regulations of an individual's ability to carry a concealed weapon in public.  The Gibson Dunn team includes Scott Edelman, Avi Weitzman, Lee Crain, Jillian London, Erica Sollazzo Payne, Trevor Gopnik, Liesel Schapira, Amanda LeSavage, and Lavi Ben Dor.
Gibson Dunn Submits Amicus Briefs in Niz-Chavez v. Garland and Patel v. Garland

In 2021, Gibson Dunn has continued to represent dozens of former Immigration Judges and members of the Board of Immigration Appeals in filing amicus briefs in important immigration cases at the U.S. Supreme Court.  In Niz-Chavez v. Garland, Gibson Dun filed an amicus brief on behalf of the group in support of Petitioner on a question of enormous practical significance:  Must the initial "notice to appear" served on noncitizens to commence their removal proceedings provide—in one document—the "time and place at which the proceedings will be held," along with charges and other specified information, or may the government cobble together the required elements from multiple documents?  In a 6-3 decision, the Court sided with Petitioner, holding that the statute requires the government to provide that notice in a single document because, "[i]f men must turn square corners when they deal with the government, it cannot be too much to expect the government to turn square corners when it deals with them." 

And in Patel v. Garland, Gibson Dunn submitted an amicus brief in support of Petitioner in a case arguing that a statutory provision should be read to allow Article III courts to review objective, non-discretionary determinations—such as the requirements under Georgia law for obtaining a driver's license, which played a key role in the case—that inform executive branch discretionary decisions on whether to grant certain forms of relief.  The case is pending.  Gibson Dunn attorneys who worked on the amicus briefs are Richard W. Mark, Amer S. Ahmed, Timothy Sun, Chris Jones, Doran Satanove, and Praatika Prasad.
Gibson Dunn Files Briefs Asking Supreme Court to Uphold Roe v. Wade
Gibson Dunn filed two amicus briefs with the U.S. Supreme Court in Dobbs v. Jackson Women's Health Organization, one on behalf of constitutional law scholars, and another on behalf of the California Women's Law Center. The brief on behalf of constitutional law scholars addresses the constitutionality of a Mississippi law prohibiting abortions performed at or after 15 weeks, arguing that overturning Roe v. Wade, which Mississippi asks the Court to do in upholding its law, would place women and their families at the mercy of state legislatures, denying them the basic right to make among perhaps the most personal decisions about their bodies, their families, and their futures. The Gibson Dunn team included Orin Snyder, Josh Lipshutz, Katie Marquart, Stella Cernak, Lauren Kole, Maya Nuland, Sarah Segal, Lauren Myers, Grace Assaye, Lenore Ackerman, Katy Baker, Laura Erstad, Monica Murphy, Sarah Pongrace, and Sam Roeder.  Gibson Dunn also filed an amicus brief on behalf of the California Women's Law Center highlighting the ways in which Mississippi's ban on abortions after 15 weeks' gestation would lead to a substantial and detrimental increase in interstate travel among women needing abortion care. The brief urges the Court to continue to consider the financial, medical, and emotional psychological tolls such travel has on women, as well as the ways in which a rise in travel would adversely affect states like California, which have fewer restrictions on who may receive abortion care. The team included Theane Evangelis, Lauren Blas, Jillian London, Emily Sauer, Adrienne Liu, and Nicole Matthews.
Gibson Dunn Files Closely Watched Cert Petition in Important Church Autonomy Case
Virginia offers a property tax exemption for church-owned property that is used as "the residence of the minister of any church," without defining "minister." Josh and Anacari Storms are college-campus ministers of the New Life in Christ Church in Fredericksburg, Virginia, who were denied the exemption because, in the city's view, they are not "ministers." To reach that conclusion, the city (and the courts below) advanced their own interpretation of the church's book of order. Supported by a diverse coalition of amici from a variety of faith traditions—as well as a dozen states—Gibson Dunn represents the church in asking the Supreme Court to summarily reverse the denial of the exemption because civil authorities violate the First Amendment when they engage in their own interpretation of religious doctrine to overrule a religious organization's determination that a particular official is a minister. The case is pending. The Gibson Dunn team includes Allyson Ho, Samuel Eckman, Elizabeth Kiernan, Joseph Barakat, Christine Budasoff, Philip Hammersley, and Jason Manion.
Gibson Dunn Achieves Seventh Circuit Victory
Gibson Dunn represented Dallas McIntosh in his appeal before the Seventh Circuit, resulting in a victory for Mr. McIntosh and a published opinion in which the Court adopted Gibson Dunn's arguments, enhancing procedural protections afforded prisoners bringing civil rights claims in the Seventh Circuit. In 2017, Mr. McIntosh brought suit under 42 U.S.C. § 1983; he was required to exhaust all available administrative remedies before he would be given his day in court. Although Mr. McIntosh persuaded the magistrate judge assigned to the case during a live evidentiary "Pavey hearing" that he properly had exhausted his administrative remedies, the district court judge reversed the magistrate judge's credibility findings on the papers.

Represented by Gibson Dunn, Mr. McIntosh appealed, and the Seventh Circuit reversed and remanded the district court's order. The Court incorporated into its holding Gibson Dunn's argument that "[w]here, as here, a district judge questions and then rejects the credibility determinations made by a magistrate judge during a Pavey hearing, the district court must hold a de novo hearing to support its own credibility determinations, absent extraordinary circumstances." In so doing, the Court adopted Gibson Dunn's suggestion that it extend precedent that previously had applied only in the context of habeas petition hearings to include Pavey hearings, recognizing that "[b]oth habeas petitions and § 1983 actions are civil proceedings that 'serve to protect basic constitutional rights.'"  The Gibson Dunn team included Andrew LeGrand, Leah Bower (argued), and Philip Spear.
---

Gibson Dunn Helps LGBTQ Client Fleeing Persecution in Jamaica Win Asylum
On October 8, 2021, a Gibson Dunn team including Jeffrey Jakubiak, Jenn Katz, and Joe LoPresti secured asylum for R.J., a gay man from Jamaica, in a trial before Immigration Judge Adam Perl. Jeffrey, who oversaw the matter, said it was a true team effort with an excellent result that could not have been achieved without Jenn and Joe's great work. R.J., a hardworking and warm young man, was violently persecuted in Jamaica for his sexual orientation and feared that he might be killed if he returned. The case was referred to Gibson Dunn by our long-standing pro bono partner Legal Services NYC in connection with one of the firm's signature pro bono programs.  In that program, Gibson Dunn attorneys partner with in-house lawyers to represent LGBTQ refugees from around the world.  Through this program, Gibson Dunn lawyers have so far helped approximately 100 individuals like R.J. obtain the promising future that a grant of asylum brings.
Gibson Dunn Obtains Fifth Circuit Order Remanding Refugee's Case to Board of Immigration Appeals
On October 6, 2021, Gibson Dunn secured a significant victory for pro bono client Reina in the U.S. Court of Appeals for the Fifth Circuit. Reina is a young mother from Honduras who suffered repeated sexual assaults, violent attacks, and death threats, for more than a decade in her home country, based on her social and familial status. After unsuccessfully attempting to obtain assistance from the Honduran police, she fled to the United States and sought asylum, withholding of removal, and relief under the Convention Against Torture. The Immigration Judge found her testimony credible but denied her application, and the Board of Immigration Appeals affirmed. After the case was fully briefed before the Fifth Circuit, Gibson Dunn filed a motion to remand, arguing that intervening decisions by the Attorney General—which vacated several key decisions that the Board relied on below—required that the case be remanded to the Board for further consideration. The Fifth Circuit agreed, and remanded the case to the Board to consider Reina's claims in light of the intervening change in the law.  The Gibson Dunn team representing Reina includes Joseph Edmonds, Christian Briggs, Jessica Pearigen, and Brian Yang, with supervision by Andrew LeGrand.
Gibson Dunn Helps Dreamers Apply for DACA Status
Gibson Dunn has been on the frontlines advocating for Deferred Action for Childhood Arrivals ("DACA") recipients—often called Dreamers—for many years, and this year was no different. In addition to helping dozens of clients apply for DACA for the first time, the firm also collaborated with Immigrant Legal Defense to submit renewal applications on behalf of dozens of existing clients whose DACA status was expiring.  Given the current pandemic and resulting economic crisis, many DACA holders are in a more vulnerable position than ever, with many of them lacking means (a $495 application fee) and expertise (complicated forms) to timely apply to renew their status. Gibson Dunn recognized this need and stepped up to help, including by paying the application fees for each applicant.
Gibson Dunn Secures Asylum for Guatemalan Refugee
On July 9, 2021, Gibson Dunn's pro bono client Andzony, a 28-year-old Guatemalan refugee, was granted asylum—a significant victory given that he had missed the typical deadline to file for asylum by nearly three years.  In 2009, at the age of 16, he journeyed to the United States with a group of total strangers to escape homophobic attacks from street gangs, classmates, and even his own family. The Gibson Dunn team, which was connected to Andzony years later, submitted a merits brief arguing he was entitled to asylum despite his failure to timely file an asylum application because he met the criteria for an "extraordinary circumstances" exception. At the hearing, Immigration Judge Denise Hinds Roach was persuaded that Andzony's youth at the time of filing (age 20) warranted an extraordinary circumstances exception, despite the absence of any binding BIA or Third Circuit case law for an exception on that basis.  Judge Hinds Roach granted asylum from the bench at the hearing, highlighting Andzony's testimony about the United States being a "ray of hope."  The Gibson Dunn team included Kory Hines, Kelly Tieu, Amanda George, and Aldo Mayro, supervised by Joe Evall.
---
Racial Justice and Criminal Justice Reform

Gibson Dunn and Promise of Justice Initiative Obtain Amended Sentence for Pro Bono Client
In a joint representation with the Promise of Justice Initiative, we represented Timothy Hartford, a 36-year-old New Orleans native and father of two young boys who in 2012 was charged in state court with looting during a state of emergency. The jury acquitted him of that charge, but entered a non-unanimous (10-2) verdict convicting him of the lesser offense of attempted looting. Despite a history of only non-violent offenses, Mr. Hartford was sentenced to twenty years in prison without the possibility of parole. On March 5, 2021, we filed a post-conviction relief application arguing that Mr. Hartford's conviction by non-unanimous verdict violated the Sixth and Fourteenth Amendments under Ramos v. Louisiana. While the application was pending, the Supreme Court ruled in Edwards v. Vannoy that the rule announced in Ramos did not apply retroactively on federal collateral review. Accordingly, we pivoted our strategy and, with support from the DA's office, filed a motion for a reduction in Mr. Hartford's sentence. After holding two hearings on the matter, the Court granted Mr. Hartford a downward departure and amended his sentence to ten years with full credit for time served (nine years, as of this writing). The Gibson Dunn team included Kristen Limarzi, Amalia Reiss, Jonathan Abrams, and Andrew Shi.
Gibson Dunn Represents Geneva, New York in Litigation Related to its Police Review Board
The firm represents the City of Geneva, New York in a challenge to a Local Law establishing a Police Review Board ("PRB") intended to reduce racial inequities in policing, assure accountability of police officers, increase transparency of Geneva Police Department ("GPD") operations, and improve GPD's credibility. The PRB has the authority to review and investigate complaints against GPD officers, make disciplinary recommendations, and suggest policy changes relating to GPD policies and practices. Gibson Dunn advised the City on the Local Law, which the Geneva City Council enacted in February 2021. Geneva's police union sued the City in June and seeks a declaratory judgment invalidating the Local Law. The Union also moved for a preliminary injunction to stop the implementation of the Local Law, claiming it violates the discipline provisions of the Union's collective bargaining agreement and the New York Civil Service Laws. Gibson Dunn successfully opposed Plaintiffs' motion for a preliminary injunction, which the Court denied in September 2021. The Gibson Dunn team includes Mitch Karlan, Shireen Barday, Joel Cohen, Justine Goeke, Diane Chan, Erin Morgan, Declan Conroy, Nathan Powell, Blair Watler, Ashley Hodges, Colleen Devine, and Monica Murphy.
Gibson Dunn Obtains Significant Settlement Victory for Michael Rico
On September 1, 2021, Gibson Dunn finalized a significant settlement victory for pro bono client Michael Rico, who in 2018 filed pro se claims alleging excessive use of force, an unreasonable strip search, and inadequate medical treatment at a correctional facility in Montgomery County, Maryland. The case centered around a September 2017 incident in which Mr. Rico sought medication for his severe migraines in the jail's medical unit, but was instead disciplined for misconduct, taken to segregation for a strip search, and then assaulted by correctional officers—requiring treatment at an emergency room from injuries sustained during the assault.

Upon being appointed by the Court to represent Mr. Rico in 2019, Gibson Dunn investigated the claims, filed an Amended Complaint, and successfully defeated a kitchen-sink motion to dismiss filed by the Defendants. After early mediation, Gibson Dunn obtained $50,000 in compensation for Mr. Rico, along with agreement that the County Attorney's Office send a letter to the facility's leadership detailing Mr. Rico's allegations and their determination that settlement was in the County's best interests, and specifically noting concerns regarding the central offending officer in the incident. This outcome is a significant victory for Mr. Rico, reflecting one of the highest recent settlements in a prisoner Section 1983 case involving Montgomery County and a comparable or higher amount than similar cases where a plaintiff prevailed at trial. The Gibson Dunn team was led by Noah Sullivan with substantial contributions from Matthew Aiken, Tessa Gellerson, and Alyse Ullery-Glod, with supervision from John Chesley.
---

Gibson Dunn Helps Veteran Obtain Discharge Upgrade and Resulting Benefits
Jeffrey Steiner and Jennifer Mansh successfully represented a U.S. Marine Corps Veteran seeking a character of service discharge upgrade to General, Under Honorable Conditions.  Our client served in the Marine Corps in the early 1980s; during his service, he was a repeated target of racism that ultimately led to mental health issues including depression.  Although these issues were diagnosed while he was serving, he was not provided any treatment.  Instead, he was repeatedly written up for minor disciplinary infractions, such as failing to report to morning formations on time due to his struggle to get out of bed because of his depression, and was ultimately discharged early under Other Than Honorable Conditions.  After his discharge, he spent four decades suffering from mental illness without the help of any veterans benefits (including mental health benefits) to which he otherwise would have been entitled.  Despite less than 10% of all discharge upgrade requests being successful, Gibson Dunn succeeded in helping this veteran obtain an upgrade, such that he is now entitled to full medical services and other benefits. 
Attorney Advertising: The enclosed materials have been prepared for general informational purposes only and are not intended as legal advice.
If you would prefer NOT to receive future announcements from the firm, please reply to this email with "Unsubscribe Announcements" or "Unsubscribe All" (to be removed from all of our email lists) in the subject line. Thank you.
Gibson, Dunn & Crutcher LLP, 333 South Grand Avenue, Los Angeles, CA 90071