July 15, 2011
In our 2010 updates, we noted a slower (although still aggressive) pace of U.S. antitrust enforcement activity and an uptick in European criminal enforcement.  2011 brings U.S. enforcement back to the fore, with fines on pace to set new records.  In addition to pursuing an active enforcement agenda, the Department of Justice, Antitrust Division ("DOJ" or "Antitrust Division") has continued to emphasize the importance of international cooperation, describing cooperation on enforcement matters as "at an all-time high."[1]  In particular, the Antitrust Division has noted continued cooperation with competition authorities in Europe, North America, Asia, Australia, and New Zealand, as well as "burgeoning" cooperation with enforcers in South America and Africa, on investigations into industries including auto parts, air transportation, marine hoses, and liquid crystal displays.  Indeed, it is no accident that each year we see more cooperation among the antitrust authorities of multiple countries, we also observe a general trend of increased enforcement actions around the world. 
In July, the Antitrust Division's Assistant Attorney General Christine Varney announced her resignation, effective August 5, 2011.  As yet, there is no clear indication of who will take her place, but we believe her successor is unlikely to temper significantly the aggressive approach taken by the Antitrust Division during the Obama administration.
FY 2011 Yields Substantial Number of Sentences in which Fines and Other Financial Penalties Exceeded $10 Million
With only three months to go in FY 2011,[2] the Antitrust Division is on pace to extract a substantial amount through fines and other financial penalties.  As we noted in our 2010 Year-End Update (http://www.gibsondunn.com/publications/pages/2010Year-EndCriminalAntitrustUpdate.aspx), in early FY 2011 fines in excess of $10 million were imposed in the Air Cargo investigation against four companies–All Nippon Airways ($73 million), Singapore Airlines Cargo ($48 million), China Airlines ($40 million), and Polar Air Cargo ($17.4 million).  Since our last update, the Antitrust Division has secured plea agreements (subject to court approval) for fines in excess of $10 million in enforcement actions against three additional companies, including a $45 million fine against Horizon Lines, LLC for conspiring to fix prices in the coastal water freight transportation industry,[3] a $32 million fine against Samsung SDI as part of DOJ's ongoing investigation into the color display tube industry,[4] and a $13.2 million fine against EVA Airways Corp. for price-fixing in the air cargo industry.[5]  In addition to these fines, and as discussed further below, significant restitution and other financial penalties were assessed in December 2010 against Bank of America ($137 million), in May 2011 against UBS AG ($160 million), and in July 2011 against JPMorgan Chase & Co. ($228 million) in connection with an investigation in the municipal bonds market.
United States Fines of $10 Million or More in FY 2011[6]
| | | | |
| --- | --- | --- | --- |
| Amount | Company | Country | Investigation |
| $91.8 million | Embraco North America | United States | Compressors |
| $73 million | All Nippon Airways | Japan | Air Cargo |
| $49.1 million | Panasonic | Japan | Compressors |
| $48 million | Singapore Airlines Cargo | Singapore | Air Cargo |
| $40 million | China Airlines | Taiwan | Air Cargo |
| $17.4 million | Polar Air Cargo | United States | Air Cargo |
| $15 million[7] | Horizon Lines, LLC | United States | Coastal Water Freight Transportation |
As of April 28, 2011, there were 82 instances of corporate fines exceeding $10 million.[8]  This growing number suggests that the Antitrust Division remains committed to securing substantial fines from corporations charged with antitrust-related offenses.  Indeed, the Antitrust Division has already imposed at least $334.3 million in fines in FY 2011[9] and well exceeds that amount when restitution and other significant financial penalties are included in the calculation. 
DOJ Ties Record for Longest Sentence Ever Imposed on Defendant Convicted Solely of Antitrust Violations
The Antitrust Division also continued the trend of imposing lengthy prison sentences on individual defendants.  In 2009, DOJ secured a 48-month jail sentence against shipping executive Peter Baci.  That sentence remains the longest sentence ever imposed on a defendant convicted solely of antitrust violations.  In February of this year, this record was tied when a 48-month sentence was imposed on Steven Keith VandeBrake for his participation in conspiracies to fix prices and rig bids for the sale of ready-mix concrete.  VandeBrake's guilty plea originally was entered pursuant to a Fed. R. Crim. P. 11(c)(1)(C) plea agreement that proposed a sentence within the applicable antitrust guideline range and, if accepted by the court, would have required the court to impose a sentence within the agreed-upon range.  After the district court announced it likely would reject the binding agreement because it believed the proposed sentence was too lenient, VandeBrake voluntarily converted his "C" agreement to a non-binding "B" agreement. Subsequently, in a 108-page opinion that included an extensive evaluation of the 18 U.S.C. § 3553(a) factors, the court explained at length why it believed the sentencing range recommended by the antitrust guidelines was not commensurate with the specific facts and circumstances of VandeBrake's crimes.  In imposing this lengthy sentence, the court stated that 48 months was "entirely warranted in order to reflect the seriousness that Sherman Act violations pose to the well-being of the nation."[10]  VandeBrake has appealed the sentence, but DOJ has argued that the district court followed proper sentencing procedure and that the sentence was reasonable.[11]  VandeBrake's sentence underscores the willingness of DOJ to pursue, and courts to impose, substantial prison sentences on individuals convicted of violations of the Sherman Act.
Indeed, as evidenced by the chart depicted below,[12] in FY 2010, the average prison sentence for defendants sentenced in Antitrust Division matters climbed to 30 months, the second longest in Division history.  This is almost four times the average of eight months in the 1990s.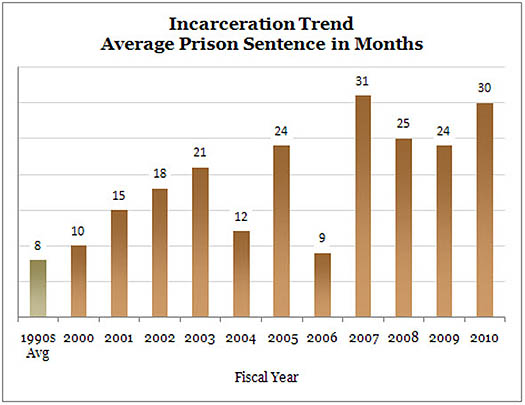 Likewise, as depicted in the chart below,[13] since 2000, the Division has reported a steady increase in the percentage of defendants sentenced to prison.  While only 37 percent of Division defendants went to prison in the 1990s, in the past two years, nearly 8 in 10 defendants went to prison.  The percentage of Division defendants sentenced to jail in a single year reached a high of 87 percent in 2007, and remained high during FY 2010 at 78 percent.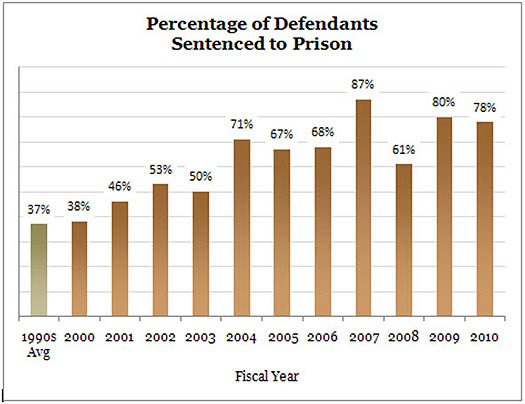 The Division's active enforcement has also extended to foreign nationals.  Since May 1999, 49 foreign defendants have served, or are currently serving, sentences in U.S. prisons for violating the Sherman Antitrust Act or obstructing a federal antitrust investigation.  As indicated by the chart below,[14] during FY 2010, foreign nationals in international cartel cases faced average prison sentences of ten months, more than three times longer than the average sentence for foreign nationals from 2000 through 2005.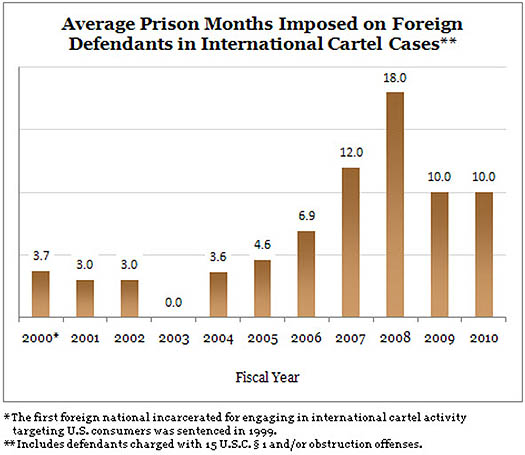 Aggressive Pre-Trial Release Conditions for Foreign Nationals
The Antitrust Division increasingly is seeking and obtaining aggressive pre-trial release conditions for foreign nationals charged with criminal antitrust offenses.  In the TFT-LCD criminal case, discussed more fully below, AU Optronics Corp. ("AUO") — a Taiwanese display maker — and its executives have not pled guilty as other defendants have.  Although most of the company's executives voluntarily submitted to the jurisdiction of the United States courts as part of the company's defense effort, the Antitrust Division contested their requests to return to Taiwan until trial, or, in the alternative, to receive temporary travel passes to travel abroad for limited periods of time, and asked the court to impose travel restrictions despite financial commitments from family members to secure the defendants' return to the United States.  The court has required that the defendants remain in the Northern District of California during the pendency of the proceedings, although the court has routinely granted requests for travel within the United States and has allowed defendants to return to Taiwan on two occasions for short periods.  
Similarly, in the Air Cargo matter, also discussed more fully below, the Antitrust Division sought to have two Cargolux Airlines International employees personally appear in the Southern District of Florida, surrender their passports, and have their travel restricted to the Southern District of Florida.  This approach was surprisingly aggressive given that these two defendants had agreed to voluntarily appear despite the fact that Luxembourg, their country of residence, will not extradite them to face charges in the United States.  These recent cases serve as a reminder for individuals charged with antitrust offenses that prosecutors may move aggressively to restrict defendants' freedom even before any verdict is rendered.
Use of Non-Prosecution Agreements in Municipal Bonds Investigation
In the municipal bonds investigation, which is discussed in more detail below, in May UBS agreed to pay $160 million in restitution, penalties, and disgorgement to federal and state agencies pursuant to a non-prosecution agreement with the Antitrust Division.  Likewise, in July JP Morgan Chase & Co. agreed to pay a total of $228 million in restitution, penalties, and disgorgement to federal and state agencies pursuant to a non-prosecution agreement. Though non-prosecution agreements and deferred prosecution agreements have been used with increasing frequency by the Criminal Division of the Department of Justice and U.S. Attorneys' Offices across the country in fraud, bribery, and other criminal enforcement actions, the UBS and JP Morgan Chase settlements in the municipal bonds investigation mark rare uses by the Antitrust Division of such agreements.  According to the Government Accountability Office in a December 2009 study, the Antitrust Division entered into only three dispositions involving non-prosecution agreements between 1993 and September 2009.  In comparison, the Criminal Division entered into 49 deferred prosecution agreements or non-prosecution agreements in the same period.[15] 
In announcing the UBS agreement, the Antitrust Division explained, "As a result of UBS's admission of conduct; its cooperation with the Department of Justice and the SEC, the IRS and the state attorneys general; its monetary and non-monetary commitments to the SEC, IRS and state attorneys general; and its remedial efforts to address the anticompetitive conduct, the department agreed not to prosecute UBS for the manipulation and bid rigging of municipal investment contracts, provided that UBS satisfies its ongoing obligations under the agreement."[16]  Assistant Attorney General Christine Varney stated, "The Antitrust Division will continue to use every tool at our disposal to root out illegal activity in financial markets that disrupts the competitive process."[17]  It is not at all clear that these non-prosecution agreements signal a new trend for the Antitrust Division, but rather more likely represent merely a rare use of this "tool."
Significant International Antitrust Investigations
Air Cargo
As we have previously reported, numerous jurisdictions around the world have aggressively pursued investigations of price-fixing of fuel surcharges in the international air cargo industry.  In the United States, a total of 22 airlines and 21 executives have been charged to date in the ongoing DOJ investigation.  In addition, more than $1.8 billion in criminal fines have been imposed.  Four executives have been sentenced to serve prison time, and charges are pending against a further 17 executives.  In April, the investigation led to the indictment of Marc Boudier and Jean Charles Foucault, both former executives in the cargo division of Air France, for their alleged participation in a conspiracy to fix rates and surcharges for international air cargo services from August 2004 to February 2006.  In May, the Antitrust Division secured a guilty plea and a $13.2 million fine from EVA Airways Corp. for its role in a conspiracy.  Other companies that have either paid fines or pled guilty already include Aerolinhas Brasileiras S.A.; All Nippon Airways Co. Ltd.; Asiana Airlines Inc.; British Airways PLC; Cargolux Airlines International S.A.; El Al Israel Airlines Ltd.; Korean Air Lines Co. Ltd.; LAN Cargo S.A.; Martinair Holland N.V.; Northwest Airlines, LLC; Polar Air Cargo LLC; Qantas Airways Limited; and SAS Cargo Group, A/S.
In New Zealand, three airlines agreed to pay significant fines to settle charges of colluding to raise the price of air cargo over a seven-year period by imposing fuel surcharges on cargo shipments.  The settling airlines were British Airways PLC, Qantas Airways Ltd., and Cargolux Airlines International SA.  Qantas reported that it agreed to pay over NZ$6.5 million ($4.7 million) to settle the charges.  The High Court of New Zealand ordered British Airways and Cargolux to pay NZ$1.6 million ($1.3 million) and NZ$6 million ($5 million), respectively, as part of their settlements.  In addition, the New Zealand Commerce Commission announced that it had dropped its case against United Air Lines Inc., stating that it wanted to focus its investigation on airlines with larger turnovers in the New Zealand market.  Ten airlines remain active subjects of the probe initiated by the Commission in December 2008: Air New Zealand Ltd., Cathay Pacific Airways Ltd., Emirates Airlines, Japan Airlines International Co. Ltd., Korean Air Lines Co. Ltd., Malaysian Airlines System Berhad Ltd., PT Garuda Indonesia, Singapore Airlines Cargo PTE Ltd., Singapore Airlines Ltd., and Thai Airways International Public Co. Ltd.  Three freight-forwarding companies also were fined a total of NZ$5.2 million ($4.3 million) for colluding to impose extra fees in the international freight-forwarding sector.  BAX Global Inc. (NZ$1.4 million), Schenker AG (NZ$1.1 million), and Panalpina World Transport Ltd. (NZ$2.7 million) admitted anticompetitive conduct, cooperated with the Commission, and received reduced fines as a result.
Thin Film Transistor-Liquid Crystal Display ("TFT-LCD") Investigation
The Antitrust Division's investigation into price-fixing in the TFT-LCD industry that began in late 2006 continued into 2011.  As we reported in the Gibson Dunn 2010 Mid-Year Criminal Antitrust Update, AU Optronics Corp. (and its American subsidiary, AU Optronics America) ("AUO") and six AUO executives were indicted in June 2010 on charges that they conspired to fix prices in the TFT-LCD market from September 2001 to December 2006.  This was the first indictment of a corporate defendant in the investigation into TFT-LCD panels.  The U.S. District Court for the Northern District of California rejected two attempts by the defendants this year to dismiss the charges, concluding that enough of the plot allegedly occurred in and affected the United States to fall under the Sherman Act.
Additionally, in 2010, we reported that HannStar Display Corp. executive Jui Hung Wu had agreed to plead guilty to charges in connection with the investigation into the TFT-LCD industry.  In January 2011, DOJ indicted another HannStar executive, Ding Hui Joe, who served as president of the company at the time of the indictment.  The Antitrust Division has now charged 22 executives and 8 companies and collected over $890 million as part of the ongoing investigation into the $70 billion industry.
Color Display Tube ("CDT") Investigation
In January, the Korean Fair Trade Commission ("KFTC") fined Samsung Electronics Co. Ltd. 24 billion won ($22.5 million) for allegedly agreeing with its competitors to fix prices and reduce the supply of CDTs (cathode ray tubes for computer monitors).  The company was alleged by the KFTC to have taken part in secret monthly meetings, at which it agreed with its competitors to fix prices, reduce supply, and share confidential information.  While the regulator found that LG Philips Display Korea Co. Ltd. had also participated in the cartel, it decided not to fine the company due to its financial situation.
In the United States, DOJ's investigation into price-fixing in the CDT industry netted a corporate indictment this March when Samsung SDI agreed to plead guilty and pay a $32 million fine for its role in a conspiracy to reduce output, fix prices, and allocate market shares of CDTs.  The judge in that action indicated that he would consider whether the proposed criminal fine is appropriate at an upcoming hearing in August.  DOJ has stated that the government's investigation into a number of individual defendants not subject to the plea deal is ongoing.  To date, six individuals have been indicted in the United States in connection with the investigation.  
Coastal Waters Freight Transportation
In its investigation into the coastal waters freight transportation industry, the Antitrust Division secured one of its largest fines of the year from Horizon Lines, LLC.  In 2008, three executives from Horizon Lines and two executives from Sea Star agreed to plead guilty for their roles in an alleged conspiracy to rig bids, fix prices, and allocate market shares in the coastal waters freight transportation industry.  In February 2011, as part of the same ongoing investigation, DOJ secured a guilty plea and a $45 million fine from Horizon Lines for conduct related to a conspiracy to fix prices for transportation of freight between Puerto Rico and the continental United States.
Financial Fraud Enforcement Task Force
The Antitrust Division's 2011 Spring Update highlighted the Division's active participation in the President's Financial Fraud Enforcement Task Force, which was established "to wage an aggressive, coordinated, and proactive effort to investigate and prosecute financial crimes."[18]  This year, the Division's financial fraud enforcement efforts continued to net significant fines in connection with the municipal bond investment market, the federal E-Rate program, and real estate bid-rigging.
1.         Municipal Bonds
As referenced above, the Antitrust Division's investigation into price-fixing in the municipal bonds investment market resulted in restitution and other financial penalties imposed on Bank of America ($137 million) in December 2010 and UBS ($160 million) in May 2011.  In July 2011, the Antitrust Division announced that JPMorgan Chase & Co. agreed to pay a total of $228 million in restitution, penalties, and disgorgement to federal and state agencies.  These settlements followed Bank of America's acceptance into the Antitrust Division's leniency program for being the first to report the conduct to DOJ and admit its involvement.  This investigation saw its first indictments in 2009. 
The Antitrust Division also notched its ninth individual guilty plea in connection with the municipal bonds investigation this March.  Brian Scott Zwerner, a bank manager, pled guilty to engaging in a conspiracy to falsify bank records related to municipal finance contracts so that the bank could pay kickbacks to brokers, including CDR Financial.  Zwerner is the latest guilty plea in connection with the investigation into CDR Financial.  The CDR trial is set to begin January 9, 2012.  As part of his plea, Zwerner has agreed to cooperate with the investigation.
2.         Federal E-Rate Program
The Antitrust Division's ongoing investigation into financial fraud in connection with the federal E-Rate program has had a busy year, securing guilty pleas from four individuals in connection with two separate schemes.  The E-Rate program provides subsidies to help fund Internet access, telecommunications services, and other network services at economically disadvantaged schools and libraries.  This January, the Antitrust Division announced that Jeremy R. Sheets pled guilty to wire fraud for violations of E-Rate program rules in connection with two Michigan school districts.  In March and June, the Division announced three additional guilty pleas in connection with a conspiracy to defraud the E-Rate program.  The defendants, Barrett C. White, Tyrone Pipkin, and Gloria Harper, were alleged to have participated in a scheme involving the payment of kickbacks and bribes to school officials in Arkansas, Illinois, and Louisiana.  In June, White was sentenced to a prison term of one year and a day and a $4,000 fine.  To date, the Antitrust Division's ongoing investigation of E-Rate participants has yielded guilty pleas, convictions, or civil settlements from 7 companies and 24 individuals, resulting in over $40 million in fines and restitution, as well as prison sentences for 16 individuals.
3.         Real Estate Bid-Rigging
So far this year, a real estate executive and two real estate investors have pled guilty to participation in a conspiracy to rig bids and commit mail fraud at public real estate foreclosure auctions in San Joaquin County, California.  Richard W. Northcutt, Yama Marifat, and Gregory L. Jackson join three defendants who previously pled guilty for the scheme, in which conspirators designated a single bidder to purchase foreclosed property at auction at non-competitive prices.  Conspirators would then hold a second, private auction for the property and divide among themselves the price difference between the first and second auctions.  Assistant Attorney General Varney emphasized that the investigation was ongoing and had expanded beyond the Sacramento area into other parts of northern California.  The Antitrust Division's Spring Update added that the Division "is committed to investigating and prosecuting similar conduct if detected in other parts of the country."[19] 
European Union Investigations and Prosecutions
Fines
As in the United States, fines being imposed (and upheld by courts) in Europe continue to be substantial – and in some cases eye-popping.  In addition to the fines imposed on the participants in the air cargo and the LCD-producer cartels (which amounted respectively to approximately €800 million and €648 million), during the first months of 2011 the European Commission imposed fines which exceeded €700 million (approx. $976.5 million). The most substantial fine amounted to €315.2 million and was related to an alleged cartel by washing powder manufacturers.
Furthermore, in March, the General Court of the European Union upheld a fine of €396.6 million ($553.6 million) imposed by the European Commission against Siemens AG for its alleged role in an electrical-grid equipment cartel.  The court, however, lowered the amount of the fines that two French energy technology companies, Alstom SA and Areva SA, must pay.  These penalties were part of approximately €750 million in fines issued by the European Commission in early 2007 to about 10 European and Japanese companies for bid-rigging.  The court rejected Siemens' argument that it was not the ringleader of the cartel, finding that Siemens' role as the "European secretary" for the group for more than a decade justified the Commission's assessment of Siemens' role.
The General Court also upheld a €10.2 million ($14.7 million) fine imposed by the Commission against Visa Europe Ltd. in 2007 for anticompetitive behavior.  The Commission imposed the fine because Visa denied Morgan Stanley the right to issue Visa cards in the U.K. for six years, blocking the competitor from entering the concentrated market.
In April, the European Court of Justice, the European Union's highest court, was urged by an advisor, Advocate General Juliane Kokott, to annul a €19 million ($27.5 million) fine levied against Solvay SA for alleged anticompetitive behavior in the soda ash market in the 1980s.  The fine had been dismissed by another EU court for procedural reasons, and Kokott alleged that the reimposition of the fine by the Commission in 2000 infringed Solvay's right to defend itself.
Raids
The European Commission continues to use dawn raids as an essential tool in investigating collusion.  In January, the Commission conducted surprise inspections of the offices of several of the world's largest truck manufacturers.  Daimler AG, Iveco SpA, MAN SE, Scania AB, and Volvo confirmed that they were involved in the investigation.  The inspections were conducted as part of an investigation into the possibility of a cartel in the industry.   
In March, the Commission announced that its inspectors had raided the offices of Deutsche Bahn AG and some of its subsidiaries.  The enforcement authority is investigating allegations that the rail operator and its electricity supplying unit may have breached antitrust rules by allegedly giving preferential treatment to its rail freight arm.  This followed surprise inspections of several Baltic rail freight companies in March, including Lithuanian Railways, as part of a probe into alleged cartel or other anticompetitive activities.
Also in March, the Commission conducted "unannounced inspections" in the eBook publishing sector in several European countries related to suspicions that several companies had "violated EU antitrust rules that prohibit cartels and other restrictive business practices."[20]
In May, the Commission conducted surprise inspections of the offices of several industrial piston engine manufacturers, suppliers, and distributors, including Caterpillar Inc., General Electric Co., and Volvo Penta, as part of a probe into alleged cartel activity.  The Commission also conducted surprise inspections of the offices of companies in the liner shipping industry in May based on similar concerns; companies involved included Hamburg Sud Group, A.P. Moller-Maersk A/S, and Mediterranean Shipping Co. SA. 
In June, the European Commission conducted surprise inspections of the offices of several suppliers of automotive safety systems, citing suspicions of anticompetitive conduct. 
Commission Rules Changes
In April and May, the European Commission announced several antitrust enforcement policy changes.  First, the Competition Commissioner, Joaquin Almunia, said that companies accused of violating European antitrust laws would receive information about the size of the fines they may face earlier in the investigation process.  In the statement of objections the Commission sends to companies under investigation, the Commission will include information about the criteria used by the Commission to determine fines, including the estimated sales value from cartel activity, concerns about repeat behavior, and the perceived gravity of the offense.[21] 
Second, Commissioner Almunia announced that the Commission will also give parties more access to important documents, such as economic studies, earlier in the investigation process.  The mandate of hearing officers, the officers who settle procedural issues, will also be broadened to involve the officers before the Commission issues formal statements of objections.  Commissioner Almunia stated that "[t]he overall goals of these changes are to make [the Commission's] procedures more transparent and to involve the parties more closely."[22]  According to Commissioner Almunia, the changes will "open a channel for dialogue with the parties . . . and avoid post-decision corrections which, although they remain rare, are always unpleasant for both sides."[23]  Commissioner Almunia also rejected claims from the business world that antitrust fines were too high, especially in light of the state of the economy, by noting that fines had to be sufficiently large to deter cartel behavior.[24]
European Court of Justice Ruling
In a preliminary yet highly significant ruling dated June 14, 2011, the European Court of Justice ("ECJ") deferred to national courts and tribunals to determine the circumstances in which third parties seeking civil damages may gain access to leniency application documents from competition authorities' investigation files.  In the case at issue, a third party sought access to documents relating to a leniency application filed by members of a German paper cartel with the German Federal Cartel Office ("FCO") as part of its civil action for damages against the cartel.  The FCO denied the third party access, and the third party brought an action before the Bonn Local Court seeking access to the documents relating to the leniency application.  The court ordered the FCO to grant the third party access, but stayed the enforcement of its decision while the court sought a preliminary ruling on the matter from the ECJ.  The ECJ found that European Union law did not preclude the provision of access to such files, and that it was up to "the courts and tribunals of the Member States, on the basis of their national law, to determine the conditions under which such access must be permitted or refused by weighing the interests protected by European Union law."[25]    
Other Significant Foreign Prosecutions
France: In January, the Paris Court of Appeals overturned fines imposed by the French Competition Authority against France Telecom SA (€18 million) and Vivendi SA's SFR subsidiary (€2 million).  The court concluded that the French authority did not meet its burden of proof in a case alleging anticompetitive pricing in the cell phone industry.  Moreover, 14 companies were fined €10 million for having shared almost all public markets for the restoration of historic monuments in three French regions: Haute-Normandie, Basse-Normandie, and Picardie. The criminal proceedings ended in 2008 with imprisonment penalties being imposed on the directors of the companies involved.
Germany: The German Federal Cartel Office (FCO) fined consumer goods manufacturers Kraft Foods Deutschland AG, Unilever Deutschland Holding AG, and Dr. August Oetker Nahrungsmittel KG approximately €38 million ($54 million) for sharing sensitive business information, including information about sales negotiations with major retailers.[26]  Mars GmbH, also involved in the investigation, filed for leniency with the FCO, and thereby avoided a fine, while Henkel AG & Co. KGaA avoided a fine because its conduct had already been considered by the FCO in a prior proceeding.  A fourth unnamed major consumer goods manufacturer remains under investigation.  The authority said it is still investigating allegations that candy manufacturers engaged in similar behavior, and price-fixing proceedings against two candy companies are also pending.
The FCO also imposed a total of €20.5 million ($27.7 million) in fines against three firefighting-vehicle manufacturers for alleged cartel activity stretching back to 2001.  The companies are Albert Ziegler GmbH & Co. KG, Schlingmann GmbH & Co. KG, and the Rosenbauer Group, and the investigation is still proceeding as to a fourth unnamed manufacturer.  The alleged scheme involved setting quotas and prices for sales to municipalities, coordinated by members of the cartel at regular meetings.
Spain: Spain's National Competition Commission raided several companies in the wine industry in March, citing suspicions that the companies are involved in price-fixing.  The regulator did not disclose the names of the companies involved in the raids.  The Commission also opened a formal investigation in March of more than a dozen shipping companies operating between Spain and Morocco, probing whether the companies conspired to fix passenger fare prices and commercial terms and conditions.  The companies targeted in the investigation include Balearia Eurolineas Maritimas SA, Cenargo Espana SLU, Comanav Ferry SA, Comanav SA, CMA-CGM SA, Compagnie Maritime Marocco-Norvegienne SARL, Compania Trasmediterranea SA, Euromaroc 2000 SL, Europa Ferrys SA, Ferrimaroc SA, Foerde Reederei Seetouristik Iberia SL, Foerde Reederei Seetouristik Maroc SARL, International Maritime Transport Corporation SA, and Lineas Maritimas Europeas SA.  If the Commission finds violations, the fines imposed on each company could reach as high as 10 percent of each company's previous year's turnover.
Furthermore, during the first half of 2011 two substantial fines were imposed. The first fine, amounting to €51 million, fined the National Association for Perfume and Cosmetic Distributors and Manufacturers (STANPA) for exchanging sensitive information, including, among other information, price lists. The second substantial fine amounted to €60 million and was imposed in relation to an alleged anticompetitive agreement among the five major electricity providers. 
Romania: In February, Romania's Competition Council fined France Telecom SA's Orange and Vodafone Group PLC more than €63 million ($85 million) for allegedly abusing their dominance in the Romanian telecom market.  Orange was fined €34.8 million, while Vodafone was fined €28.3 million.  According to the regulator, the telecoms illegally refused a rival's request for interconnection access to their fixed telephone network, preventing its entry into the market, which was liberalized in 2003.
United Kingdom: The Office of Fair Trading (OFT) has intimated that it will review its penalty policy after two decisions were overturned by the Competition Appeal Tribunal in the course of 2011. The decisions overturned related to fines imposed by the OFT on firms active in the construction sector for infringements related to rigging of bids, fixing of prices, and collective boycott.
In the meantime, Britain's antitrust regulator continues with its antitrust enforcement and has opened an investigation into dominance by the "Big Four" accounting firms, stating that the industry is allegedly distorted by practices that impede competition and block smaller rivals. Furthermore, the owner and operator of Heathrow Airport has been found by the High Court to have abused its dominant position in breach of the Chapter II prohibition under the Competition Act 1998 by excluding access to its car parking forecourts by its downstream competitors in a discriminatory manner without objective justification.
Finally, in April 2011, the high-profile trial of four current and former British Airways executives started in a hearing that is regarded as constituting a major test case of the powers of the Office of Fair Trading.
Turkey: The Turkish Competition Authority fined 15 car manufacturers and distributors a total of 277.4 million Turkish lira ($180.8 million) for alleged price-fixing.  Originally, 23 car makers and distributors were targeted, but several companies were found not guilty.  The largest portion of the fine, 68.8 million lira, was imposed against Ford Otomotiv Sans AS.  Others fined include TOFAS Turkish Automotive Factory Inc. (47.8 million lira) and distributors of Mercedes Benz, Nissan, Peugeot, Toyota, and Hyundai cars.  The companies allegedly discussed temporary price hikes and strategies for dealing with exchange rate shifts.
Switzerland: In April, Switzerland's Federal Court rejected the Swiss Competition Commission's bid to reinstate a fine of 333 million Swiss francs ($376 million) against Swisscom AG.  The regulator argued that Swisscom abused its dominance in the cell phone termination fee market by allegedly charging other phone operators unfairly high rates to connect calls from their networks to Swisscom customers.  The court, however, found that Switzerland's antitrust laws did not cover Swisscom's conduct and that Swisscom was not dominant in the market, and thus upheld a lower court's rejection of the fine.
Australia: In February, the Federal Court of Australia approved a settlement agreement reached by Asia Pulp & Paper Co. Ltd. and its Indonesian unit with the Australian Competition & Consumer Commission, involving a fine of AU$4.2 million ($4.3 million) for alleged price-fixing in the paper market in the early 2000s.  The companies received reduced fines in exchange for cooperation with the agency's investigation into the alleged cartel's activities.
South Korea: In February, the Korean Fair Trade Commission ("KFTC") announced fines totaling 56.5 billion won ($50.3 million), levied against thirteen electric wire manufacturers.  The fines were issued against Changwon, Cosmolink Co. Ltd., Daewon Cable Co. Ltd., Gaon Cable Co., Hwabaek Cable Co. Ltd., Iljin Holdings Co. Ltd., JS Cable Co. Ltd., LS Cable Ltd., Mercury Corp., Nexans SA's Korean unit, Samsung Electronics Co., a SEAH Holdings Corp. Korean unit, and Taihan Electric Wire Co.  According to the KFTC, the companies agreed to set price hikes from 2003 to 2006 and engaged in bid-rigging schemes.  The KFTC also referred the cases against Cosmolink, Hwabaek, Iljin, Mercury, Nexans, SEAH, and Taihan to prosecutors for possible criminal charges.
Continuing the trend of aggressive antitrust enforcement in South Korea, the KFTC announced a 434.8 billion won ($399 million) total fine against four oil refiners: GS Caltex Corp. (177.2 billion won), Hyundai Oilbank Co. Ltd. (74.4 billion won), S-Oil Corp. (45.2 billion won), and SK Innovation Co. Ltd. (138 billion won).  The KFTC imposed the fines in May for alleged collusion to deny gas station requests to change brands.  GS Caltex, Hyundai, and SK Innovation face possible criminal prosecution for their roles in the scheme.
Japan: The Japan Fair Trade Commission fined four industrial gas producers a total of 14.1 billion yen ($174 million) in May for alleged price-fixing.  Taiyo Nippon Sanso Corp. was fined 5.1 billion yen, Air Liquide Japan Ltd. was fined 4.8 billion yen, Air Water Inc. was fined 3.6 billion yen, and Iwatani Corp. was fined 499 million yen.  The companies were also ordered to disseminate guidance to employees about Japan's Anti-Monopoly act, and not to coordinate with competitors on industrial gas prices in the future.
Russia: Following a finding that Russia's three largest cell phone operators violated antitrust laws, the Russian Federal Antimonopoly Service ("FAS") ordered MTS OJSC, VympelCom OJSC, and Megafon OJSC to notify consumers about possible changes in their payment procedures for roaming communication services.  The FAS also initiated cases against Russia's three largest oil companies for ignoring the regulator's demands that they cap oil prices; an investigation allegedly revealed that the companies were fixing prices and hoarding supply.  Three other oil companies are also under investigation for securing collective dominance in the oil products market in 2010, while several banks and insurers were hit with fines of 70 million rubles ($2.3 million) for alleged price-fixing in the auto insurance market. 
South Africa: The Competition Commission in South Africa announced a new program to encourage settlement and full disclosure of anticompetitive behavior by companies involved in the 65 bid-rigging investigations it has opened into construction contracts worth a total of 29 billion rand ($4.1 billion).  Companies that agree to make full disclosures, cooperate with the ongoing investigation, and end anticompetitive behavior will be entitled to a reduced penalty.  The Commission also warned that it would seek maximum fines against those companies that do not participate in the new program.
Members of the grain silo industry in South Africa agreed to settle price-fixing and market allocation probes in grain trading markets in June.  Four grain storage companies and two trading firms agreed to fines totaling nearly 21.2 million rand ($3.1 million), in cases focusing on whether the storage companies were fixing daily rates for grain storage for the South African Futures Market and claims that two grain traders had allocated customers and territories.  The grain storage companies fined were Afgri Operations Ltd. (15.6 million rand), Kaap Agri Bedryf Ltd. (1.2 million rand), Suidwes Agriculture (Pty) Ltd. (1.5 million rand), MGK Bedryfmaatskappy (Pty) Ltd. (226,800 rand).  The trading firms fined were Rand Merchant Bank (2.1 million rand) and NWK Ltd. (520,290 rand).
The Competition Commission withdrew a complaint against 28 bicycle wholesalers and retailers in June following challenges to the case on jurisdictional grounds.  The Commission has suffered a string of adverse court decisions recently, and its decision to drop the bicycle case follows a decision to drop another price-fixing case against several dairy companies for similar reasons last year.  The dismissal of the cases demonstrates the effect of two recent developments in South African antitrust law, both adverse to the Commission.  The South African Supreme Court of Appeal ruled in the dairy companies' case that the regulator lacked the authority to institute an industry-wide probe, finding that under South African antitrust law, the Commission had to target its complaints to a specific "alleged prohibited practice," rather than simply investigating conduct it deems to be generally anticompetitive.[27]  And in a dismissal of a price-fixing case against South African Breweries Ltd. in April, the Competition Tribunal explained that "a complaint lodged by a complainant to the Commission should be the same as that referred to us unless it meets certain formalities that have to be complied with, prior to referral."[28]  A decision of the Competition Appeal Court in March had said that the Competition Commission cannot amend or add to allegations in a complaint.  According to the Competition Commission, the effect of that decision "is to require a complainant to know with precision all the facts relating to the conduct complained of at the time of lodging the complaint when the complainant simply does not have the facts to enable it to do so."[29]  The case against the bicycle companies was dismissed following challenges on both grounds: the respondents argued that the tribunal lacked jurisdiction and that the complaint was not properly referred to the court.  While the Commission has already appealed several of the adverse decisions, and has indicated its intent to appeal others, the Commission's ability to investigate and prosecute anticompetitive conduct appears to be somewhat constrained at the moment. 
---
Gibson, Dunn & Crutcher lawyers are available to assist in addressing any questions you may have regarding these issues.  Please contact the Gibson Dunn attorney with whom you work, or any of the following:
Washington, D.C.
F. Joseph Warin (202-887-3609, fwarin@gibsondunn.com)
D. Jarrett Arp (202-955-8678, jarp@gibsondunn.com)
David P. Burns (202-887-3786, dburns@gibsondunn.com)  
John W.F. Chesley (202-887-3788, jchesley@gibsondunn.com)
New York
Randy M. Mastro (212-351-3825, rmastro@gibsondunn.com)
James A. Walden (212-351-2300, jwalden@gibsondunn.com)
Peter Sullivan (212-351-5370, psullivan@gibsondunn.com)
John A. Herfort (212-351-3832, jherfort@gibsondunn.com)
Lawrence J. Zweifach (212-351-2625, lzweifach@gibsondunn.com)
Denver
Robert C. Blume (303-298-5758, rblume@gibsondunn.com)
Dallas
M. Sean Royall (214-698-3256, sroyall@gibsondunn.com)
San Francisco
Gary R. Spratling (415-393-8222, gspratling@gibsondunn.com)
Joel S. Sanders (415-393-8268, jsanders@gibsondunn.com)
Trey Nicoud (415-393-8308, tnicoud@gibsondunn.com)
Rachel S. Brass (415-393-8293, rbrass@gibsondunn.com)
Los Angeles
Daniel G. Swanson (213-229-7430, dswanson@gibsondunn.com) 
Brussels
Peter Alexiadis (+32 2 554 7200, palexiadis@gibsondunn.com)
Andrés Font Galarza (+32 2 554 7230, afontgalarza@gibsondunn.com)
David Wood (+32 2 554 7210, dwood@gibsondunn.com)
London
James Ashe-Taylor (+44 20 7071 4221, jashetaylor@gibsondunn.com)
Patrick Doris (+44 20 7071 4276, pdoris@gibsondunn.com)
Philip Rocher (+44 20 7071 4202, procher@gibsondunn.com)
Charles Falconer (+44 20 7071 4270, cfalconer@gibsondunn.com)
Munich
Michael Walther (+49 89 189 33 180, mwalther@gibsondunn.com)    
© 2011 Gibson, Dunn & Crutcher LLP
Attorney Advertising: The enclosed materials have been prepared for general informational purposes only and are not intended as legal advice.