September 6, 2017
When the board of a public company decides to undertake a strategic review, this may involve putting itself or some of its assets up for sale. These options may in turn be run as a formal auction or might involve (or be preceded by) more informal private discussions with a small number of parties to gauge market interest. These steps may be run as distinct ordered stages and in other situations may develop iteratively, often being regarded by the company itself as a continuum or variation of one and same process. Under UK takeover rules and practice, however, entering into these different stages can have markedly different consequences of strategic importance to the company.
The Executive body of the UK Panel on Takeovers and Mergers (Executive) recently published new guidance in the form of a Practice Statement[1] 31 on "Strategic reviews, formal sale processes and other circumstances in which a company is seeking potential offerors"[2] (PS 31) . This alert summarises the substance of the guidance and draws out some practical considerations for companies and their advisers in these situations.
Different scenarios discussed in the Practice Statement 31
PS 31 seeks to draw a distinction between the following key announcement scenarios:
General strategic review announcements by target companies
Strategic review announcements by companies which specifically refer to an offer, or a formal sale process (FSP), a merger or the search for a buyer for the company, as one or some of the options under consideration
Announcements by companies that the board is seeking one or more potential offerors by means of a FSP
Private discussions between a target company with one or more potential offerors where subsequently the target company wishes to announce a FSP.
Each of the scenarios above address voluntary announcements scenarios. It should be noted there are a number of other scenarios provided for under the Code where a target company or an offeror may be required to make an announcement about a possible offer e.g. in the event of rumour or speculation, untoward target share price movement or where private discussions by a target company with potential offerors exceeds more than a very restricted number of potential offerors. These mandated situations are not addressed in PS 31 nor in this alert. Rule 2 of the Code sets out the framework for announcements (voluntary and mandated) and the Executive has also set out further guidance on this in Practice Statement 20[3] on "Secrecy, Secrecy, possible offer announcements and pre-announcement responsibilities".
Why does it matter?
From a target company's perspective, it is important to understand and ideally to pre-plan for the implications under the Code, if any, of any of the announcement scenarios listed above.
Entering into an offer period: First, the company will want to know if the result of the announcement is to bring it into an "offer period" under the Code. If a company enters into an offer period, a number of different requirements and restrictions will arise, many impacting the target company itself and others impacting possible offerors and third parties. With respect to the target company, these include the imposition of certain restrictions on dealings, disclosure requirements, compliance with regimes regarding circulation of information about the target company and restrictions on actions which are regarded as "frustrating actions" under the Code. In addition, whenever a company enters into an offer period, this generally attracts market and stakeholder pressures which inevitably arise from the public scrutiny and enquiry of a company (seen to be) "in play".
Public identification of potential offerors and PUSU: Second, an announcement by a target company which commences an offer period must identify any potential offeror it is in talks with or from which an approach has been received (and not unequivocally rejected). This "outing" of potential offeror(s) is important as, in addition to the public revelation of interest by any such potential offeror(s) prior to any firm conclusion of any discussions with the target company (which generally operates against the interests of the offeror and in some circumstances may not also be in the interests of the target), the potential offeror then becomes subject to the so-called "put up shut up" (PUSU) 28 calendar day deadline. The PUSU deadline (which can only be extended with the consent of both the Panel and the target) requires the potential offeror to announce a firm intention to make an offer within 28 days of the announcement "outing" it or to announce that it does not intend to make an offer, in which case it will be "off-side" with respect to an offer for the target, for a number of months. The Code does however, on request of the target,  allow the Panel to grant a dispensation to the "outing" of potential offerors in the case of FSPs and the imposition of the PUSU period. Consultation with the Panel is required.
Offer-related arrangements and equality of information: Thirdly, depending on the nature of the scenario in which a company is classified for purposes of the Code, the following additional restrictions may be imposed on it and the parties (including possible offerors) that it is in discussions with or wishes to commence discussions with:
Restrictions on entering into any "offer-related arrangements" during an offer period: There is a general restriction under the Code from a target entering into such arrangements which are broadly defined to include any agreement, arrangement or commitment in connection with an offer including any inducement fee "or other arrangement having a similar or comparable financial or economic effect". The Code does however envisage granting a dispensation to allow a target company to enter into an inducement fee arrangement in situations where the company has announced a FSP
Equality of information to subsequent bona fide offerors or potential offerors without conditions save as to conditionality and non-solicitation: In order to place all bona fide offerors or potential offerors (whether welcome or unsolicited) on an equal footing, the Code requires the target, to provide equally and promptly, on request, any information given to one (potential) offeror to another bona fide (potential) offeror. The Code also states that the passing of such information should not be made subject to any conditions other than those relating to confidentiality, reasonable non-solicitation provisions and requirements as to use of information solely in connection with an offer. Importantly, this restriction only applies in respect of information requested by a (potential) offeror where that information has already been provided to an earlier (potential) offeror but does not seek to regulate the terms imposed by a target company on the "first" offeror or potential offeror. The question then arises as to who is regarded as the "first" offeror(s) in the context of an auction sale or FSP or similar – this is important for a target company to ascertain as it sets the framework within which it may choose to run an auction process, FSP or strategic review.
How does PS 31 address the different scenarios?
The table below sets out the requirements and guidance set out in PS 31 with respect to the different sale scenarios identified above.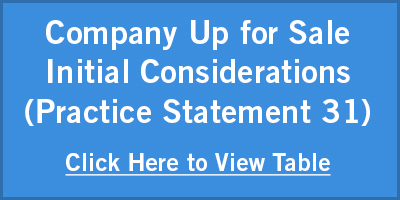 Conclusions
Companies (board members, controlling shareholders and their advisers) who are considering a strategic review, running an auction process or putting the company up for sale should give due consideration to the guidance issued by the Executive in PS 31. With an increase in public-to-private activity, initiated by PE backed owners and otherwise, running an effective sale process is important and necessitates a real understanding of the dynamics of public offers, the implications and strategic options available under the Code including with respect to outing of bidders, access to information and freedom to enter into offer-related arrangements.
When the Code Committee of the Panel introduced the FSP regime in 2011 which was in conjunction with, inter alia, the general prohibition on offer-related arrangements, there was an expectation that this regime would be attractive to target companies undergoing a strategic review, given the greater flexibility/ dispensations available to companies (and bidders) participating in this process. The statistics however have been uninspiring (both in terms of the numbers of FSPs launched and the success in concluding in an offer) until more recently when FSPs have gradually developed increased interest. In H1 2017, 27 firm offer intention announcements for Code companies were announced. Of these seven were FSPs – this included three main market and three AIM listed companies with offer periods commencing with a FSP announcement. In four of the six, the FSPs were part of a wider strategic review and dispensations from 'outing' and imposition of the PUSU deadline were sought. With this backdrop of increasing prevalence of strategic reviews and FSPs, companies and their advisers should take particular note of the guidance of the Executive in PS 31.

---
[1] Practice Statements are issued by the Executive to provide informal guidance to companies involved in takeovers and practitioners as to how the Executive normally interprets and applies relevant provisions of UK's City Code on Takeovers and Mergers (Code) in certain circumstances. The statements do not form part of the Code and are not binding on the Executive or the Panel. They have however been relied upon and referred to in cases where evidence of certain Executive practice on particular provisions has been in question.
[2] http://www.thetakeoverpanel.org.uk/wp-content/uploads/2008/11/PDF-of-Practice-Statement-No.31.pdf
[3] http://www.thetakeoverpanel.org.uk/wp-content/uploads/2008/11/PDF-of-Practice-Statement-No.20.pdf
---
If you require further information or guidance on these developments, please contact the author of this note, Selina Sagayam (ssagayam@gibsondunn.com), the Gibson Dunn lawyer with whom you normally work, or the following partners in the firm's London office.  We would be pleased to assist you.    
Charlie Geffen (+44 (0)20 7071 4225, cgeffen@gibsondunn.com)
Nigel Stacey (+44 (0)20 7071 4201, nstacey@gibsondunn.com)
Jonathan Earle (+44 (0)20 7071 4211, jearle@gibsondunn.com)
---
© 2017 Gibson, Dunn & Crutcher LLP
Attorney Advertising:  The enclosed materials have been prepared for general informational purposes only and are not intended as legal advice.