Hong Kong Solicitor Training Program
Our Hong Kong office is delighted to offer training contracts to one or two exceptional students or graduates each year.  We are looking for individuals who are entrepreneurial and ambitious, who are naturally curious, who have strong interpersonal and organizational skills. Successful candidates can rise to the challenge of working directly with partners within focused teams and having client contact early in their careers.
You should have an excellent academic record and have obtained, or expect to obtain, a 2.1 degree (or 3.5 GPA), or better.  Fluency in English is a pre-requisite and other Asian language skills are strongly desirable.
Trainee Solicitors experience first-rate work experience with leading lawyers in their fields, together with excellent practical training, mentoring and support within a collegial and respectful environment.  We offer a highly competitive salary and benefits package. Gibson Dunn will provide you with the tools you need to build an exceptional career.
Why Train at Gibson Dunn?
Gibson Dunn is one of the world's leading law firms. Our lawyers work on some of the highest-profile deals and litigation matters involving cutting-edge legal issues across multiple jurisdictions for a wide range of global industry leading clients. In this program, you will be part of a small group of bright, ambitious and high-achieving trainees, and get hands-on experience.  Gibson Dunn trainees assume a high level of responsibility in each and every matter they work on.  Trainees receive all the support they need, both informally, through being part of a helpful and sociable team, and more formally, through the firm's mentoring system.
The Training Programme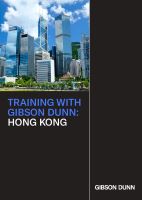 As a Gibson Dunn trainee, you will work alongside some of the most talented lawyers in Asia, Europe and the United States.  Our Hong Kong trainees frequently work on international transactions and cases with our colleagues and clients around the world.  During the two-year training programme, trainees will have the opportunity to spend time in a number of different practice groups, including corporate, funds, finance, dispute resolution and competition.
Gibson Dunn trainees also frequently work on some of the Hong Kong office's local and global pro bono activities. The firm is proud to have a strong and sustained commitment to pro bono work, and trainees are strongly encouraged to participate in this tradition.
We currently expect to offer up to two training contracts for 2025 and 2026. To secure a training contract you should first apply for our summer internship. For additional information on training with us, please view our FAQs [PDF] and graduate recruitment brochure [PDF].
Summer Internship
In 2024, Gibson Dunn will host up to 4 students interested in pursuing a training contract at our Hong Kong office and a career with the firm. Our summer internship is intended for law students in their penultimate or final year of study, recent law graduates and those already taking the PCLL course. Applications from non-law graduates who are in the final year of their degree or who have taken or are currently enrolled on the Graduate Diploma in Law are also welcome.
During the internship, you will have the opportunity to take part in seminars and workshops, as well as perform meaningful work on the firm's high-profile matters.
The summer internship programme is designed for students who wish to apply for a training contract with the firm.
Summer Internship Dates: June 2024
Applications for the 2024 summer scheme will be accepted from 1 September 2023, and until 16 January 2024. If you are interested in applying please click here after 1 September 2023.
To find out more information, view our FAQs [PDF] and graduate recruitment brochure [PDF].
Open Day: TBC November 2023
Gibson Dunn offers a virtual open day to provide an insight into life at a top international law firm.  The day is packed with seminars, talks and interactive workshops, including partner sessions introducing you to the practice areas of the firm and an opportunity to meet our associates and graduate recruitment team.
Applications are welcome from law students in their penultimate year of study, students of other disciplines in their final year of study, those who have already graduated (in any discipline) and those who are already taking their PCLL course.  Priority will be given to those who are considering starting a training contract with the firm in September 2025.
If you are interested in applying please click here.