April 20, 2022
In March 2022, amidst an array of new proposals for sustainable products (including a proposed draft Regulation on Ecodesign for Sustainable Products) the European Commission announced an EU Strategy for Circular and Sustainable Textiles.
The Strategy envisages that "By 2030, textile products placed on the EU market are long-lived and recyclable, to a great extent made of recycled fibres, free of hazardous substances and produced in respect of social rights and the environment. Consumers benefit longer from high quality affordable textiles, fast fashion is out of fashion, and economically profitable re-use and repair services are widely available…..producers take responsibility for their products along the value chain, including when they become waste,…. incineration and landfilling of textiles is reduced to the minimum".
The EC envisages numerous steps to achieve this strategy, including:
Binding product-specific ecodesign requirements to increase durability, reusability, repairability and recyclability, and to address the unintentional release of microplastics in the environment.
Development of criteria for safe and sustainable chemicals and materials- to reduce the presence of hazardous substances used in textile products.
Introduction of a transparency obligation requiring large companies to publicly disclose the number of products they discard and destroy, including textiles.
Introduction of a Digital Product Passport for textiles-based on mandatory information requirements on circularity and other key environmental aspects.
Increased information and transparency for consumers at the point of sale, regarding the sustainability credentials of products.
Extended producer responsibility requirements for textiles.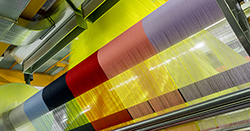 According to the EC's Strategy Communication, the textiles and clothing sector comprises more than 160,000 companies and employs 1.5 million people, generating a turnover of EUR 162 billion in 2019. Global textile production has almost doubled between 2000 and 2015, with the consumption of clothing and footwear expected to increase by 63% by 2030, from 62 million tonnes now, to 102 million tonnes in 2030. The EC flags that in the EU, the consumption of textiles, most of which are imported, now accounts on average for the fourth highest negative impact on the environment and on climate change and third highest for water and land use from a global life cycle perspective. In circumstances where approximately 5.8 million tonnes of textiles are discarded every year in the EU, the impact of this Strategy could be significant.
---
This alert was prepared by Susy Bullock, Sophy Helgesen, and Freddie Batho*.
Gibson Dunn's lawyers are available to assist in addressing any questions you may have about these developments. To learn more, please contact Susy Bullock, the Gibson Dunn lawyer with whom you usually work, or any of the following lawyers in the firm's Environmental, Social and Governance (ESG) or Fashion, Retail and Consumer Products practice groups:
Environmental, Social and Governance (ESG) Group:
Susy Bullock – London (+44 (0) 20 7071 4283, [email protected])
Elizabeth Ising – Washington, D.C. (+1 202-955-8287, [email protected])
Perlette M. Jura – Los Angeles (+1 213-229-7121, [email protected])
Ronald Kirk – Dallas (+1 214-698-3295, [email protected])
Michael K. Murphy – Washington, D.C. (+1 202-955-8238, [email protected])
Selina S. Sagayam – London (+44 (0) 20 7071 4263, [email protected])
Fashion, Retail and Consumer Products Group:
Howard S. Hogan – Washington, D.C. (+1 202-887-3640, [email protected])
* Freddie Batho is a trainee solicitor working in the firm's London office and not yet admitted to practice law.
© 2022 Gibson, Dunn & Crutcher LLP
Attorney Advertising:  The enclosed materials have been prepared for general informational purposes only and are not intended as legal advice.