October 3, 2018
This Client Alert provides an update on shareholder activism activity involving NYSE- and NASDAQ-listed companies with equity market capitalizations above $1 billion during the first half of 2018.  After a modest decline in activist activity in the second half of 2017, activism resumed a torrid pace during the first half of 2018.  Compared to the same period in 2017, which had previously been the most active half-year period covered by any edition of this report, this mid-year edition of Gibson Dunn's Activism Update reflects a further increase in public activist actions (62 vs. 59) and companies targeted by such actions (54 vs. 50).
In this edition of the Activism Update, our survey covers 62 total public activist actions, involving 41 different activist investors targeting 54 different companies.  Eight of those companies faced activist campaigns from two different investors, and five of those situations involved at least some degree of coordination between the activists involved.  Nine activist investors were responsible for two or more campaigns between January 1, 2018 and June 30, 2018, representing 30, or nearly half, of the 62 campaigns covered by this report.
By the Numbers – 2018 Full Year Public Activism Trends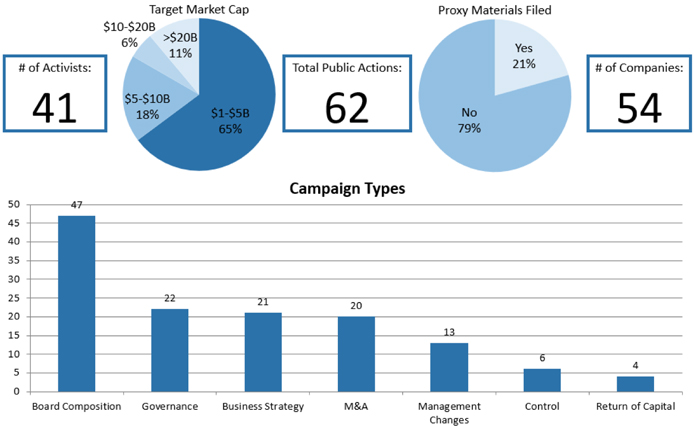 *All data is derived from the data compiled from the campaigns studied for the 2018 M Activism Update.
Additional statistical analyses may be found in the complete Activism Update linked below. 
While changes in business strategy were the top goal of activist campaigns covered by Gibson Dunn's Activism Update for the second half of 2017, changes to board composition have returned to prominence in the first half of 2018 (75.8% of campaigns), coinciding with a dramatic uptick in publicly filed settlement agreements during the same period.  Activists pursued governance initiatives, sought to influence business strategy, and took positions on M&A-related issues (including pushing for spin-offs and advocating both for and against sales or acquisitions) at nearly equal rates, representing 35.5%, 33.9%, and 32.3% of campaigns, respectively.  Demands for management changes (21.0% of campaigns), attempts to take control of companies (9.5% of campaigns), and requests for capital returns (6.1% of campaigns) remained relatively less common goals of activist campaigns over the first half of 2018.  The frequency of activists filing proxy materials remained relatively consistent with periods covered by recent editions of this report, with investors filing proxy materials in just over one in five campaigns.  While market capitalizations of target companies ranged from this survey's $1 billion minimum threshold to $100 billion, activists' focus remained largely on small-cap companies with market capitalizations below $5 billion, which represented 64.8% of the 54 target companies captured by our survey.
The most significant development noted in our previous report, covering the second half of 2017, was the decrease in publicly filed settlement agreements between activist investors and target companies, which we attributed partially to the concurrent decline in campaigns involving activists seeking board seats.  This trend has been reversed.  As campaigns seeking board representation have returned to prominence, the number of publicly filed settlement agreements in the first half of 2018 has seen a fivefold increase from the previous half-year period, from four such agreements in the second half of 2017 to 21 in the first half of 2018.  Trends in the key terms of settlement agreements remain relatively steady.  Voting agreements, standstills, and ownership thresholds remain nearly ubiquitous.  Non-disparagement provisions dropped off slightly in the first half of 2018, while committee appointments for new directors and other strategic initiatives (e.g., replacement of management, spin-offs, governance changes) remained near their historical averages in prior editions of this report.  The increased frequency of expense reimbursement noted in our last report has also continued into 2018, with 62% of publicly filed settlement agreements containing such a provision compared to a historical average of just 36% from 2014 through the first half of 2017.  Further details and data on publicly filed settlement agreements may be found in the latter half of this report.
We hope you find Gibson Dunn's 2018 Mid-Year Activism Update informative. If you have any questions, please do not hesitate to reach out to a member of your Gibson Dunn team.

---
Gibson Dunn's lawyers are available to assist in addressing any questions you may have regarding the issues discussed in this publication.  For further information, please contact the Gibson Dunn lawyer with whom you usually work, or any of the following authors in the firm's New York office:
Barbara L. Becker (+1 212.351.4062, bbecker@gibsondunn.com)
Richard J. Birns (+1 212.351.4032, rbirns@gibsondunn.com)
Dennis J. Friedman (+1 212.351.3900, dfriedman@gibsondunn.com)
Eduardo Gallardo (+1 212.351.3847, egallardo@gibsondunn.com)
William Koch (+1 212.351.4089, wkoch@gibsondunn.com)
Please also feel free to contact any of the following practice group leaders and members:
Mergers and Acquisitions Group:
Jeffrey A. Chapman – Dallas (+1 214.698.3120, jchapman@gibsondunn.com)
Stephen I. Glover – Washington, D.C. (+1 202.955.8593, siglover@gibsondunn.com)
Jonathan K. Layne – Los Angeles (+1 310.552.8641, jlayne@gibsondunn.com)
Securities Regulation and Corporate Governance Group:
Brian J. Lane – Washington, D.C. (+1 202.887.3646, blane@gibsondunn.com)
Ronald O. Mueller – Washington, D.C. (+1 202.955.8671, rmueller@gibsondunn.com)
James J. Moloney – Orange County, CA (+1 949.451.4343, jmoloney@gibsondunn.com)
Elizabeth Ising – Washington, D.C. (+1 202.955.8287, eising@gibsondunn.com)
Lori Zyskowski – New York (+1 212.351.2309, lzyskowski@gibsondunn.com)
© 2018 Gibson, Dunn & Crutcher LLP
Attorney Advertising:  The enclosed materials have been prepared for general informational purposes only and are not intended as legal advice.