August 4, 2016
As we cross the mid-point of 2016, Gibson Dunn's Media, Entertainment and Technology practice group has been reflecting on many of the notable recent deals, cases, rulings, and trends that we have been closely following, and which we expect to continue to shape these industries.  From big movements toward consolidation in the cable industry, to regulatory trends, to an active copyright docket (especially in the fair use field), to stakeholders' new forays into the streaming landscape and the challenges presented to industry groups and copyright holders, the field remains as dynamic as ever and presents ever newer legal challenges and opportunities.
---
Table of Contents
I.        Transaction & Regulatory Overview
A.     Cable Mergers & Acquisitions: A Trend Toward Consolidation?
B.     The Relativity Media Bankruptcy
C.     Net Neutrality Goes to Court Again
D.     Exclusivity Rules for Cable Transmissions
E.      Trans-Pacific Partnership & Effect on the Industry
II.       Recent Litigation Highlights
1.   "Fair Use" Goes Front and Center
a.   Authors Guild v. Google, Inc. and Impact on Fair Use Doctrine
b.   Fox News Network, LLC v. TVEyes, Inc.
c.   The "Dancing Baby" Case:  The DMCA and Fair Use Assessments
d.   Parody Is Entitled Its Own Copyright Protection (The Point Break Case)
2.   Roundup: A New Stampede of Older Copyright Claims
3.   Copyrightable Subject Matter: New Revelations in an Old Doctrine
1.   Online Piracy: Two Steps Forward, One Step Back
a.   The MPAA Battles Content Piracy
(i)         Popcorn Time: the "Netflix for Piracy"
2.   Profit Participation Lawsuits March On
2.   Antitrust Claims Brought by College Athletes
3.   Restrictions on the Use of Likenesses Obtained in Public Places
---
I.    Transaction & Regulatory Overview
A.    Cable Mergers & Acquisitions: A Trend Toward Consolidation?
"Bundling" is a term familiar to those in the cable television industry, and indeed it holds a second meaning for those keeping an eye on M&A developments.  On July 24, 2015, the Federal Communications Commission approved the $48.5 billion acquisition of DIRECTV by AT&T.  In approving the merger, the FCC found it to be in the public interest, despite previous regulatory pressure against similar deals in the recent past.
The AT&T-DIRECTV transaction appears to have signaled the FCC's receptiveness to approval of expansive media and communications deals, and may have opened the door to other mergers in the media and satellite cable fields.  For example, on April 25, 2016, the FCC approved Charter Communications' proposed $65.5 billion acquisition of Time Warner Cable and Bright House Networks.  The FCC's approval of that deal would pave the way for the creation of the country's third largest cable provider with approximately 17.3 million subscribers.
As in the FCC's approval of the AT&T-DIRECTV deal, we see in the Charter Communications' approval examples of what companies can expect from the FCC.  Attached to the FCC's approval of the AT&T-DIRECTV deal were targeted conditions focused on fair access to content, transparency of operations, and investment in fiber-optic infrastructure.  These conditions will remain effective for four years following the closing date of the AT&T-DIRECTV deal.  (Disclosure: Gibson Dunn represented AT&T in the acquisition.)  In approving the Charter Communications deal, the FCC and DOJ set a number of conditions, including measures seeking to protect streaming video enterprises and ensuring that cheaper broadband can be provided to low-income households.  FCC chairman Tom Wheeler stated, "The cumulative impact of these conditions will be to provide additional protection for new forms of video programming services offered over the Internet."[1]
B.    The Relativity Media Bankruptcy
After claiming debts totaling $1.2 billion, Relativity Media filed for Chapter 11 bankruptcy on July 30, 2015.  During the bankruptcy process, Relativity sold its unscripted television division to a group of its leading creditors.  Relativity also settled with other investors leading to a total reduction of $630 million in debt.  On Tuesday, February 2, 2016, U.S. Judge Michael Wiles conditionally approved Relativity's reorganization.  The reorganization was conditioned on Relativity proving that it had secured $80 million in new funding and completed deals making Kevin Spacey the studio's chairman and producer, and Dana Brunetti the studio's president.  Despite the facts that Relativity was unable to hire Kevin Spacey as the studio's chairman and producer, and that it raised only $75 million in funding, on March 18, 2016, Judge Wiles approved Relativity's exit plan from bankruptcy.  (Disclosure: Gibson Dunn represented a creditor in the bankruptcy.)
C.    Net Neutrality Goes to Court Again
The debate surrounding the FCC's effort to regulate broadband Internet access service providers continues.  In March 2015, the FCC released an order that reclassified high-speed Internet as a telecommunications service rather than an information one, thereby subjecting providers to common carrier regulation under Title II of the Communications Act.  The FCC also issued specific rules governing broadband providers' treatment of traffic.  Pursuant to the FCC's reclassification, the FCC now has broad authority to regulate broadband providers like public utilities, with general authority to prohibit, among other things, unjust and unreasonable practices and charges.
Following the release of the FCC action, the U.S. Telecom Association, CTIA-The Wireless Association, the National Cable & Telecommunications Association, the American Cable Association, AT&T, and other stakeholders challenged the FCC's open internet order principally on the bases that the FCC's reclassification of internet access as a telecommunications service contravenes the Communications Act and was arbitrary and capricious.  These petitioners also challenged the FCC's reclassification of mobile broadband internet as a common-carrier service.  On December 4, 2015, the Court of Appeals for the D.C. Circuit heard argument, and on June 14, 2016, a divided three-judge panel voted to uphold the FCC's order.2  (Disclosure: Gibson Dunn is representing CTIA and NCTA in the appeal.)
The Court of Appeals had previously ruled twice against the FCC since 2010.  In 2010, the Court of Appeals ruled against the FCC and in favor of Comcast on the issue of whether the FCC had lawfully sanctioned Comcast in a dispute regarding alleged slowing of Internet access to a popular file-sharing service.3  The court determined that the FCC lacked the requisite authority over broadband services to make the action against Comcast legal.4  The FCC relied upon various provisions of the Communications Act of 1934, which the court held did not support the exercise of ancillary authority over Comcast's broadband services.5  In 2014, the Court of Appeals struck down the FCC's attempt to adopt, for the first time, net neutrality rules, determining that the rules violated the Communications Act because they constituted prohibited common carrier regulation (at the time broadband was classified as an information source, which the statute immunizes from such regulation).6
D.    Exclusivity Rules for Cable Transmissions
In August 2015, FCC Chairman Tom Wheeler announced the commission's proposal to eliminate broadcast exclusivity rules.  These rules prevent a cable or satellite company from providing subscribers an out-of-market broadcast station, thereby allowing local stations to carry certain programming exclusively.  Supporters of exclusivity rights argue that the rules are a counterbalance to the compulsory licenses for cable companies.  Licenses ensure operators are able to retransmit programming contained in broadcast signals at set rates.  Proponents of exclusivity rights fear that without these agreements, and the ability to enforce them, cable providers would retransmit programming allowed in one market wherever they want, regardless of local agreements.  Without a similar decision by Congress to end compulsory copyright licenses, broadcasters worry that their bargaining power would be weakened relative to the cable companies.  They warn that the consequences would be programming "blackouts" and a depletion of local programming.
The FCC and supporters of the proposal argue that the rules in effect worsen TV blackouts and distort the free market, hurting the consumer more by prohibiting the broadcasting of distant signals.  Additionally, they argue that broadcasters are able to charge cable companies retransmission fees which are passed on to the consumer.  Supporters frequently point to the changed landscape from when the copyright laws were enacted as a reason to eliminate exclusivity.  Broadcasters now typically include exclusivity provisions in their contracts.  Furthermore, legislation passed in 1992 gave broadcasters the ability to negotiate for retransmission consent, all making the exclusivity rules superfluous and unnecessary.
Senior lawmakers from both parties are moving to block the Commission's proposal.  In October 2015, Senators Chuck Grassley (R-Iowa), Patrick Leahy (D-Vt.), John Thune (R-S.D.) and Bill Nelson (D-Fla.) wrote the Chairman arguing that the FCC risks "disrupt[ing] local television businesses and viewing households" if the agency moves forward with eliminating broadcast exclusivity rules.  Senators Chuck Schumer (D-N.Y.) and Diane Feinstein (D-Calif.) have also come out publicly in opposition to the proposal.[2]  In November 2015, Chairman Wheeler defended his proposal in letters posted online.  Responding to Congressional criticism, Wheeler argued that the current rules hurt consumers by "prohibiting the importation of distant signals, as well as strengthen the position of broadcasters in retransmission disputes."[3]
E.    Trans-Pacific Partnership & Effect on the Industry
Last year, the Trans-Pacific Partnership (TPP) was negotiated between 12 countries which account for more than 40% of U.S. exports.  The agreement creates the world's largest free-trade area, spanning from Chile to Japan.  The final TPP agreement was announced in October 2015, signed on February 4, 2016, and despite well-publicized opposition, a vote may come up in Congress in 2016 (possibly during the lame duck session).  Proponents of the TPP emphasize the benefits of the largest regional trade accord in history, arguing that the agreement will abolish a large number of tariffs currently levied on U.S. exports.  This in turn will allow for better competition in lucrative partner markets, benefiting domestic producers back in the U.S.
The service industry is likely to be one of the biggest beneficiaries of the TPP, particularly the software and entertainment sectors.  Motion Picture Association of America ("MPAA") chairman Chris Dodd announced his support for the pact last year:  "Enacting a high-standard TPP is an economic priority for the American motion picture and television industry, which registered nearly $16 billion in exports in 2013 and supports nearly two million jobs throughout all fifty states."[4]
Copyright regulations stand to be particularly impacted.  The TPP is expected to adopt the U.S. term of life-plus-70 years for copyrighted films, music and other works.  This would exceed the international standard of life-plus-50 years from the Berne Convention.  The entertainment industry has strongly backed such a change.  Proponents of the new copyright terms argue that the world is moving away from the 50-year standard toward a much longer period that would "reduce friction, help protect content and open up rapidly growing foreign markets."[5]  The TPP would also require signatory countries to adopt the U.S. Digital Millennium Copyright Act Internet Intermediaries copyright regime in its entirety, which would require countries to "establish or maintain a framework of copyright safe harbors" for ISPs.[6]   However, ISPs will not be required to monitor their systems for infringing activity.
The TPP attempts to bring uniformity to the fight against piracy, which has long been a challenge due to the varied levels of enforcement of infringement in different countries.  According to the United States Trade Representative, the pact specifically requires countries to have "strong enforcement systems, including, for example, civil procedures and penalties for commercial-scale trademark counterfeiting and copyright or related rights piracy."[7]  Proponents of the uniform enforcement say this will encourage expansion into other markets for U.S. movies, television shows and music.  The TPP also eliminates digital tariffs, specifically prohibiting "the imposition of customs duties on electronic transmissions," while at the same time prohibiting countries from "favoring national producers or suppliers of such products though discriminatory measures or outright blocking."[8]
II.    Recent Litigation Highlights
A.    Copyright Litigation
1.    "Fair Use" Goes Front and Center
It has been a particularly fertile period for copyright cases considering fair use issues, with blockbuster cases being heard in the Second Circuit's trial and appellate courts, and in the Ninth Circuit.  The "Google Books" and Fox News v. TVEyes cases can rightly be seen as a pair of companion cases in which the courts have been asked to weigh the rights of creators and copyright holders against transformative uses by companies that claim to offer social utility.
a.    Authors Guild v. Google, Inc. and Impact on Fair Use Doctrine
After a protracted ten-year lawsuit, in October 2015, the Second Circuit unanimously affirmed a lower court's ruling that Google Books, a digital library, is protected by fair use and thereby does not amount to copyright infringement.[9]  Launched in 2004, Google Books is an ambitious project that seeks to scan every book in existence by working with participating libraries.  Google then makes those books searchable and provides short excerpts of the content while providing information for where consumers can purchase a full-length version.  In 2005, the Authors Guild sued Google.  The parties agreed to a $125 million settlement in 2008, but the District Court rejected the proposal in 2011, finding that it was unfair to class members and would grant Google a "de facto monopoly."[10]  In 2013, the District Court granted summary judgment in favor of Google, finding a fair use, and the Authors Guild appealed.
At issue in the appeal were (i) the user's ability to search a book's text under the Google Books system and (ii) the user's ability to view the excerpts.  The Court of Appeals reasoned, in an opinion by Judge Pierre Leval, that "Google's making of a digital copy to provide a search function is a transformative use, which augments public knowledge by making available information about Plaintiffs' books without providing the public with a substantial substitute for matter protected by the Plaintiffs' copyright interest in the original works or derivatives of them."[11]  Judge Leval noted that "while authors are undoubtedly important intended beneficiaries of copyright, the ultimate, primary intended beneficiary is the public, whose access to knowledge copyright seeks to advance by providing rewards for authorship."[12]
The Court recognized that Google's intended use of the scanned content may be for commercial purposes, but weighed that concern against the other statutory fair use factors.  The court concluded that "[t]he purpose of the copying is highly transformative, the public display of text is limited, and the revelations do not provide a significant market substitute for the protected aspects of the originals.  Google's commercial nature and profit motivation do not justify denial of fair use."[13]
At a recent IP conference attended by Gibson Dunn attorneys, Judge Leval commented on the case and how the Second Circuit's Authors Guild decision may have impacted application of the fair use doctrine.  Asked about whether the 4-factor fair use test has collapsed into the "transformative use" factor that Judge Leval articulated, he demurred and said that if it has, then such a judicially created result would be a mistake, and reiterated the continuing importance of the economic factor (i.e., the effect of the use upon the potential market).  Judge Leval speculated that if the Authors Guild panel had found that the service had made the scanned works fully free to all (rather than only providing excerpts), for example, the court might have reached a very different result.
The Second Circuit's decision is likely to be cited by research institutions that copy or make other uses of copyright-protected works.  The opinion suggests that where an unauthorized work has such an overwhelming public benefit or utility, courts will be more willing to find a transformative value.  On April 18, 2016, the Supreme Court denied (with no noted dissents) the Authors Guild's petition for a writ of certiorari.[14]
b.    Fox News Network, LLC v. TVEyes, Inc. 
While Authors Guild attracted most of the attention in the fair use arena, another case considered similar issues in the television context, and may provide the first indications of how Authors Guild will impact the fair use doctrine going forward.  In 2013, Fox News sued the media-monitoring service TVEyes–a tool used by journalists, politicians and companies to track cable news programming–for copyright infringement.  TVEyes records approximately 1,400 television and radio stations and charges users a flat fee of $500 a month for a searchable index of real-time clips.  In September 2014, the District Court for the Southern District of New York granted a partial summary judgment to TVEyes, holding that the indexing and excerpting functions of TVEyes were transformative uses and thus protected under the fair use doctrine.[15]  The Court denied judgment–and granted Fox News further discovery–with respect to TVEyes' other functions, including tools allowing users to archive, download, and share videos as well as to search for clips.
In May 2015, CBS Studios, NBCUniversal, CNN, Bright House Networks and News 12 Networks filed an amicus brief in support of Fox News' motion for summary judgment on the remaining issues, arguing that TVEyes "systematically records content from over a thousand television channels, and charges subscription fees to its customers in exchange for distributing to them massive amounts of content it has neither created nor licensed."[16]  The amici also criticized the court's September 2014 ruling, claiming the service "undermines the value of television news" and "encourages the mass appropriation of news that was created at great cost, and sometimes risk, while at the same time eviscerates copyright owners' greatest commodity: control over content."[17]
In August 2015, the District Court entered a second summary judgment order, resolving the remaining issues as to liability.  Importantly, the court held that TVEyes' downloading, sharing and searching by date and time functions were not protected fair use.[18]  Although the court acknowledged that sharing clips can facilitate access for news reporting, commentary, criticism, teaching, scholarship, and other permitted uses under the Copyright Act, TVEyes lacked sufficient protections to "prevent indiscriminative sharing" and "risks becoming a substitute for Fox's own website, thereby depriving Fox of advertising revenue."[19]  Rather, the court found that TVEyes "must develop protocols to reasonably assure that, when subscribers share video clips, they do so consistent" with the principles of fair use.[20]  In addition, on the issue of downloading clips, the court held that while "TVEyes is transformative because it allows users to search and monitor television news," "[d]ownloading [unlimited clips] also is not sufficiently related to the functions that make TVEyes valuable to the public, and poses undue danger to content-owners' copyrights."[21]  The court did find that the archiving function was a fair use, reasoning as follows:
Democracy works best when public discourse is vibrant and debate thriving.  But debate cannot thrive when the message itself disappears after airing into an abyss.  TVEyes' service allows researchers to study Fox News' coverage of an issue and compare it to other news stations; it allows targets of Fox News commentators to learn what is said about them on the network and respond; it allows other media networks to monitor Fox's coverage in order to criticize it.  TVEyes helps promote the free exchange of ideas, and its archiving feature aids that purpose.[22]
In November 2015, the court issued a broad permanent injunction that would have banned users from downloading Fox News Channel or Fox Business News clips; viewing such content by searching by date and time; and sharing video clips on social media websites.[23]  The order further limited TVEyes users to emailing clips to no more than five recipients, and then only from a registered work email address.[24]  Fox News had requested a more extensive injunction with additional limitations on use of its clips, including barring the emailing of clips until 72 hours after the original telecast, expiration dates for clips, and the requirement that all clips contain a watermark.
The parties then agreed to appeal the injunction ruling to the Second Circuit, staying part of the injunction for the time being.  Unsurprisingly, TVEyes' opening appellate brief cites heavily to the Second Circuit's Authors Guild decision, including for the proposition that TVEyes' various functions are transformative uses with significant public benefit.  Fox News indicated its intent "to cross-appeal to address the Court's refusal to enter an injunction with a broader scope."[25]
c.    The "Dancing Baby" Case:  The DMCA and Fair Use Assessments
Eight years ago, Stephanie Lenz posted a 29-second video of her thirteen month-old son on YouTube.  The toddler danced, clumsily, in the family kitchen while the late, great Prince's "Let's Go Crazy" plays in the background.  Upon receiving Universal Music Group's ("UMG") Digital Millennium Copyright Act ("DMCA") takedown request, YouTube removed the video, and after two rounds of protests and counter-requests, Lenz sued UMG under 17 U.S.C. § 512(f) for "knowingly" misrepresenting that her video infringed copyright.[26]
On September 14, 2015, the Ninth Circuit issued its ruling that a copyright holder must assess whether the allegedly infringing work is a fair use before issuing a takedown notice under the DMCA.[27]  While the Ninth Circuit ruled for Lenz, it did not issue the sweeping ruling that some advocates sought to counter what they view as improperly aggressive steps to remove even non-infringing material from the web.  Rather, the Court of Appeals held that in considering whether Lenz's use was "authorized" under the DCMA, UMG had to consider in good faith whether Lenz's video was authorized by the fair use doctrine.[28]  The Court of Appeals noted that while fair use is often considered to be an affirmative defense because it is expressly authorized by the Copyright Act, a copyright owner must consider it before serving a DMCA takedown notice.
In response to concerns regarding the workability of a hosting service conducting such a fair use determination, the opinion stated that such an analysis need not be an onerous or even an objective undertaking.  Rather, the Court of Appeals held that the copyright holder need only reach a subjective good-faith belief that their copyright has been infringed: "If []a copyright holder forms a subjective good-faith belief the allegedly infringing material does not constitute fair use, we are in no position to dispute the copyright holder's belief even if we would have reached the opposite conclusion."[29]  According to the opinion, UMG would face liability if it misrepresented that "it had formed a good faith belief the video was not authorized by the law, i.e., did not constitute fair use," but that a jury would have to weigh such a determination.[30]  At the end of the day, the bar for copyright holders appears relatively low: they need only formulate a good faith belief that the material does not constitute fair use, and only if they either fail to consider fair use (or misrepresent such consideration) would liability attach under 17 U.S.C. § 512(f).
On March 17, 2016, the Ninth Circuit refused to rehear the case, but did make some amendments to its September 14, 2015 opinion.[31]  Notably, the court removed from its amended opinion a passage addressing the burden on the copyright holder, which had stated that a "copyright holder's consideration of fair use need not be searching or intensive," and had also noted the "pressing crush of voluminous infringing content that copyright holders face in a digital age."  The amended opinion also removed dicta that could have been used to validate the use of automated enforcement programs; the original opinion stated that the implementation of such programs "appears to be a valid and good faith middle ground for processing a plethora of content while still meeting the DMCA's requirements to somehow consider fair use."[32]
d.    Parody Is Entitled Its Own Copyright Protection (The Point Break Case)
The Second Circuit handed down another significant ruling in November 2015, regarding whether a creator of an unauthorized work, protected by fair use, may hold its own copyright in that unauthorized work.  In Keeling v. Hars, the court affirmed a lower court's ruling and found that a parody can itself be entitled to copyright protection where it adds sufficient originality.[33]
The case involved Point Break Live!, playwright Jaime Keeling's theatrical adaptation of the 1991 film Point Break.  While the parody "parallel[ed] the character and plot elements from Point Break and relie[d] almost exclusively on selected dialogue from the screenplay," the adaptation "added jokes, props, exaggerated staging, and humorous theatrical devices to transform the dramatic plot and dialogue of the film into an irreverent, interactive theatrical experience."[34]  The tongue-in-cheek nature of Point Break Live! is summed up by the fact that each production of the play includes the random selection of an audience member to play the part of Keanu Reeves' character–"thereby lampooning Reeves's reputedly stilted performance in the movie."[35]  Defendants had executed a production agreement with plaintiff for a two-month run of Point Break Live!, but continued to produce the play after its initial run for an additional four years without paying Keeling; so she registered a copyright in the parody and filed suit.
At the December 2012 trial, the jury returned a $250,000 verdict in Keeling's favor, finding that her use of the material from Point Break was fair use and that defendants infringed her copyrighted parody.  Defendant Hars then appealed, claiming that Keeling's parody was an unauthorized derivative work and thus was not entitled to copyright protection as a matter of law.
The Second Circuit rejected Hars' arguments and held that the Copyright Act made clear that "an unauthorized but lawful fair use employing preexisting copyrighted material may itself merit copyright protection" when there is sufficient originality in the derivative work.[36]  Invoking the Supreme Court's ruling in Feist Publications, Inc. v. Rural Telephone Service Co., Inc., 499 U.S. 340 (1991), the appeals court held that Keeling was entitled to copyright protection for the way she selected, coordinated, and arranged the elements of her work to create a new parodic meaning.[37]
What was most striking about Keeling was its unusual procedural posture.  As the court noted, "[t]ypically, fair use is invoked as a defense against a claim of copyright infringement brought by the source-material rightsholder.  Here, however, Keeling invoked the fair-use principle to establish an affirmative claim against defendants."[38]  The Second Circuit has thereby broadened the scope of the fair use doctrine and now permits plaintiffs to use it as a "sword" to litigate fair use as the basis for an affirmative claim for copyright infringement.
2.    Roundup: A New Stampede of Older Copyright Claims
We continue to see fallout from the Supreme Court's unexpected 2014 decision in Petrella v. Metro-Goldwyn-Mayer, Inc. (i.e., the "Raging Bull" case), which held that laches is not an applicable defense to allegations of copyright infringement.  In that case, the plaintiff brought a claim for alleged infringement of a 1963 screenplay written by her father based on acts alleged to have occurred in 2009, in connection with DVD distribution of Raging Bull, a film released in 1980.  Taking up the issue of whether the plaintiff had delayed too long in bringing her claim, the Supreme Court wrote, "[W]e have never applied laches to bar in their entirety claims for discrete wrongs occurring within a federally prescribed limitations period."[39]  (Disclosure: Gibson Dunn represented MGM at the Supreme Court.)  Following the decision, critics warned that the decision would encourage plaintiffs to lie in wait as their infringement actions increase in value.  And indeed, we have recently seen copyright plaintiffs bringing claims premised on decades-old art.
For example, Led Zeppelin's 1971 song "Stairway to Heaven" was released 45 years ago, but members of Led Zeppelin faced a 2016 jury trial in Los Angeles regarding whether aspects of "Stairway to Heaven" were substantially similar to a little-known 1968 recording titled "Taurus" by the band Spirit.[40]  On June 23, 2016, the jury returned a verdict in favor of Led Zeppelin, finding that although the band might have heard "Taurus" before writing "Stairway" (the two bands toured together), the two songs were not extrinsically similar.
The "Stairway" lawsuit followed another high-profile copyright case of song similarity, last year's "Blurred Lines" case–which pitted Pharrell Williams and Robin Thicke against the heirs of Marvin Gaye.[41]  In that case, Gaye's heirs cross-claimed against Williams and Thicke for infringing Marvin Gaye's "Got to Get it Up" in their hit song "Blurred Lines."  Unlike in the "Stairway" trial, a jury agreed that the songs were substantially similar, awarding almost $7.4 million to Gaye's heirs.  After the verdict, a juror admitted that testimony from the Gaye heirs' expert witness, who testified about a "constellation" of non-coincidental similarities between the works, was highly influential to the outcome.
While these copyright claims were premised upon older acts, recent legal music news also includes a California federal judge's dismissal of a lawsuit against Jay Z over the 1999 anthem "Big Pimpin'," which was premised solely on infringement of moral rights.[42]  Electronic DJ Deadmau5 filed a lawsuit soon thereafter, in Canada, against his former manager over unauthorized remixes, which is also premised almost entirely on infringement of moral rights (which are broader in Canada than the U.S.).[43]  Last year, Dr. Dre was sued for charges that–26 years ago–he improperly sampled portions of an obscure track in the making of NWA's "If It Ain't Ruff."[44]  And Warner recently faced claims for licensing fees dating back to 1949 regarding the song "Happy Birthday to You."[45]
Looking at these cases together, Gibson Dunn partner Mark Perry was correct when he warned the Supreme Court at oral argument in the Raging Bull case that if laches was not recognized as an applicable defense in the copyright context, courts would see a number of seemingly stale claims filed over older art.  It would seem likely that this trend will continue.
3.    Copyrightable Subject Matter: New Revelations in an Old Doctrine
Over the past year, several key copyrightability controversies came to the fore.  In an important case, a majority of the Sixth Circuit approved a copyright suit premised on a competitor's use of some of the elements of the cheerleading outfits below.[46]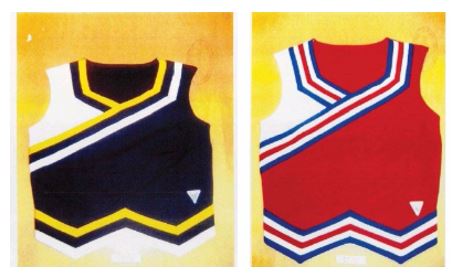 Weighing in on the issue of whether clothing designs are copyrightable, the court determined that the stripes and chevrons were not "utilitarian aspects of the article," under 17 U.S.C. § 101, and thus the maker could hold a valid copyright in the design.[47]  On May 2, 2016, the Supreme Court agreed to take up the case.[48]
In a related decision, the Eleventh Circuit found a valid copyright in a laminate flooring design that was made to look "aged and rustic," and the Supreme Court later denied certiorari.[49]
Recently, the Batmobile was also held to be a copyrightable character, and the Supreme Court declined to take up the matter, handing DC Comics a victory.[50]  But a few things have recently been deemed non-copyrightable as well: for one thing, a district court confirmed that copyrights subsist only in human artists, not primates, dismissing Naruto the monkey's claim that he owned the selfie taken with a wildlife photographer's camera.[51]  Also, the Ninth Circuit ultimately found that a copyright does not subsist in an actress through the reading of her lines.[52]  And it was determined that Yoga poses are uncopyrightable ideas or systems,[53] as are chicken sandwich recipes.[54]
B.    Entertainment Litigation
1.    Online Piracy: Two Steps Forward, One Step Back
In the wake of the internet piracy boom, ISPs and copyright owners settled upon a notice and tracking system, designed to shut down repeat infringers.  In essence, music labels identify putative piracy on the part of individual internet users and send notices to the associated ISP, which is supposed to take increasingly severe action to halt the infringement.  And ISPs have been targeted for an alleged unwillingness to take on the role of piracy enforcer.
But a jury verdict in December 2015 indicates the risk to ISPs.  In that case, Cox Communications allegedly "ripp[ed] up" 7.62 million notices of piracy that it had received from record labels, which demanded "settlement payments" or account suspension.[55]  Cox claimed that the entire system was flawed by reliance merely on the IP address of the putative pirate, and thus, it refused to take part in the labels' "scheme."  The Virginia federal jury sided with the labels, ordering Cox to pay $25 million.[56]
On the other hand, 2015 brought a court-imposed end to the partnership between copyright owners and the International Trade Commission ("ITC") in the fight against internet piracy.  In 2014, the ITC began blocking the "importation" of pirated media, concluding that digital data transmissions were "articles" within the meaning of 19 U.S.C. § 1337(a).[57]  The Federal Circuit reversed that decision in November 2015, with a majority concluding that "there is a fundamental difference between electronic transmissions and 'material things.'"[58]  Notwithstanding the deference due the ITC's interpretation under Chevron, U.S.A., Inc., v. Natural Resources Defense Council, Inc.,[59] "commonsense dictate[d]" that the ITC cannot get involved in blocking piracy.[60]
a.    The MPAA Battles Content Piracy
Content piracy remains a pressing issue in the entertainment industry and has resulted in several lawsuits in the United States and internationally.
                                 (i)    Popcorn Time: the "Netflix for Piracy"
The MPAA has recently succeeded in bringing international legal actions against next-generation torrent site Popcorn Time, an application dubbed the "Netflix for piracy" that allowed viewers to stream pirated movies and television shows, and its derivatives.  The developers of Popcorn Time shut down their website in March 2014, under pressure from the MPAA.  However, several copycat versions of the site have since popped up, such as Popcorn Time IO, Flixtor, and others.  The original developers have endorsed these sites.
In April 2015, the MPAA persuaded the United Kingdom's High Court of Justice to issue website-blocking orders against several Popcorn Time websites.[61]  The court reasoned that "[t]he Popcorn Time application is the key means which procures and induces the user to access the host website and therefore causes the infringing communications to occur.  The suppliers of Popcorn Time plainly know and intend that to be the case. They provide the software and provide the information to keep the indexes up to date."[62]  The court then held that "the suppliers of Popcorn Time have a common design with the operators of the host websites to secure the communication to the public of the claimants' protected works, thereby infringing copyright."[63]
In October 2015, the MPAA won an injunction from the Canadian courts, ordering the shutdown of the Canadian operation of popcorntime.io.  That same month, the MPAA also obtained a preliminary injunction from a New Zealand court against the operator of YTS, another torrent site that provides movie content, shuttering the site.
About the MPAA's campaign against such sites, Chairman Chris Dodd said, "This coordinated legal action is part of a larger comprehensive approach being taken by the MPAA and its international affiliates to combat content theft.  Popcorn Time and YTS are illegal platforms that exist for one clear reason: to distribute stolen copies of the latest motion picture and television shows without compensating the people who worked so hard to make them."
                                 (ii)    MovieTube
In November 2015, the MPAA additionally obtained a final default judgment of $10.5 million against the anonymous operators of the MovieTube website.  Like Popcorn Time, MovieTube is an Internet streaming service that has posted full-length films such as Avengers: The Age of Ultron prior to their U.S. theatrical release.  The MPAA sued the "John Doe" operators of the MovieTube sites in July 2015 for copyright and trademark infringement.  The complaint originally called for a sweeping preliminary injunction against "third parties used in connection with any of the MovieTube websites," including website providers and social-media platforms.[64]  In response to such broad-based relief, Google, Yahoo, Facebook, Twitter and Tumblr filed a joint amicus brief in August 2015, accusing the MPAA of trying to "resurrect" the Stop Online Piracy Act, which caused a well-publicized backlash in 2012.[65]  The MPAA swiftly withdrew its demand for a preliminary injunction, and instead requested a permanent injunction and $10.5 million.  When the "John Doe" defendants failed to respond to the complaint, the District Court for the Southern District of New York granted the MPAA's motion.[66]
The filing of lawsuits seeking to permanently enjoin websites like MovieTube continues to be a successful strategy for the MPAA in its efforts to curtail content piracy.  However, the answers to the questions of whether the anonymous perpetrators will ever be held to account and who might ultimately be liable for the infringement remain unknown.  Even though litigation may be the only avenue for content providers to collect on lost revenues, it seems unlikely that they will be able to do so unless better methods are devised to identify these anonymous figures.  Until that time, content providers' efforts may continue to resemble a high-stakes game of "Whack-a-Mole" as new sites pop up to replace the old ones.
2.    Profit Participation Lawsuits March On
In an era in which content has become king, unsurprisingly the battles over the profits from successful films and shows continues, primarily in California and New York state courts.  The creator of the AMC television series The Walking Dead and the producers and stars of the Fox television series Bones brought two of the highest-profile profit participation suits over the past year.  And as the explosion of content continues across cable and streaming platforms, we expect that profit participation lawsuits will continue to be brought by Hollywood talent and producers.
The creator of The Walking Dead, Frank Darabont, brought suit against AMC, claiming that it owes him millions of dollars after he was ousted as showrunner from the hit series to which he claims he gave life.  In 2013, immediately after AMC fired him, Darabont filed suit in New York state court alleging breach of contract, wrongful termination, and other claims.  Darabont amended his complaint in August 2015 to add an allegation that his profit participation had been wrongly reduced, and has in a recently unsealed deposition alleged that AMC created budget problems for the series.  In February 2016, a New York Supreme Court judge denied defendants' motion to dismiss the added claims and permitted Darabont's amended lawsuit to proceed.
In November 2015, Bones executive producer Barry Josephson filed suit in Los Angeles Superior Court against Twentieth Century Fox Television claiming that he had been cheated out of millions of dollars in advertising, syndication, foreign sales, streaming, and other revenues from the show.[67]  Days later, Emily Deschanel and David Boreanaz, the two leads of Bones, along with executive producer Kathy Reichs filed an independent lawsuit making similar claims.[68]  They allege that they have seen zero profits for years despite the success of the series.  In April 2016, Fox's motion to compel arbitration was granted and superior court proceedings were ordered stayed as to other, non-arbitrable claims when the court found that "the arbitrable claims are inextricably bound with the non-arbitrable claims, necessitating a stay."[69]
3.    Developments in Defamation
Defamation suits, often involving the depiction of real-life figures in biopics, continue to be a regular occurrence in Hollywood.  Most notably, former N.W.A. manager Jerry Heller filed suit against the producers of the hit film Straight Outta Compton, along with Legendary Pictures, Comptown Records, director F. Gary Gray, and others, claiming that the film falsely portrayed him as responsible for instigating the breakup of N.W.A.[70]  In December 2015, the case was removed to federal court.[71]  Heller amended his complaint the following month.  On March 30, 2016, the court dismissed Heller's misappropriation of likeness claim without leave to amend, finding that NWA's history and Heller's role in its rise is a matter of public interest, although Heller was permitted leave to amend his defamation claim.  A second amended complaint was filed in late April 2016.  On June 29, 2016, the Court granted defendants' motion to strike as to all the allegedly defamatory scenes listed in the second amended complaint, except for two scenes stating or implying that Heller discouraged the rapper Ice Cube from retaining an attorney during contract negotiations.  The judge has permitted limited discovery on this issue and litigation remains ongoing.
Elsewhere, a New York federal judge dismissed certain claims (including right of privacy) brought by former Stratton Oakmont director Andrew Greene regarding his alleged depiction in the film The Wolf of Wall Street, though the judge permitted Greene's libel claim to proceed.[72]  And last fall, Sean Penn filed a $10 million defamation lawsuit against Empire creator Lee Daniels in New York Supreme Court, charging that in an interview with The Hollywood Reporter, Daniels falsely accused Penn of hitting women when comparing Penn to Empire star Terrence Howard.[73]  On May 4, 2016, it was reported that Penn and Daniels reached a settlement, which included Daniels issuing a letter of apology and making a donation to the J/P Haitian Relief Organization, one of Penn's favorite charities.[74]
C.     Right of Publicity
A number of cases in recent months have tested the application of states' right of publicity law to emerging technologies.
1.    Athletes and Their Avatars
Three years ago, in Keller v. Electronic Arts, the Ninth Circuit ruled that video game developers' use of the likenesses of college athletes in their games is not protected by the First Amendment.[75]  The suit specifically targeted Electronic Arts, Inc.'s ("EA") NCAA Football series of video games, in which the real-life football players on each college team have "a corresponding avatar in the game with the player's actual jersey number and virtually identical height, weight, build, skin tone, hair color, and home state"[76], though the players' names did not appear on their jerseys in the video game, and their hometowns were inaccurate.[77]  EA's principal argument was that the Rogers test, which protects the unauthorized use of trademarks unless the trademark has "no artistic relevance to the underlying work whatsoever,"[78] should be applied in the right of publicity context as well.  Instead, the Ninth Circuit applied California's "transformative use" test for right of publicity claims, and concluded that the "realisti[c] portray[al] of college football players in the context of college football games" is not transformative.[79]
Following Keller, we saw the conclusion of the parallel right of publicity claim of former NFL players, in Davis v. Electronic Arts, Inc.[80]  In Davis, EA provided five First Amendment affirmative defenses (i.e., transformative use, the public interest defense, the public affairs exception to Cal. Civil Code § 3344(d), the Rogers test and the incidental use defense).[81]  The former players prevailed when the Ninth Circuit concluded that the outcome was dictated by Keller: "If EA did not think there was value in having an avatar designed to mimic each individual player, it would not go to the lengths it does to achieve realism in this regard."[82]
2.    Antitrust Claims Brought by College Athletes
Courts heard multiple antitrust suits on behalf of college athletes in 2015.  Gibson Dunn represented OUTFRONT Media Sports, Inc. (formerly CBS Collegiate Sports Properties, Inc.) in Marshall v. ESPN and successfully argued that former college athletes' claims against sports broadcasters for damages for alleged unauthorized broadcast of the athletes' images during sporting events should be dismissed.[83]  The district court granted the defendants' demurrer in its entirety, concluding, inter alia, that there is no individual right of publicity in sports broadcasts and that the defendants' role "in complying with NCAA rules, [cannot] be said to be the cause of reduced competition and any concomitant antitrust injury."[84]  The former athletes' appeal is currently pending before the Sixth Circuit.
Recently, college athletes also sued the NCAA directly for antitrust violations, with both sides being rebuffed by the Ninth Circuit over the principal relief each sought.  In O'Bannon v. NCAA, the NCAA sought a declaration that, by virtue of its amateurism mission, it is immune to antitrust suits altogether.[85]  Alternatively, the NCAA contended that its activities are noncommercial, and that the players, in any event, lacked standing to bring a claim under the Sherman Act.[86]  The NCAA lost each of those arguments.  Instead, the Ninth Circuit determined that the NCAA's existing amateurism rules violated the Sherman Act.[87]  On the other hand, the players sought a declaration that, even during college, they have the right to compensation for use of their likenesses.[88]  The Ninth Circuit disagreed, and instead applied a "Rule of Reason" analysis that ultimately hinged on the availability of substantially less restrictive alternatives for maintaining amateurism in college athletics.[89]  The appeals court ordered the NCAA to permit schools to cover the full cost of attendance, not merely the cost of tuition.[90]  But, to maintain amateurism, the Court of Appeals determined that NCAA may ban any additional payments, for a player's likeness or otherwise.
3.    Restrictions on the Use of Likenesses Obtained in Public Places
For years, manufacturers, restaurants, bars, film producers, and others claimed the right to shoot photographs or videos in public places for use in advertising.  Indeed, the right of publicity doctrine was established in part as a result, and, in 1902, New York became the first state to judicially recognize the right of publicity in response to public outrage over a flour company's unconsented-to use of a girl's image on its packaging.[91]  For years, complaints about the use of public-place images for commercial use have met varying degrees of success, but recent cases indicate that the tide may be turning against unconsented-to uses of likenesses in advertising.
Targeting the use of photos obtained at locations from beaches and bars to photos found on the internet, over the past year, plaintiffs brought a series of suits arguing that their publicly available likenesses were wrongfully stolen.  Though most of the litigation remains in early stages, the overall trend is against the unconsented-to exploitation of another's likeness, whether it was obtained in public or not.  In the end, courts may draw distinctions between commercial and noncommercial use of such likenesses, but much remains unresolved.
---
[1] Ted Johnson, Charter-Time Warner Cable Deal Clears Justice Department; FCC Chairman Recommends Approval, (April 25, 2016), available at  http://variety.com/2016/biz/news/charter-time-warner-cable-fcc-1201741129/.
2 U.S. Telecom Ass'n v. FCC, 2016 WL 3251234 (D.C. Cir. June 14, 2016).
3 Comcast Corp. v. FCC, 600 F.3d 642, 661 (D.C. Cir. 2010).
4 Id. at 660-61.
5 Id. at 644.
6 Verizon v. FCC, 740 F.3d 623, 628 (D.C. Cir. 2014).
[2] Bryan Fung, The FCC's proposed changes to TV rules are running into Senate resistance, (Oct. 9, 2015), available at https://www.washingtonpost.com/news/the-switch/wp/2015/10/09/the-fccs-proposed-changes-to-tv-rules-are-running-into-senate-resistance/.
[3] Federal Communications Commission, Office of the Chairman, (Nov. 10, 2015), available at https://apps.fcc.gov/edocs_public/attachmatch/DOC-336580A1.pdf.
[4] John Eggerton, MPAA, Others Hail TPP Agreement, (Oct. 5, 2015), available at http://www.broadcastingcable.com/news/washington/mpaa-others-hail-tpp-agreement/144714.
[5] Don Lee, Hollywood joins push for Obama's Trans-Pacific Partnership trade deal, (April 6, 2015), http://www.latimes.com/business/la-fi-trade-pact-hollywood-20150407-story.html.
[6] Executive Office of the President, Officer of the U.S. Trade Representative, (Oct. 10, 2015), available at https://ustr.gov/about-us/policy-offices/press-office/press-releases/2015/october/summary-trans-pacific-partnership.
[7] Id.
[8] Id.
[9] Authors Guild v. Google, Inc., 804 F.3d 202 (2d Cir. 2015).
[10] Authors Guild v. Google, Inc., 2011 WL 986049 (S.D.N.Y. Mar. 22, 2011).
[11] Authors Guild, 804 F.3d at 207.
[12] Id. at 212.
[13] Id. at 229.
[14] Authors Guild v. Google, Inc., 136 S.Ct. 1658 (U.S. 2016).
[15] Fox News Network, LLC v. TVEyes, Inc., 2014 WL 4444043 (S.D.N.Y. Sept. 9, 2014).
[16] Fox News Network, LLC v. TVEyes, Inc., Case No. 1:13-cv-05315-AKH, Dkt. 118-1, at 3 (S.D.N.Y. May 22, 2015).
[17] Id. at 6, 10.
[18] Fox News Network, LLC v. TVEyes, Inc., 2015 WL 5025274 (Aug. 25, 2015).
[19] Id. at *8.
[20] Id.
[21] Id.
[22] Id. at *6.
[23]Fox News Network, LLC v. TVEyes, Inc.,  2015 WL 7769374; 2015 WL 8148831.
[24] Id.
[25] Fox News Network, LLC v. TVEyes, Inc., Case No. 1:13-cv-05315 (S.D.N.Y. Nov. 30, 2015), at Dkt. 190.
[26] Lenz v. Universal Music Corp., 801 F.3d 1126, 1129 (9th Cir. 2015).
[27] Id.
[28] Id. at 1131.
[29] Id. at 1134-35.
[30] Id. at 1139.
[31] Lenz v. Universal Music Corp., 815 F.3d 1145 (9th Cir. 2016).
[32] Lenz, 801 F.3d at 1129.
[33] Keeling v. Hars, 2015 WL 6600571, at *1 (2d Cir. Oct. 30, 2015),
[34] Id.
[35] Id.
[36] Id. at *5.
[37] Id. at *7.
[38] Id. at *5.
[39] Petrella v. Metro-Goldwyn-Mayer, Inc., 134 S. Ct. 1962, 1975 (2014).
[40] Skidmore v. Led Zeppelin, et al., Case No. 2:15-cv-03462 (C.D. Cal. 2015)
[41] Williams, et al. v. Bridgeport Music, Inc., et al., Case No. 2:13-cv-06004 (C.D. Cal. 2013).
[42] Fahmy v. Jay-Z, et al., Case No. 2:07-cv-05715 (C.D. Cal. 2007).
[43] Zimmerman v. Play Records, Inc., Case No. cv-15-539129 (Sup. Ct. Ontario 2015).
[44] Mitchell v. Universal Music Group, Inc., et al., 3:15-cv-00174 (C.D. Cal. 2015).
[45] Marya v. Warner Chappel Music, Inc., Case No. 2:13-cv-04460 (C.D. 2013).
[46] Varsity Brands, Inc. v. Star Athletica, LLC, 799 F.3d 468 (6th Cir. 2015).
[47] Id.
[48] Varsity Brands, Inc. v. Star Athletica, LLC, 136 S.Ct. 1823 (U.S. 2016).
[49] Home Legend, LLC v. Mannington Mills, Inc., 784 F.3d 1404, 1407 (11th Cir. 2015).
[50] DC Comics v. Towle, 802 F.3d 1012 (9th Cir. 2015).
[51] Naruto v. Slater, 2016 WL 362231 (N.D. Cal. Jan. 28, 2016).
[52] Garcia v. Google, Inc., 786 F.3d 733 (9th Cir. 2015).
[53] Bikram's Yoga College of India, L.P. v. Evolation Yoga, LLC, 803 F.3d 1032 (9th Cir. 2015).
[54] Lorenzana v. South Am. Restaurants Corp., 799 F.3d 31 (1st Cir. 2015).
[55] Bill Donahue, Cox Says Plaintiffs In Pirating Suit Wanted It To Join Scheme, (September 22, 2015), available at http://www.law360.com/articles/705612/cox-says-plaintiffs-in-pirating-suit-wanted-it-to-join-scheme?article_related_content=1.
[56] Jimmy Hoover, Cox Must Pay BMG $25M For User Piracy, Jury Finds, (Dec. 17, 2015), available at http://www.law360.com/articles/739353/cox-must-pay-bmg-25m-for-user-piracy-jury-finds.
[57] In re Certain Digital Models, Inv. No. 337-TA-833 at 55 (Apr. 3, 2014).
[58] ClearCorrect Operating, LLC v. ITC, 810 F.3d 1283, 1286 (Fed. Cir. 2015).
[59] 467 U.S. 837, 843 (1984)
[60] ClearCorrect Operating, LLC, 810 F.3d at 1286.
[61] Twentieth Century Fox Film Corp. v. Sky UK Ltd., 2015 EWHC 1082 (Ch) (Apr. 28, 2015).
[62] Id.
[63] Id.
[64] Paramount Pictures Corp. v. John Doe, Case No. 15-cv-5819 (S.D.N.Y. July 24, 2015).
[65] Paramount Pictures Corp. v. John Doe, Case No. 15-cv-5819 (S.D.N.Y. Aug. 10, 2015), at Dkt. 32-1.
[66] Paramount Pictures Corp. v. John Doe, Case No. 15-cv-5819 (S.D.N.Y. Nov. 24, 2015), at Dkt. 46.
[67] Wark Entm't, Inc. v. Twentieth Century Fox Film Corp., Case No. BC602287 (L.A. Sup. Ct. Nov. 25, 2015).
[68] Temperance Brenann, L.P. v. Twenty-First Century Fox, Inc., Case No. BC602548 (L.A. Sup. Ct. Nov. 30, 2015).
[69] Wark Entm't, Case. No. BC602287 (Apr. 8, 2016 Ruling).
[70] Heller v. NBCUniversal, Inc., Case No. BC599499 (L.A. Sup. Ct. Oct. 30, 2015).
[71] Heller v. NBCUniversal, Inc., Case No. 2:15-cv-09631 (C.D. Cal.).
[72] Greene v. Paramount Pictures Corp., Case No. 2:14-cv-01044 (E.D.N.Y. Sept. 30, 2015), at Dkt. 25.  
[73] Penn v. Daniels, Case No. 159710/2015 (N.Y. Sup. Ct. Sept. 22, 2015).
[74] Ted Johnson, Sean Penn Reaches Settlement With Lee Daniels in Defamation Case, (May 5, 2016), available at  http://variety.com/2016/biz/news/sean-penn-lee-daniels-defamation-case-settlement-1201766360/.
[75] Keller v. Elec. Arts, Inc., 724 F.3d 1268, 1283 (9th Cir. 2013) (en banc).
[76] Id. at 1271.
[77] Id.
[78] Rogers v. Grimaldi, 875 F.2d 994, 999 (2d Cir. 1989).
[79] Id. at 1279.
[80] 775 F.3d 1172, 1176-81 (9th Cir. 2015).
[81] Id.
[82] Id. (quoting Keller v. Elec. Arts, Inc., 724 F.3d 1268, 1276 n.7 (9th Cir. 2013) (en banc)).
[83] Marshall v. ESPN Inc., 111 F.Supp.3d 815, 824 (M.D. Tenn. 2015).
[84] Id. at 835-36.
[85] 802 F.3d 1049, 1061 (9th Cir. 2015).
[86] Id.
[87] Id. at 1075 (ordering the NCAA to allow player compensation up to the full cost of attendance).
[88] Id. at 1076.
[89] Id. at 1074.
[90] Id. at 1075.
[91] See Roberson v. Rochester Folding Box Co., 64 N.E. 442, 448 (N.Y. App. Div. 1902).
---
The following Gibson Dunn lawyers assisted in the preparation of this client update:  Scott Edelman, Ruth Fisher, Ari Lanin, Ben Ross, Steve Tsoneff, Howard Hogan, Helgi Walker, Nathaniel Bach, Corey Singer, Colby Davis, Andria Montoya, Colleen Kenny, and Caitlin Forsyth.
Gibson Dunn lawyers are available to assist in addressing any questions you may have regarding these developments.  Please contact the Gibson Dunn lawyer with whom you usually work, the authors, or the following leaders and members of the firm's Media, Entertainment & Technology Practice Group:
Scott A. Edelman – Co-Chair, Los Angeles (+1 310-557-8061, [email protected])
Ruth E. Fisher – Co-Chair, Los Angeles (+1 310-557-8057, [email protected])
Orin Snyder – Co-Chair, New York (+1 212-351-2400, [email protected])
Stephen Tsoneff – Co-Chair, Los Angeles (+1 310-552-8698 [email protected])
Howard S. Hogan – Washington, D.C. (+1 202-887-3640, [email protected])
Ari Lanin – Los Angeles (+1 310-552-8581, [email protected])
Benyamin S. Ross – Los Angeles (+1 213-229-7048, [email protected])
Helgi C. Walker – Washington, D.C. (+1202-887-3599, [email protected])
---
© 2016 Gibson, Dunn & Crutcher LLP
Attorney Advertising:  The enclosed materials have been prepared for general informational purposes only and are not intended as legal advice.