July 19, 2017
At the middle of 2017, Gibson Dunn's Media, Entertainment and Technology practice group has taken stock of another particularly active period in deal-making, developments in both live and on-demand streaming, the rise of eSports, and a plethora of key cases and rulings that together provide a crucial snapshot of trends in these ever dynamic industries.  We are pleased to bring you our latest round-up of events that shaped these industries in early 2017, which hold important lessons for our clients and will drive decision-making in the boardroom and courtroom in the months to come.
__________________________
TABLE OF CONTENTS
1.     Sinclair-Tribune Merger
2.     Fox Continues to Reach for Sky
3.     Verizon Goes For Yahoo!
4.     Vice Media Secures $450 Million Investment
5.     Time Warner Signs Deal with Snap for Advertisements and Original Scripted Content
6.     SiriusXM Invests in Pandora
7.     Cable IPOs Deliver Mixed Results

1.     Netflix's Continued Expansion
2.     Amazon Continues Its Global Growth
3.     Hulu With Live TV Beta Launch
4.     iflix: An Emerging (Market) Competitor?

1.     Amazon Nabs NFL Rights
2.     Hulu's Sports Offerings
3.     Twitter's New Sports-Related Partnerships

1.     Riot Games Adopts Franchise Model for eSports League
2.     AEG Invests in Immortals eSports Team
3.     NBA Announces NBA 2K eSports League with 17 Teams Participating
II.     2017 Mid-Year Litigation Report
A.     Hollywood Against the Hackers

B.     Copyright Litigation Docket

1.     Fashioning a Key Ruling in Varsity Brands
2.     VidAngel's Fading Halo
3.     Disney's Zootopia Sued For Substantial Similarity
4.     Broadcasters Best FilmOn on Appeal
5.     Fees Cases Post-Kirtsaeng

C.     Trademark Litigation Goes on Offense

1.     SCOTUS Confronts Ban on Disparaging Trademarks in Matal v. Tam
2.     SpongeBob SquarePants' Fictional "Krusty Krab" Restaurant Wins In Trademark Infringement Suit
3.     GOOGLE Not Subject to Genericide
4.     Belushi Is Primarily a Surname
5.     Public University Should Have Allowed Student Marijuana-Reform Organization to Use University's Trademarks

D.     First Amendment Cases Speak Loudly

1.     IMDB.com v. Becerra
2.     Virginia Citizens Defense League v. Couric
3.     Fridman v. BuzzFeed
4.     Murray Energy Corp. v. Reorg Research, Inc.

1.     Kesha v. Dr. Luke
2.     Prince's Estate and Subsequent Legal Battles
3.     Royalties Disputes with Digital Music Streaming Services
4.     Fair Use and Sampling Go Another Round
5.     The Estate of Jimi Hendrix

F.     New Efforts to Regulate ISPs
__________________________
On May 8, 2017, Sinclair Broadcast Group announced a $3.9 billion cash-and-stock agreement to acquire Tribune Media, resulting in a combined entity that will own 223 television stations serving 108 markets; the new entity's stations would reach approximately 72% of U.S. television households.  Adding Tribune's 42 stations to its existing roster, Sinclair would be nearly twice the size of its nearest U.S. non-network broadcast competitors, the closest of which, Nexstar, reaches 39% of homes nationwide.  Sinclair plans to pay Tribune shareholders $43.50 per share, with $35 in cash and the rest in Sinclair stock.[1]
On June 15, 2017, the U.S. Court of Appeals for the D.C. Circuit lifted a temporary stay of the FCC's decision to reinstate the "UHF Discount," which allows television station owners to count only half of the households reached by UHF (ultra high frequency) stations toward their total number of households served.  As Sinclair's post-merger reach will extend to 72% of homes nationwide, this is particularly relevant for Sinclair and other television conglomerates looking to consolidate, as no one company's owned television stations may reach more than 39% of U.S. TV households under current FCC ownership rules.[2]  Consolidation efforts have already begun, as Ion Media, a station group that holds the most full-power UHF stations in the U.S., recently acquired three new stations in the wake of the UHF Discount reinstatement, adding 5 million viewers to the network's audience that currently spans 58 of the largest U.S. markets.[3]  While issues related to the UHF Discount continue to be litigated, the rule is in effect for the time being following the D.C. Circuit's recent ruling.[4]  With the UHF Discount in place, the pending Sinclair Tribune merger is expected to pass regulatory muster.[5] 
In late 2016, 21st Century Fox announced an agreement to acquire Sky plc, the largest pay TV provider in Britain, reaching 22 million customers in five European markets.  Fox currently owns 39% of Sky shares, and proposed to purchase the remaining 61% of shares for $14.5 billion.[6]    Ofcom, the U.K.'s government media regulator, recently reviewed the deal for any potential negative effects it believes the deal might have on editorial standards in the U.K., as Fox already controls the newspaper company News Corp, the owner of two major British newspapers.[7]  Ofcom also set out to determine whether Sky would remain a "fit and proper" TV license holder after the Fox acquisition, due to recent legal and corporate governance issues surrounding Fox News.[8]  Following Ofcom's review, British Culture Secretary Karen Bradley said she was "minded to" send the merger proposal to the U.K. Competition and Markets Authority for further scrutiny.[9]  If the deal is ultimately sent to the Competition and Markets Authority, a final decision on the transaction is expected to be delayed until mid-2018.[10]    
On June 13, 2017, Verizon Communications Inc. acquired the operating business of Yahoo! Inc. for $4.48 billion.[11]  Verizon will combine Yahoo! with its existing AOL assets to create a new subsidiary, Oath, to be headed by former AOL CEO Tim Armstrong.[12]  Marissa Meyer, former CEO of Yahoo!, has resigned.[13]
The deal ends Yahoo! as an operating business, and the company's remaining assets—including its 15% stake in Chinese e-commerce company Alibaba, Yahoo! Japan, and a noncore portfolio of patents called Excalibur—will be renamed Altaba.[14] 
The transaction helps Verizon build its portfolio of online content, whose assets also include The Huffington Post, Engadget, and TechCrunch (all three of which were acquired in last year's $4.4 billion AOL deal), Tumblr, Flickr, and a mobile video app called go90.[15]  This newest move is seen as a way to advertise across the Verizon digital network, reaching a wider audience and boosting its presence in the mobile and online video space.[16]
In June 2017, the privately held Vice Media secured a $450 million investment from private equity firm TPG.[17]  Vice will use the new money to finance Vice Studios, which will produce scripted programming for its Viceland Cable Channel, as well as a planned subscription service.[18]
Vice's assets include Viceland, a print magazine, HBO's documentary series Vice, and daily news show Vice News Tonight.[19]  Walt Disney Co., which owns an 18% stake in Vice, did not participate in the funding round, despite speculation last summer that Disney might purchase all of the company.[20]
In June 2017, following its $3.4 billion IPO, Snap Inc. entered a deal with Time Warner Inc. in which Time Warner's Turner cable channels and Warner Bros. film studio (and possibly HBO) will create advertisements and up to ten original, scripted shows for Snapchat.[21] 
Over the past several months, Snap has signed original content deals with NBCUniversal, Turner, A+E Networks, Discovery, BBC, ABC, ESPN, Vice Media, Vertical Networks, the NFL and Metro-Goldwyn-Mayer Inc., among others.[22]  Snap hopes to air two to three new episodes of original shows per day in its bid to boost its revenue, which comes almost entirely from advertising.[23]
The Time Warner deal is seen as a vote of confidence for Snap—whose revenue and growth rate slowed in May—with media companies eager to reach Snap's young, mobile users, who are shifting their attention from traditional television to mobile apps.[24]
In June 2017, SiriusXM agreed to invest $480 million in the music streaming service Pandora, extending its reach into ad-supported digital radio for the first time.  Following the cash-and-stock purchase, SiriusXM will hold a 19% stake in Pandora, with the condition that it cannot acquire more than 31.5% of Pandora stock without approval from the Pandora board.[25]  Under the terms of the agreement, Pandora has terminated a previous deal with private equity firm KKR & Co., which had pledged $150 million to the company in May 2017, and will pay a $22.5 million breakup fee as a result.[26]  In a separate statement on the same day, Pandora announced a $200 million sale of the digital ticketing and marketing platform Ticketfly Inc., which it acquired in 2015, to Eventbrite.[27]  Just over two weeks after the two deals were announced, Pandora announced that co-founder Tim Westergren would be stepping down as CEO of the company.[28]
Two U.S. cable companies, Altice USA and WideOpenWest ("WOW"), launched IPOs in 2017, ending a five-year drought in the market for cable IPOs.  The offerings delivered mixed results, with Altice USA exceeding and WOW falling short of expectations.
On June 12, 2017, Altice USA, a U.S. subsidiary of Dutch telecommunications company Altice NV, launched a $1.9 billion IPO.[29]  The IPO raised more than any other U.S.-listed telecom since 2000 and was the second-largest U.S. offering this year, after Snap Inc.'s $3.9 billion IPO in March.[30]  Altice USA priced 63.9 million shares at $30 per share, giving the company a market capitalization of approximately $22 billion.[31]  Already the fourth-biggest U.S. cable provider, Altice USA can now use its stock as capital in future acquisitions, and some analysts have speculated that acquisition targets may include cable giants such as Charter Communications and Cox Communications.[32]
Altice USA's IPO comes on the heels of another offering by a U.S. cable company, WOW, whose March offering was the first cable IPO in the last five years.[33]  WOW raised about $310 million after pricing 18.24 million shares at $17 per share, below the 19.05 million shares the company had expected to sell at $20-$22 per share.[34]
In the first half of 2017, the surge of Chinese investment in Hollywood slowed from a particularly hot period in 2016.  This cooling trend comes shortly after the Chinese government placed restrictions on domestic capital leaving the country in November 2016, potentially creating an obstacle to Chinese investment in these blockbuster deals.  However, deal-making has continued nonetheless and we expect the trend to continue given the importance of the foreign box office and non-domestic capital to Hollywood.
One of the largest Chinese investment deals announced in 2016 was the Dalain Wanda Group ("Wanda") proposed $1 billion purchase of Dick Clark Productions, producer of the "Golden Globes Awards," "Academy of Country Music Awards" and "Dick Clark's New Year's Rockin' Eve with Ryan Seacrest."[35]  The deal would have been Wanda's first venture into television.[36]  However in early March 2017, Eldridge Industries ("Eldridge), owner of Dick Clark Productions, announced that it called off the agreement because Wanda "failed to honor its contractual obligations."[37]  As a result, Eldridge filed a motion in the Delaware Chancery Court to compel the release of $25 million in escrowed funds as payment for a termination fee and $25 million due to Eldridge for its prior agreement made in January to extend the closing date.[38]  Whether the deal fell apart because Wanda felt that the $1 billion price tag was too high, because of the Chinese government's tightening of the rules regarding foreign investments,[39] or for other reasons, the news that this deal was scrapped caused rumblings in the industry about the fate of Chinese investments in Hollywood.[40] 
Chinese media conglomerate LeEco, often called the "Netflix of China," has found itself in a spiral of legal and financial troubles following its termination of merger negotiations with American television maker Vizio, in April 2017.  On July 4, Chinese courts froze $182 million in assets controlled by LeEco's chairman Jia Yueting as a result of the company's aggressive overexpansion and cash-flow shortages.[41]  Mere days thereafter, Vizio filed a lawsuit in California federal court alleging that LeEco was already collapsing when merger talks began, and that LeEco planned to use the merger to create false impressions about its financial health.[42]  Vizio further alleges that LeEco secretly planned as part of the merger to gain access to Vizio's confidential customer lists and key decision makers, and that LeEco has since engaged in corporate subterfuge in an attempt to reduce its liability for a $100 million break-up fee owed under the merger agreement.[43]  Vizio is seeking the full $100 million break-up fee and punitive damages.[44]
Additionally, Voltage Pictures' recent deal with Anhui Xinke New Materials, valued at $350 million, fall apart and has resulted in litigation.  In December 2016, the deal terminated a month after the new Chinese restrictions on overseas acquisitions were put in place and has since moved to Los Angeles Superior Court as a result of a suit brought by Voltage Pictures over the payment of a $4 million deposit.[45]
Despite these recent ups and downs, and the speculation as to the effect of Chinese regulations on foreign investments, there have still been some notable deals announced between Chinese investors and media, entertainment and technology companies in the first half of the year.  Wanda, Weying Technology and Huahua Media all announced investments in Paramount Picture's Transformers: The Last Knight, giving them merchandising, global revenue and/or marketing rights.[46]  Blumhouse Productions also announced in April that it entered into a film financing agreement with Meridian Entertainment, a Chinese company, which will finance all production outside of Blumhouse's deal with Universal.[47]  Additionally, in May, CAA launched a long-term film fund with China's Bona Film Group ("Bona"), with Bona's initial investment set at a reported $150 million.[48]  The film fund is intended to finance U.S.-China co-productions, in which Bona will retain all distribution right in China and CAA will represent North America and other international territories.[49] 
Another deal that left the industry speculating how the tightening of capital controls in China will impact investments in the media, entertainment and technology industry is the $1 billion slate financing deal announced in January 2017 between Paramount and Shanghai Film Co. and Huahua Media.[50]  The deal would fund Paramount's entire theatrical output over the next three years.[51]  Despite reports that the deal was to be called off in March 2017, Viacom CEO Bob Bakish confirmed in May, during Viacom's quarterly earnings conference, that the deal was "moving ahead" and that Shanghai Film Co. and Huahua media "have elected to upsize their commitment from 25 to 30 percent" of the total slate.[52]
Finally, Hollywood continues to make inroads in China in order to benefit from the country's booming film market.  In line with this trend, CAA launched CAA China, in partnership with CMC Capital Partners, a Chinese equity firm, to establish itself in the country's representation landscape.[53] Additionally, UTA partnered with Tang Media Partners, a Los Angeles-based entertainment company, and Joy Pictures, a Chinese film studio, to establish a film fund to distribute approximately twelve U.S. films in China per year.[54] 
a.     Entering the Chinese Market
Previously blocked by regulators from entering China's entertainment market, global streaming giant Netflix announced in April 2017 that it had reached a content agreement with Beijing-based video service iQiyi.[55]  This deal comes just over a year after Netflix went global, with only a few territories (including China) missing from its roster.[56]  iQiyi is a subsidiary of Chinese search giant Baidu and is currently morphing from an ad-supported video platform into a subscription model (akin to Netflix).[57]  Shows Black Mirror, Stranger Things, Mindhunter, BoJack Horseman, and Ultimate Beastmaster are all included as part of this deal.[58]
Netflix saw an early licensing success in China with House of Cards through a deal with local service Sohu, before the show was eventually removed from local streaming services by regulators.[59]  Netflix had also previously tried to move into China as a service operator, but acknowledged last year that the regulatory hurdles were too great.[60] 
b.     Growing its Local Content
In April 2017, Netflix signed a deal to acquire approximately 600 hours of scripted and unscripted TV shows from South Korea's JTBC.  Netflix trails behind numerous regional competitors armed with larger local content lineups in several parts of Asia, and this move is consistent with the belief that local content will be key if Netflix is to flourish in these areas.[61] Netflix has also announced two original Korean productions, Love Alarm and Kingdom, which are set to premier in 2018.[62]
Netflix has also employed local content strategies in India, and announced the opening of a Mumbai local office in April 2017.  Netflix competes against Hotstar (a popular ad-supported app with channels, fiction and sports) and Amazon Prime Video, among others, in India.[63] 
c.     Deal with Altice
Netflix signed a multi-year deal with Altice, the telco group of Patrick Drahi, to start distributing Netflix content in France, Portugal, Israel, and the Dominican Republic.  This deal emphasizes the content-driven strategy Altice is now favoring, with the launch of Altice Studio and the acquisitions of sports, series, and films rights and assorted deals with right-holders.[64]
d.     Additional Capital Raise
In April 2017, Netflix announced its plan to raise 1 billion euros (about $1.08 billion) in new debt financing from international lenders.[65]  It upped the size of its debt offering to 1.3 billion euros ($1.4 billion) shortly thereafter.[66]  This new offering was in addition to its $3.37 billion in existing long-term obligations.[67]  Netflix successfully closed its $1.4 billion in new debt financing in May 2017, marking the third time in a little over two years that Netflix has raised more than $1 billion.[68]
a.     Launch of Amazon Channels in the U.K. and Germany
Amazon Channels, a full pay-TV service which was unveiled in the U.S. last year, recently launched in the U.K. and Germany.  Prime members in the U.K. and Germany now can watch premium TV channels without a bundle or a contract.[69]  With this launch, Amazon offered its services as an alternative to Sky, the largest pay-TV operator in both countries.  Included in the offerings in the U.K. version are Discovery, ITV Hub+, and NBCUniversal's reality-TV streaming service Hayu.  The roster of the German service includes three NBCU nets: E! Entertainment, Studio Universal Classics, and Syfy.[70]
b.     Expansion of Amazon Prime Video in India
Amazon launched Amazon Prime Video in India at the end of last year at a lower subscription rate than Netflix.  Since then, Amazon has moved quickly in recent months to expand its user base in the country through partnerships.  For example, Amazon recently worked with telecom provider Vodafone to provide its customers with access to Amazon Prime Video at promotional rates.[71] 
Prior to launching Amazon Prime Video, Amazon India signed deals for existing and yet-to-be-produced films with Bollywood studios.[72]  Amazon India has also arranged a streaming deal with Paramount Pictures for various titles including Teenage Mutant Ninja Turtles: Out of the Shadows and Star Trek Beyond.  The deal also covers the studio's library franchises, like Transformers, Indiana Jones, and others.  Terms of the deal, including price, were not disclosed.[73]  This deal builds on Amazon India's offerings of Hollywood content after a recent deal with Lionsgate for titles such as La La Land and Deepwater Horizon.[74]  Most recently, Amazon India also signed a content deal with Warner Brothers covering a range of films and TV shows including Fantastic Beasts and Where to Find Them, Suicide Squad, and TV shows Lethal Weapon, Blindspot, and Two and a Half Men.  As with the other deals, no financial details were disclosed.[75] 
Hulu recently announced the beta launch of Hulu With Live TV, a package that includes all four major broadcast networks, the top-rated cable news channels, and a substantial sports offering.[76]  The package also includes the 3,500-plus TV and movie titles in Hulu's basic on-demand package.[77]  The service is priced starting at $39.99 monthly and includes approximately 50 channels.[78] 
Subscribers have access to ABC, CBS, Fox, NBC programming (with the availability of local TV stations varying by market), and cable networks including ESPN, CNN, MSNBC, TNT, and USA Network.  The service also carries regional sports networks from Comcast and Fox in several markets.  Showtime is available for an additional $9.[79]
As of May 2017, Hulu's live TV menu did not include HBO, AMC Networks, Viacom's Comedy Central, or Nickelodeon, among others.  However, in early July, Hulu announced that it will allow HBO and Cinemax as add-ons to its subscription plan.[80]  Hulu has also announced that it is working to arrange deals with network station groups to augment its lineup and plans to add more local channels over time.[81]
Its new skinny bundle puts Hulu directly in competition with the cable, satellite, and telco TV distributors that comprise some of the biggest customers of Hulu's parent companies Disney, 21st Century Fox, Comcast's NBCUniversal, and Time Warner.[82]  Notwithstanding its new skinny bundle, Hulu has confirmed that it will continue to rely on a strategy of obtaining "the iconic shows that are timeless," as shown by the recent deal for Golden Girls (a classic NBC comedy), while also continuing with its roster of original productions.[83] 
iflix, a streaming service that launched in Asia in 2015, is positioning itself as a low-cost alternative to Netflix in emerging markets.  Boasting a subscriber base of just under 5 million and armed with a recent $90-million infusion from investors including Sky and Liberty Global, iflix is focusing on local content.  It is co-producing the first high-end Arabic online series, a comedy entitled Tough Luck, set in a Cairo tenement and boasting an all-star Arab cast.  iflix also recently expanded, through a joint venture with Kuwait-based telco Zain, into the Middle East and North Africa.[84]
The trend of cord-cutting continues to disrupt the sports media industry.  Major players, including the NFL and MLB, as well as sports networks such as ESPN, are adapting to accommodate the preferences of their viewers by embracing over-the-top ("OTT") distribution of their games and other content.  Though Netflix has indicated that it intends to remain on the sidelines and has no interest in acquiring rights to live sports programming,[85] the following recent deals highlight the increase in live-streaming arrangements between content producers and social media networks in the world of sports.
In April 2017, Amazon finalized a deal with the National Football League to stream ten NFL "Thursday Night Football" games next season.  These games will be streamed to Amazon Prime members, including international members in more than 200 countries, via the Amazon Prime Video app.  These games will also be shown on either CBS or NBC and simulcast on the NFL Network, as part of a distribution deal with those networks last year.[86]
The NFL has not disclosed the value of this one-year deal, but several reports citing unidentified sources place the deal at $50 million, an increase in value from the $10 million Twitter paid last year to stream ten NFL games,[87] which had marked the first time the league made a deal for a package of games with an online-only partner.[88]
In May, Hulu launched its new streaming live television service (discussed above), which includes a collection of sports networks.  Hulu With Live TV allows users to watch their favorite cable channels (including national sports networks ESPN, NBCSN, and FS1, as well as certain regional sports networks) online without a traditional cable subscription.  This service is similar to Sling TV, which last year became the first OTT provider of the NHL Network.[89]
On May 1, 2017, Twitter announced more than a dozen new live streaming content deals, including several sports-related partnerships.  The WNBA will live-stream a weekly regular season game on Twitter, twenty per season, for the next three seasons.  In addition to the weekly live MLB games streaming on Twitter this season, the MLB will also stream a new three-hour program once a week featuring live MLB game highlights and analyzing stories as they trend.[90]
Twitter's Stadium, a new and original 24-hour video network, "combine[s] exclusive live college sporting events with highlights, classic games, and daily live studio programming."[91]  Twitter will also provide live pregame video and on-demand highlights of key NFL games.  In addition to the existing live-streaming deal between Twitter and PGA Tour Live, the PGA Tour live-streamed 360-degree video of the 17th hole at TPC Sawgrass during The Players Championship on Periscope and Twitter.[92]
eSports—the professional competitive video gaming industry—is projected by analysts to grow to a $1.5 billion market by year 2020.[93]  Recent activity in the eSports industry continues to signal the industry's rapid growth and unrelenting push into the mainstream.
Riot Games, Inc., developer and publisher of the highly popular League of Legends video game, has announced that its U.S. eSports league, the North America League of Legends Championship Series (the "NA LCS"), will adopt a franchise model, positioning the league closer to traditional sports leagues such as the NBA and NFL.  Under the new franchise model, teams will apply to become permanent partners and, once approved, will pay a fee ($10 million for current league teams and $13 million for newcomers) to solidify their spot.[94]  Similar to mainstream sports leagues, the NA LCS will also adopt revenue sharing financial incentives for good team performance, a players' association to give players a voice in the NA LCS's decisions, and more robust team and player development programs to ensure the growth and development of league play.[95]  All-in-all, the NA LCS changes are being celebrated for bringing eSports closer in line with traditional sports leagues and helping solidify eSports in the competitive sports arena.
AEG, owner of the Los Angeles Staples Center and L.A. LIVE complexes, has further expanded into the realm of eSports by announcing a strategic investment in eSports team organization Immortals, which currently has teams competing in League of Legends, Counter-Strike: Global Offensive, Overwatch and Super Smash Bros.[96]  With the investment, AEG hopes to make L.A. LIVE the home of Los Angeles's eSports scene and to draw tournaments to its many other live entertainment venues.[97]  AEG's investment in Immortals is its second foray into eSports, the first being a global partnership with ESL (f/k/a Electronic Sports League), the world's largest eSports competition organizer.[98]
Seventeen of the NBA's 30 franchises have signed on to operate teams in the inaugural season of the NBA 2K eSports league in 2018.[99]  Gamers will compete in a format resembling that of the NBA basketball season, with an initial draft to place gamers on teams, followed by regular season matches and bracketed tournament play for the championship.[100]  The league is the result of a co-venture with NBA 2K game developer Take-Two Interactive Software, Inc., which had announced plans to launch a professional gaming league in February.[101]
A Writer's Guild of America ("WGA") strike was averted in early May, when the Alliance of Motion Picture and Television Producers ("AMPTP") and the WGA reached a deal on the eve of the threatened strike.[102]  Until then, the negotiation sticking points involved employer contributions to the WGA's health plan, compensation for short-order series, wage increases and job protection on parental leave.[103]  In a letter to its members, the WGA noted that they "were able to achieve a deal that will net [its] members $130 million more, over the life of the contract, than the pattern [they] were expected to accept."[104]
Additionally, a SAG-AFTRA strike was averted on July 4, 2017, when the union and the Hollywood production companies reached an agreement on the three-year master deal.[105]
II.     2017 Mid-Year Litigation Report
There was no shortage of watershed rulings and key litigation developments in the entertainment industry in the first half of 2017.  The Supreme Court weighed in with highly anticipated copyright and trademark rulings, first amendment cases received increased attention and concern, and music played its role on dockets nationwide.  Keeping up with the deluge of key cases is no easy task, and we have highlighted those rulings and developments that should be top of mind for our clients.
Beyond the courtroom, Hollywood faces renewed challenges in safeguarding its intellectual property from cybercriminals.  In the aftermath of the 2015 Sony hack, entertainment studios continue to experience serious and significant threats from hackers seeking to illegally obtain their content.  This spring, Netflix and Disney/ABC were reported victims of a hacker collective named The Dark Overlord which demanded the companies pay an unspecified ransom to prevent content being prematurely released online.[106]  When the studios balked at the ransom demand, the hackers went ahead and released the content.  Now the hacker collective claims to have additional unaired films and television series.  The Dark Overlord has stated that "Hollywood is under attack, and we're at the forefront of this most recent offensive. We're not in the business to scare anyone.  We're in the business of earning vast amounts of internet money."[107]  The FBI is attempting to identify who is behind this hacking collective, but even if a culprit is located, hackers will surely remain a menace to studios going forward, and security throughout the production chain including with third-party vendors remains a primary concern for studios.[108]
This spring, in its first case on fashion copyrights, the Supreme Court issued a sweeping opinion validating broad copyright in designs affixed to apparel products in Star Athletica v. Varsity Brands.[109]  The case involved cheerleader uniforms designed by Varsity Brands, Inc., the market leader.  Many of these uniforms are emblazoned with two-dimensional designs, such as chevrons, stripes, or zigzags, giving them that distinctive "cheerleading" look.  Varsity holds copyrights for many of these designs.  The company brought suit for copyright infringement against Star Athletica, L.L.C., alleging that it was infringing several of its copyrights by selling cheerleading uniforms that bore similar two-dimensional designs.[110]
The Copyright Act extends protection not only to works of music and literature, but also to "pictorial, graphic, or sculptural" works, but only so long as those works "can be identified separately from, and are capable of existing independently of, the utilitarian aspects of the article."[111]  Star Athletica argued that the particular combinations of chevrons, zigzags and stripes that characterize Varsity's uniforms were influenced by utilitarian considerations, and thus did not warrant copyright protection.[112]  Specifically, Star Athletica argued that the artistic aspects of the uniform designs were not "separable" from the utilitarian function of the uniform itself, and thus were not copyrightable.[113]  
The district court agreed with Star Athletica, but the Sixth Circuit reversed, holding that the designs were separable.[114]  Star Athletica then sought a writ of certiorari from the Supreme Court, supported by amici who noted that courts had enumerated no fewer than nine distinct tests for conceptual separability and urged the Supreme Court to create a uniform test.[115]
In a textualist opinion written by Justice Thomas, the Supreme Court affirmed the Sixth Circuit, holding that Varsity's two-dimensional cheerleading-uniform designs are "separable features . . . of those cheerleading uniforms."[116]  The court established a two-prong test, deciding that such elements are eligible for copyright "only if the feature (1) can be perceived as a two- or three-dimensional work of art separate from the useful article and (2) would qualify as a protectable pictorial, graphic, or sculptural work—either on its own or fixed in some other tangible medium of expression—if it were imagined separately from the useful article into which it is incorporated."[117]
The Court rejected Star Athletica's argument that only "solely artistic"—as opposed to utilitarian—features of useful articles can be separable.[118]  It was therefore irrelevant whether the cheerleading uniforms remain "equally useful," or even "similarly useful," once the designs are imaginatively removed.  According to Justice Thomas's opinion, the Court "necessarily abandon[ed] the distinction between 'physical' and 'conceptual' separability, which some courts and commentators h[ad] adopted based on the Copyright Act's legislative history."[119]  The Court then applied this test to Varsity's uniforms and concluded that the chevron, stripes, and stars—if separated from the uniform and applied to canvas—would qualify as works of art eligible for copyright.[120]  At the same time, the Court emphasized the limits of its ruling.  Varsity Brands and its related entities "have no right to prohibit any person from manufacturing a cheerleading uniform of identical shape, cut, and dimensions to the ones on which the decorations in this case appear.  They may prohibit only the reproduction of the surface designs in any tangible medium of expression—a uniform or otherwise."[121]
In dissent, Justice Breyer focused on policy concerns—writing that by extending copyright protection to basic forms of surface designs, the majority would restrict competition for the underlying item.[122]  Indeed, many commentators and scholars, in discussing the impact of this case, have predicted that the fashion industry may use the Court's formulation of copyright law, along with trademark law, to protect their designs from copy-cats and knockoffs.[123]
The major Hollywood studios have been waging a successful battle against VidAngel, which launched in 2014, with a business model in which the company buys DVDs sold by the studios and "sells" them to consumers, who receive the programming in a digital form that allows any objectionable content such as nudity and violence to be edited out by the consumer.
This battle began in December of 2016, when the studios won a preliminary injunction, thereby shutting down VidAngel, after a California federal judge said it was likely that VidAngel was infringing their copyrights and violating the Digital Millennium Copyright Act's ban on the circumvention of digital encryption measures.[124]  Though VidAngel requires the user to purchase a physical DVD, Judge Andre Birotte said the service still illegally bypassed locks on the disc in order to upload it and stream it to those users.  "The purchase of a DVD only conveys the authority to view the DVD, not to decrypt it," the Court wrote.[125]  Moreover, VidAngel failed to present any evidence that the Hollywood studios either "explicitly or implicitly authorized DVD buyers to circumvent encryption technology" in order to watch the DVD on another platform, such as VidAngel.[126]  Judge Birotte also rejected VidAngel's claim that its service was shielded by the Family Home Movie Act, a 2005 statute aimed at allowing for technology to edit objectionable material from videos at home.[127]  Judge Birotte further ruled that VidAngel's omission of objectionable material from movies did not render its use "transformative" such that it would qualify for the fair use exception under copyright law.[128]  VidAngel was then held in contempt when it did not immediately comply with the preliminary injunction order requiring it to take down the studios' films: the order issued on December 12, 2016, but VidAngel did not comply until December 29.[129]  VidAngel's motion to the Ninth Circuit for an emergency stay pending appeal of the preliminary injunction was denied.[130] 
Although the Ninth Circuit has not yet ruled on the injunction, VidAngel in the meantime released a new filtering app on June 13, 2017, that purports to offer the same functionality, except instead of using DVDs, the app links to users' Netflix and Amazon accounts.[131]  VidAngel filed a motion with the district court seeking clarification regarding whether the injunction order applies to this new service, but the studios are vigorously opposing VidAngel's effort, arguing that the new service is an end run around the court's preliminary injunction and threatens to confuse consumers regarding the legitimate streaming market.[132]  Hollywood studios remain keenly invested in guarding their intellectual property against companies like VidAngel that seek to create unauthorized copies or derivative works in order to separately monetize the studios' films.  Thus far, the studios are prevailing in this fight.
A recent lawsuit filed against Disney alleges that Disney copied the work of Gary L. Goldman in its Oscar-winning film, Zootopia.[133]  Some of Goldman's other work includes Total Recall and Minority Report.  The lawsuit, brought by Esplanade Productions, alleges that Goldman twice pitched Disney his similar project—titled "Looney"—in 2000 and 2009.[134]  During those pitches, Goldman provided a title, synopsis, character descriptions and even illustrations.  Disney, however, declined to pursue Goldman's proposal.  Shortly afterward, the lawsuit alleges, Disney began production on its own Zootopia project, which went on to gross more than $1 billion at the box office.[135]  On July 11, 2017, the Court granted Disney's motion to dismiss with leave to amend, finding, based on the inclusion in the complaint of both the asserted and the allegedly infringing materials that "[t]he differences between the character designs outnumber the similarities."[136]
In a significant victory for cable broadcasters, the Ninth Circuit Court of Appeals reversed a victory in favor of streaming company FilmOn, handing significant relief to broadcasters like CBS, Fox, NBC and ABC, who objected to a California federal judge's decision in July 2015 that streamers can be deemed to be a "cable system," eligible to obtain a compulsory license to broadcasters' content under Section 111 of the Copyright Act.[137]
The Ninth Circuit held that a service that captures copyright-protected works broadcast over the air, and that then retransmits them to paying subscribers over the internet without the consent of copyright holders, is not a "cable system" eligible for a compulsory license.[138]  The panel found that even if the statute may be ambiguous, it was appropriate to defer to the guidance of the Copyright Office, which has consistently found that internet-based services do not qualify as "cable systems" under the law.[139]
After the ruling, FilmOn and the cable broadcasters reached a settlement.[140]  The details are confidential, but FilmOn has withdrawn pending appeals in the DC and Seventh Circuits.[141] 
In 2016, the Supreme Court issued a decision Kirtsaeng v. John Wiley & Sons, Inc., holding that in deciding whether to award attorney's fees under the Copyright Act, a district court should give substantial weight to the "objective reasonableness" of the losing party's position, while still taking into account all other circumstances relevant to granting fees.[142]  Since then, lower courts have endeavored to apply this new standard, including in the "Stairway to Heaven" appeal and the "Who's On First" litigation.
a.     Led Zeppelin's "Stairway to Heaven"
Last summer, a jury found that guitarist Jimmy Page did not copy "Stairway to Heaven's" iconic opening from a 1968 instrumental piece by the band Spirit, which for a time had toured with Led Zeppelin.  However, Spirit songwriter Randy Wolfe's trustee and lawyer, Michael Skidmore, refused to accept the loss, and filed a voluminous appeal in the Ninth Circuit.  Led Zeppelin's attorney cross-appealed, asking the Ninth Circuit to reverse the District Judge's order on fees, and to assess the defendants' attorneys' fees against the Wolfe estate.[143] 
In August 2016, District Judge Gary Klausner ruled that the Wolfe estate's claims were neither frivolous nor "objectively unreasonable" enough to force paying defendants' legal bill of nearly $800,000, despite allegations of litigation misconduct by the Wolfe estate's attorney.[144]  Judge Klausner's ruling came just months after the Supreme Court's decision in Kirtsaeng.
On appeal, Zeppelin and Warner/Chappell argue that Judge Klausner erred in treating litigation misconduct with equal weight as the Fogerty factors, a set of standards that were established for evaluating fee awards in copyright cases in a 1994 U.S. Supreme Court case involving singer John Fogerty.[145]  A ruling from the Ninth Circuit is pending, and expected later this year.
b.     "Who's On First"
In early June, a federal magistrate judge recommended that the heirs of the famed comedy duo, Abbott and Costello, pay more than $50,000 in attorneys' fees for filing an unsuccessful copyright lawsuit against the producers of a Broadway play that featured the duo's famous "Who's On First" comedy routine.[146]  United States Magistrate Judge James C. Francis said the estate's claim that it continued to own the rights to that iconic bit was precisely the kind of "objectively unreasonable" position that the Kirtsaeng opinion had indicated can result in an award of fees.[147]  But the heirs pushed back, saying the suit had, after all, survived a motion to dismiss, and did not end until the Second Circuit shot down their claim to the rights in October 2016, in a decision that created "new law relative to this technical copyright issue."[148]  The heirs argued that a later decision cannot retroactively transform the heirs' claim from valid to objectively unreasonable at the time of filing.[149]  No decision has been reached on this issue, but it remains clear that even under the post-Kirtsaeng standards, courts continue to be reluctant to award fees in copyright cases in the absence of clear showing that a party advanced a position it knew to be inconsistent with the law.
On June 19, 2017, the Supreme Court handed down its opinion in Matal v. Tam (fka Lee v. Tam), ruling that the federal government's ban on "disparaging" trademark registrations, which was enacted into law in 1946, violates the First Amendment.[150] 
Under what became known as the "disparagement clause," the Lanham Act prohibited the federal registration of trademarks on the "principal register" that may "disparage . . . persons, living or dead, institutions, beliefs, or national symbols, or bring them into contempt, or disrepute."[151]  To determine if a trademark application was disparaging, the United States Patent and Trademark Office ("PTO") examiner would employ a two-part test.  First, the examiner would determine "the likely meaning of the matter in question," and then, "[i]f that meaning is found to refer to identifiable persons, institutions, beliefs or national symbols," the examiner considers if the meaning could be disparaging "to a substantial composite of the referenced group."[152]
In the case at issue, Simon Tam, the lead singer of the band The Slants, applied to register the band's name on the principal register in 2010.[153]  The band, whose members are of Asian descent, sought to "reclaim" the derogatory racial slur.  However, the PTO examiner denied the registration, citing "numerous dictionaries" that define the term as derogatory, online bloggers and commentators who wrote about the name being offensive, and a performance that was canceled due to the band's name.[154]
Tam challenged the denial, but initially lost before the PTO's Trademark Trial and Appeal Board (the "Board").[155]  On appeal, the U.S. Court of Appeals for the Federal Circuit found that the Lanham Act's disparagement clause was facially unconstitutional under the Free Speech Clause of the First Amendment.[156] 
Justice Alito announced the judgment of the Court, which was unanimous with respect to the conclusion that, despite the role of government in the registration process, trademarks constitute private rather than government speech.  The Court reasoned that the government merely registers the contents of others' trademarks; it "does not dream up these marks," "it does not edit marks submitted for registration," and the PTO has made clear in the past that registration does not constitute government approval of a particular mark.  The Court also found that prior Supreme Court precedents fail to support trademark registration as a form of government speech.  According to the opinion, trademarks are different from speech used to convey a government message—as was the case with selected monuments placed on governmental property in Pleasant Grove City v. Summum—and there is no evidence the public associates trademarks with the government itself—as was the case with specialty license plates in Walker v. Texas Division, Sons of Confederate Veterans.  Further backing away from Walker, which the Court noted "likely marks the outer bounds of the government-speech doctrine," the Court emphasized that government registrations in other, related contexts like copyright registration do not constitute government speech.
Justice Alito went on to reject the remainder of the government's arguments, writing only for himself, Chief Justice Roberts, Justice Thomas, and Justice Breyer.  First, Justice Alito explained that trademark registration is not a form of government subsidy, which would permit the government to subsidize speech expressing a particular viewpoint while refusing to subsidize activities it does not wish to promote.[157]  He also refused to create a new "government-program" doctrine for trademarks that would allow for some content- and speaker-based restrictions.[158]  Finally, Justice Alito explained that it is unnecessary to decide whether the relaxed-scrutiny afforded commercial speech under the First Amendment applies here, because the disparagement clause is too broad to withstand even that lesser standard of review.[159]
Justice Kennedy, in a separate opinion joined by Justices Ginsburg, Sotomayor and Kagan, emphasized in greater detail why the First Amendment protects "THE SLANTS" trademark from governmental disapproval of a viewpoint the government finds unacceptable.  He reasoned that the case involved viewpoint discrimination that warranted heightened scrutiny, without undertaking a commercial speech analysis as in Justice Alito's opinion.[160]
Justice Thomas filed a short concurrence in part and in the judgment, reiterating his view that whenever the government seeks to restrict truthful speech in order to suppress the ideas conveyed, strict scrutiny applies.[161]
Tam's central holding—that the Lanham Act's disparagement clause is unconstitutional—is likely to have only a limited impact, as most trademarks are not accused of disparagement.  The ruling has already had implications in the sports world, however, as the government has conceded in a filing to the Fourth Circuit that because the Tam case "controls the disposition of" the government's effort to cancel the registration of the team name and other trademarks owned by the Washington Redskins professional football team, the team will likely prevail.[162]
On March 17, 2017, the District Court of the Southern District of Texas granted Viacom International Inc.'s motion for summary judgment on its common law trademark infringement and unfair competition claims against IJR Capital Investments, LLC.[163]  IJR had filed a federal trademark application for THE KRUSTY KRAB mark under restaurant services.  Viacom, which owns the popular Nickelodeon cartoon SpongeBob SquarePants, issued a cease and desist letter, demanding that IJR withdraw the application because the proposed mark would cause a likelihood of consumer confusion with the fictional Krusty Krab restaurant that repeatedly appears in the SpongeBob cartoon series.  IJR rejected the request, and Viacom sued, alleging, among other things, common law trademark infringement, dilution, and unfair competition.[164]
To succeed on its common law trademark infringement claim, Viacom needed to establish that it possessed a valid mark in The Krusty Krab and that IJR's use created a likelihood of confusion as to the source of the mark.[165]  To prove a valid mark, Viacom had to show that it uses the mark in commerce and that the mark is either "inherently distinctive" or has "acquired distinctiveness through secondary meaning."[166]
The court first found that Viacom possessed a valid mark, even though it never registered The Krusty Krab mark and The Krusty Krab is a fictional restaurant.  Trademark ownership "is established by use in the market, not by registration," the court stated.  The Krusty Krab has appeared in 166 episodes of SpongeBob since 1999, was depicted in both SpongeBob feature films (which grossed over $470 million), and has appeared on various licensed consumer products.[167]  The Court analogized The Krusty Krab to "Kryptonite" and the "Daily Planet," two fictional components of the Superman universe that have been ruled to possess common law trademark protections because they have "regularly appeared on licensed consumer merchandise over the years."[168]
Second, Viacom demonstrated that the mark had "acquired distinctiveness through secondary meaning."[169]  The Court found that Viacom has "shown by a preponderance of the evidence that it has met several of the" factors courts use to determine distinctiveness through secondary meaning.  Krusty Krab-licensed merchandise has appeared in "numerous print and Internet advertisements," declarations and exhibits summarizing SpongeBob's eleven seasons proved the length and manner in which The Krusty Krab had been used, and the amount and manner of advertising the mark was shown by the $197 million in advertising spent on the two SpongeBob movies.[170]
Finally, Viacom established a likelihood of confusion, primarily based on the strength and continued use of its own mark and "the identical spelling and pronunciation of the two marks, including the unconventional way of spelling the words with a 'K' instead of a 'C.'"[171]  The Court also found that the "sales and forms of advertising are likely to overlap" and that evidence existed that the creator of IJR's mark "was aware of Viacom's mark."[172]  As such, Viacom's motion for summary judgment was granted, both as to Viacom's claim for trademark infringement and for its claim of unfair competition.[173]  The Court entered its final judgment on April 11, 2017,[174] and IJR appealed on May 9, 2017.[175]
On May 16, 2017, the Ninth Circuit Court of Appeals affirmed a district court grant of summary judgment for Google against claims that its registered GOOGLE mark had become generic and should be canceled.[176]
Plaintiffs had registered hundreds of domain names that included the word "google."  After Google filed a complaint with the National Arbitration Forum, the two plaintiffs initiated a federal lawsuit in Arizona, petitioning to cancel the GOOGLE mark pursuant to 15 U.S.C. § 1064(3), "which allows [for] cancellation of a registered trademark if it is primarily understood as a 'generic name for the goods or services . . . for which it is registered.'"[177]  Generic terms are not protectable as trademarks, and this process, which has affected aspirin, cellophane, and escalator, has become known as "genericide."
Plaintiffs argued that "a majority of the relevant public uses the word 'google' as a verb" and that "verb use constitutes generic use as a matter of law."  Google, on the other hand, "argued that [Plaintiffs] failed to present sufficient evidence to support a jury finding that the relevant public primarily understands the word 'google' as a generic name for internet search engines."  On appeal, the Ninth Circuit agreed with Google's position, and affirmed the district court's decision.[178]
The Ninth Circuit concluded that widespread use of "Google" as a verb has not caused "Google" to become a generic term like "aspirin" or "thermos."[179]  The court explained that a claim of genericide must relate to a particular type of product or service, not simply to the word itself.[180]  Accordingly, the proper question was not whether "Google" had become a generic term for the "act" of search, but instead whether it had become a generic name consumers use for internet search engines.[181]
Applicant Beds & Bars Limited applied to register the mark BELUSHI'S for travel and hotel services, but the Trademark Examining Attorney refused the application, citing 15 U.S.C. § 1052(e)(4), which "precludes registration of a mark on the Principal Register that is 'primarily merely a surname' without a showing of acquired distinctiveness."[182]  Applicant appealed, and the Trademark Trial and Appeal Board affirmed the Examining Attorney's refusal, concluding "that BELUSHI'S is a surname that "has no other 'ordinary language meaning.'"[183]
Proposed marks are considered "primarily merely a surname if, when viewed in relation to the goods or services for which registration is sought, its primary significant to the purchasing public is that of a surname."[184]  To assist in this analysis, examiners consider if "the applicant adopted a principal's name," whether the proposed mark has a "nonsurname, 'ordinary language' meaning," and how common the surname is.[185]
On appeal, Bed & Bars argued two points:  first, that "Belushi" is an extremely rare surname and second, "if BELUSHI'S brings to mind the famous Belushi brothers, then it cannot be primarily merely a surname."[186]  But Applicant did not present "any evidence showing that BELUSHI has a meaning other than as a surname."[187]  Consequently, although the Board agreed that use of the name BELUSHI as a surname is "rare"—with only five people in the United States using it as a surname—BELUSHI is "so well-known as a result of media publicity" over the years because of the actors Jim and John Belushi "that it would be immediately recognized as a surname."[188]  And therefore, even though it is "a rare surname" its "primary significance to purchasers is that of a surname."[189]
On June 13, 2017, the Eight Circuit Court of Appeals affirmed a district court's ruling that Iowa State University ("ISU") "violated plaintiffs' First Amendment rights because [ISU] engaged in viewpoint discrimination" when ISU repeatedly denied the student chapter of the National Organization for the Reform of Marijuana Laws' ("NORML ISU") requests to use ISU's trademarks in connection with designs that included cannabis leaves.[190]  The Court also affirmed the district court's ruling that the defendants were not entitled to qualified immunity.[191]
ISU recognizes NORML ISU as one of the university's approximate 800 official student organizations.[192]  NORML ISU advocates for reforming laws that prohibit marijuana use, and as an official student organization, it can submit to ISU's Trademark Office proposed merchandise that incorporates ISU's trademarks with the group's name and message.[193]  If the proposed merchandise complies with ISU's Trademark Guidelines, the application is approved.[194]
In October 2012, NORML ISU submitted a t-shirt design with a cannabis leaf to ISU's Trademark Office, and the Trademark Office initially approved the submission.[195]  Shortly thereafter, however, the Des Moines Register published a front-page article about efforts to legalize marijuana and quoted NORML ISU's president.[196]  This article caught the attention of the Iowa House Republican caucus and the Governor's Office of Drug Control Policy, and both groups pushed back against the school's policy.[197]  Ultimately, ISU placed NORML ISU's reorder of the t-shirt design on hold, required the group to seek special approval before submitting applications to the ISU Trademark Office, revised its Trademark Guidelines to prohibit "designs that suggest promotion of . . . illegal or unhealthy products . . . [or] drugs and drug paraphernalia," and rejected all of NORML ISU's subsequent design applications that included cannabis leaves.[198]
In affirming that ISU violated plaintiffs' First Amendment rights, the Court ruled that "ISU created a limited public forum when it made its trademarks available for student organizations to use if they abided by certain conditions."[199]  Viewpoint discrimination—regulating speech due to the speaker's message—is permissible in limited public forums only when "the government demonstrates that its regulation is narrowly drawn and is necessary to effectuate a compelling state interest."[200]  Here, however, the Court concluded that ISU's "discriminatory motive [was] evidenced by the unique scrutiny [it] imposed on NORML ISU."[201]  ISU placed the t-shirt reorder on hold, required the group to obtain pre-approval before submitting future designs to the Trademark Office, NORML ISU was the only student organization "to have had its trademark application denied for fear that the university would be endorsing a political cause," and "[t]he record [was] replete with statements from defendants regarding their political motives."[202]
An ISU spokesman has stated that ISU is reviewing whether it will appeal the decision.[203]
First Amendment cases and concerns featured heavily in the national news cycle in the first half of 2017, which saw a journalist for The Guardian body-slammed by a congressional candidate on the eve of Montana's special election to fill a vacated seat.  And courts around the country are working through difficult questions surrounding the rights and responsibilities of journalists and the often controversial struggle to balance rights of privacy with access to newsworthy information.  In California, a federal judge weighed whether a new law can prevent IMDB from publishing actors' ages.  In New York, courts considered whether a small-scale, highly targeted subscription-based news source should be compelled to reveal its sources and whether BuzzFeed should face legal ramifications for publishing the infamous Trump dossier. 
In an attempt to reduce age discrimination against professionals in the entertainment industry, California recently passed legislation requiring that commercial online entertainment employment services providers remove information about an individual's age or birth date upon their request.  The new law, known as AB 1687, requires service providers to remove the offending information within 5 days of such request and to ensure that any companion sites under their control remove the same.[204]
Although the language of the law applies generally to all commercial online entertainment employment service providers, it appears that the Amazon-owned IMDB and IMDB Pro are the only sites affected and were intended to be the targets.[205]  While other such databases exist, they already remove age-related information from their websites upon an actor's request.[206]  IMDB, in contrast, has resisted calls to redact such information and, according to the company's policy, "do[es] not remove valid dates of birth."[207]  SAG-AFTRA reportedly receives hundreds of member claims each year about IMDB's practice of publishing actors' ages and the impact such public information may have on casting decisions.[208] 
In November 2016, IMDB filed suit to enjoin enforcement of the law on the grounds that it amounts to an unconstitutional restriction on speech.  In February, a federal district court issued a preliminary injunction enjoining the state from enforcing AB 1687 while the lawsuit is pending.[209]  In the order issuing the injunction, Judge Chhabria wrote that "it's difficult to imagine how AB 1687 could not violate the First Amendment."[210]  The court held that the law restricted non-commercial speech on the basis of content.[211]  Under First Amendment jurisprudence, the government is therefore required to demonstrate that the restriction is actually necessary to serve a compelling government interest. While preventing age discrimination is a compelling government interest, Judge Chhabria held that the law was not necessary to serve that goal and expressed doubt that the law could "meaningfully combat discrimination at all."[212]  He also noted that the government could achieve the same ends through "more direct, more effective, and less speech-restrictive ways," including enforcing existing anti-discrimination laws more strongly.[213]
Following the issuance of the preliminary injunction, the court ruled that no discovery would be permitted in the case until the government filed a motion "describing with specificity the discovery it wished to conduct and the reasons why it would be appropriate to do so."[214]  The government filed a motion for discovery seeking permission to serve various document request, interrogatories and depositions of IMDB representatives.  The government asked specifically for information regarding any policies at IMDB regarding the posting of age information on the site and any efforts by IMDB to lobby against AB 1687.[215]  In June 2017, the court issued a strongly worded denial of the discovery motion, calling the government's request "irrelevant and burdensome," and given the First Amendment concerns in the case, "disturbing."[216]  Judge Chhabria accused the government of imposing a strict restriction on speech and then "hop[ing] a justification materialized in discovery."[217]
In 2016, Katie Couric appeared in and executive produced a documentary film, Under the Gun, which deals with the social issues surrounding gun control.  The film highlights the absences of significant changes to the nation's gun laws following the 2012 massacre at Sandy Hook elementary school in Newtown, Connecticut.  Footage in the documentary includes an interview between Couric and nine members of the Virginia Citizens Defense League ("VCDL"), which describes itself as a "non-partisan, grassroots organization dedicated to advancing the rights of responsible gun owners under the Second Amendment and Virginia Constitution."[218]  During an interview scene, Couric asked "If there are no background checks for gun purchasers, how do you prevent felons or terrorists from purchasing guns?"[219]  The film then depicts the interview panel sitting in an awkward silence; no one appears to respond to Couric's question.  Following the film's release, two members of VCDL who participated in the interview sued Couric, along with the director and distributor of the film, for defamation.
The plaintiffs, a gun store owner and an attorney who practices litigation related to firearms and personal defense, alleged that Couric and the co-defendants manipulated footage of the interview and that the resulting segment defamed them, both directly and by implication.[220]  Contrary to what was portrayed in the final film, plaintiffs insisted that multiple members of the interview panel, including both named plaintiffs, responded to Couric's query.  Plaintiffs alleged that Couric's failure to include their responses to her question was defamatory because the silence suggested that they: "(1) had no basis for their opposition to background checks, (2) are uninformed notwithstanding their expertise in the areas of gun regulations and rights, (3) were stumped by Couric's question and (4) are ignorant or unfit in their trades."[221]
Ruling on defendants' motion to dismiss, the court dismissed plaintiff's defamation claims, noting that defamation requires an actionable statement that is both false and defamatory.[222]  The judge found that while plaintiffs did respond to Couric's question, they did not answer it; rather, the Court explained, "[t]hey talked about background checks and gun laws generally, but did not answer the question of how to prevent felons or terrorists from purchasing guns without background checks."[223]  Thus, the Court found that the presentation of the interview in the film was not false but instead a "dramatize[d]" rendering of the reality that the plaintiffs did not have a responsive answer to Couric's direct question.[224]  Further, the Court held that the statement at issue was not defamatory as a matter of law. Taken in context, the scene suggests that the plaintiffs oppose background checks and at worse, that they could not or would not answer Couric's question regarding possible methods of restricting gun sales to felons or terrorists.[225]  The Court held that the inability or refusal to answer to a question about "difficult and complex issues" neither carried the necessary sting to be defamatory nor implied that either plaintiff was unfit for their respective profession.[226]
In January 2017, BuzzFeed made the controversial decision to publish an unverified dossier detailing, among other things, allegations of long-standing attempts by the Russian government and financial sector to influence then President-elect Trump.  Owners of Alfa Bank, a Russian Bank named in the dossier, filed a defamation action against the website in May, in New York state court, seeking unspecified damages.  The complaint alleges that BuzzFeed decided to publish the unverified allegations contained in the dossier, including that "Alfa and its officials and employees 'co-operated' with a Kremlin campaign to interfere in the U.S. Presidential election, "with "knowledge of their falsity or with reckless disregard of whether they were true or false."[227]  BuzzFeed has defended its decision to publish the dossier, citing the ongoing congressional and FBI investigations into allegations of Russian attempts to influence the election and the fact that two successive presidents received official briefings on the dossier.[228]
This is the second lawsuit filed against BuzzFeed over the publication of the dossier.  Earlier this year, Russian technology entrepreneur Aleksej Gubarev filed a similar defamation action against the website in Florida.[229]  The dossier included claims that he and his companies conducted cyber operations against the Democratic Party.[230]  Shortly after the suit was filed, BuzzFeed redacted portions of the dossier naming Gubarev and issued an apology.[231]
In February 2017, a New York trial court issued a ruling requiring Reorg Research, Inc., a company that provides distressed debt market intelligence to paying subscribers, to disclose the identities of several anonymous sources.[232]  The individuals in question allegedly provided to the subscription news service confidential information about coal company Murray Energy's ongoing negotiations with its creditors.  Reorg initially refused to reveal the names of its sources, citing the New York Shield Law, which protects professional journalists from being held in contempt of court for refusing to reveal the identities of their confidential sources.[233] 
The trial court, however, held that the Shield Law's protections did not extend to the employees and sources of a commercial subscription alert service with a relatively small subscriber base.[234]  The court noted that the purpose of the Shield Law is to promote "news intended for dissemination to the public," while the value in Reorg's alerts is that subscribers receive access to otherwise non-public information before it is widely known by the general public.[235]  The trial court also noted that Reorg's subscription terms bar subscribers from sharing the information with non-subscribers.[236]  Therefore, the trial court held that Reorg did not fit into any of the enumerated categories of news organizations protected by the Shield Law.[237]  Reorg appealed the trial court decision and was granted a stay of the order pending appeal.
 In July 2017, the Appellate Division of the Supreme Court of New York issued an order reversing the trial court decision and dismissed the case, holding that Reorg is "a professional medium or agency which has as one of its main functions the dissemination of news to the public" and is therefore protected from revealing its sources by the Shield Law.[238]  Reorg and supporting amici successfully argued that its subscription model is "essential to the economic viability of specialty or niche publications that target relatively narrow audiences."[239]  In addition, the court held that the public receives secondary benefits from the service's news alerts, despite the restrictions on subscribers ability to share the information, because its subscribers are "the people who are most interested in this information and most able to use and benefit from it."[240]  While the trial court viewed Reorg's high subscription fees and small user base with suspicion, the appeals court noted that given the substantial investment necessary to report on a niche subject with a small number of interested readers, the alternative to the subscription model "is not broader coverage but no coverage at all."[241]  In its conclusion, court affirmatively extended the protection of the Shield Law to Reorg and other niche subscription news services while cautioning that conditioning the Shield Law's protection on a "fact-intensive inquiry" regarding the number of subscribers, fees, and any restrictions on disclosing the information is "unworkable" and may lead "to a potential 'chilling' effect."[242]
The long-running legal battle between singer Kesha and producer Lukasz "Dr. Luke" Gottwald, now spans multiple lawsuits and counterclaims.  In October 2014, Kesha filed a civil suit against Dr. Luke in California for infliction of emotional distress, gender-based hate crimes, employment discrimination and other causes of action.[243]  In response, Dr. Luke sued Kesha and her mother, Pebe Sebert, in New York, for defamation and breach of contract.[244]  Specifically, Dr. Luke alleged that Kesha failed to work on a third album as required under her contract. The New York lawsuit resulted in the staying of the California lawsuit, which Kesha later dropped, in August 2016.  Kesha filed a countersuit in the New York action seeking to be released from her contract on the basis that Dr. Luke had allegedly "sexually, physically, and verbally and emotionally" abused her since the beginning of their professional relationship.[245]  Last year, the New York court denied Kesha's motion for preliminary injunction that would have allowed her to record an album outside of her contract.[246]  Months later, the court dismissed all of her counterclaims. 
In January 2017, Kesha's attorneys sought to amend her original counterclaim, alleging that Dr. Luke was refusing to send accounting statements and delaying her new album's release.[247]  The following month, Dr. Luke argued that Kesha was attempting to litigate these disputes as part of a smear campaign to blacklist him from the music industry, and that she owed him $1.3 million in royalties.
Dr. Luke also asked the court to allow him to amend his complaint to include allegations concerning additional defamatory statements made by Kesha and her representatives in the media, falsely claiming that Dr. Luke had raped another recording artist, and encouraging Internet petitions to pressure Sony Music Entertainment to release Dr. Luke from his contract.[248] 
In March 2017, the New York court rejected Kesha's attempt to amend her counterclaims, citing its prior finding that Kesha did not perform her obligations under her recording contract.[249]  The court also denied her request for declaratory relief, holding that it was "speculative, not justiciable" whether Sony Music Entertainment's contract with Dr. Luke was ending and "whether [the deal] would be able to assist" Kesha in fulfilling her contractual duties.[250]  Finally, the court rejected Kesha's effort to assert California's seven-year rule on personal service contracts because the parties chose New York law to govern their dealings and there was no overriding public policy interest from another jurisdiction that was materially greater than New York's interest in enforcing the parties' choice of New York law.[251]
Kesha has since filed a notice of appeal seeking to reverse the New York Supreme Court's dismissal of her request to amend her counterclaims.[252]  It is now pending before the New York Appellate Division.  (Disclosure: Gibson Dunn represents Sony Music Entertainment in this matter.)
Following the pop star Prince's unexpected passing in April 2016, his estate and legacy have been the subject of a fair amount of litigation.  While Prince was well known for strictly controlling his intellectual property rights during his lifetime, he died without a will and thereby left no specific instructions about how his much-discussed "vault" of music should be handled.  Since the overwhelming majority of his estate's value is from the copyrights in his songs, we anticipate that additional lawsuits may crop up concerning Prince's works in the future.
a.     Universal Music Group Obtains Rescission of Deal That Included Conflicted Rights
In February 2017, Prince's Estate and Universal Music Group announced that they had inked a deal that would give UMG the rights to distribute much of Prince's catalog as well as unreleased masters from the artist's storied vault.[253]  But immediately after the deal was announced, Warner Bros. Records informed UMG that it held rights that conflicted with those that the Estate had purportedly sold to UMG, despite the Estate's representatives' assurances that UMG would receive those rights.[254]  As a result of those misrepresentations, UMG sought rescission of the licensing agreement,[255] and on July 13, 2017, the Minnesota probate court overseeing the administration of Prince's Estate approved the rescission agreement over the strident objections of several parties, including three of Prince's heirs.[256]  (Disclosure: Gibson Dunn represents UMG in this matter.)
b.     Prince's Estate Blocks Engineer's Attempt to Release New Prince EP
In April 2017, just a few weeks before the first anniversary of Prince's death, his estate obtained an injunction against audio engineer and Prince's former collaborator George Ian Boxill, blocking the unauthorized release of a new six-song EP entitled Deliverance, credited to the singer.[257]   The estate claimed that Boxill unlawfully held onto recordings made between 2006 and 2008 and that he does not have the authorization to release them.  Specifically, the estate points to a confidentiality agreement that Boxill signed with Prince which states that the pair's recordings "would remain Prince's sole and exclusive property" and that Boxill "would not use any recordings or property in any way whatsoever."[258] 
c.     Andy Warhol Foundation v. Lynn Goldsmith
The estate of pop artist Andy Warhol preemptively brought suit in New York federal court seeking declaratory judgment against photographer Lynn Goldsmith over certain artworks featuring Prince's image "to protect the works and legacy of Andy Warhol."[259]  The complaint came after Goldsmith asserted that Warhol violated the copyright of her photographs of Prince, taken in 1981 for a Vanity Fair article, when they were used to make Warhol's screen prints.[260]  The Warhol Foundation alleged that the works in Warhol's "Prince" series do not infringe upon Goldsmith's copyright in the photograph and are in fact "transformative or are otherwise protected fair use."[261]  The complaint goes into great detail to distinguish Goldsmith's photo and Warhol's prints, pointing to changes in color, depth, cropping, and more.  The Warhol Foundation further argues that Goldsmith's claims are barred by the three-year statute of limitations of the Copyright Act.  Goldsmith responded in a Facebook post to the lawsuit by arguing that she only learned of the Warhol series' existence following Prince's death last year.[262]  In June 2017, Goldsmith filed her answer and counterclaims asserting infringement related to a May 2016 special Prince tribute magazine, alleging the lack of transformative nature through the following comparison between the image used for the magazine cover and the original image:[263]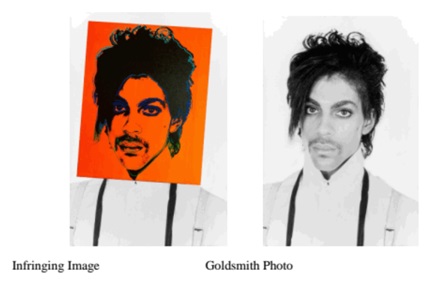 New technology streaming services like Spotify, Pandora, and SiriusXM have recently faced multiple royalty disputes from songwriters and artists for allegedly failing to obtain proper licenses and/or pay complete royalty payments.  For instance, in May 2017, Spotify agreed to a $43 million settlement in a class action lawsuit brought by singer-songwriter Melissa Ferrick, who alleged that the streaming service Spotify infringed upon thousands of songwriters' copyrights rather than follow the proper procedures to obtain mechanical royalties.[264]  Specifically, Ferrick alleged that, as required for mechanical royalties under section 115 of the Copyright Act, Spotify did not file the formal "notice of intent" to obtain many licenses.  In a separate suit, last year, Spotify agreed to settle a suit from the National Music Publishers' Association for $30 million over unmatched and unpaid song royalties.[265] 
Mechanical royalties are currently of considerable interest to the industry because later this year, the Copyright Royalty Board—the panel of judges who describe the royalty rates paid to songwriters and music publishers for the sale of each musical composition to any streaming services—will decide the new mechanical royalty rates for 2018 to 2022.  The current mechanical rates are 9.1 cents for a sale, which is split by the music publisher and songwriter, and rates for streaming are fractions of a cent per play.  A hearing on the matter was held in March 2017, and the Copyright Royalty Board will issue its decision in December 2017.[266] 
Questions over the use and copying of older songs remained a hot-button issue in the aftermath of the 2015 "Blurred Lines" trial, where a jury awarded Marvin Gaye's family nearly $7.4 million after determining that singers Robin Thicke and Pharrell Williams had copied Gaye's music in creating their hit song.  This year, the plaintiffs in a different case were less successful in establishing copyright infringement when a New York district court held that the artist Drake's sample of a spoken word Jimmy Smith track constituted non-infringing fair use.[267] 
In 2014, the estate of jazz musician Jimmy Smith brought a copyright infringement suit against Drake over the spoken word sample that opens Drake's track "Pound Cake/Paris Morton Music 2" on his album Nothing Was the Same.[268]  The lawsuit alleged that Jimmy Smith's 1982 song "Jimmy Smith Rap" was so prominently sampled on Drake's track that it amounted to infringement.  In the original track, Smith says, "Jazz is the only real music that's gonna last.  All that other bull— is here today and gone tomorrow.  But jazz was, is, and always will be."  In Drake's version, the words are cut down to "[o]nly real music's gonna last.  All that other bull— is here today and gone tomorrow."
The court held that Drake's sample did not constitute copyright infringement.  When comparing the original against Drake's version, the court found that Smith's original was "an unequivocal statement on the primacy of jazz over all other forms of popular music" while Drake's version transforms it into a "statement that 'real music' with no qualifiers, is 'the only thing that's gonna last.'"[269]  Because the purpose of the "Pound Cake" track was "sharply different" from Smith's original message, it added something new and was thereby "transformative."[270]  On July 13, Smith's motion for reconsideration was denied.[271]  Notably, while the "Blurred Lines" case revolved around the musical composition underlying the song, the Drake case focused on the prose of only a spoken word sample and the meaning of that prose in both songs, providing a contrast between music that was allegedly copied, on the one hand, and a brief sample of actual lyrics, on the other hand.  (Disclosure: Gibson Dunn represents Apple Inc. in this matter.)
For years, entertainment litigators have seen estates of famous celebrities move aggressively to safeguard the legacy of the deceased.  Experience Hendrix, LLC, the estate for legendary guitarist Jimi Hendrix, has been particularly vocal in raising legal challenges to protect his reputation and brand, as evidenced by two recent cases.
In Experience Hendrix, LLC v. Tiger Paw Distributors, LLC, the Hendrix estate alleged that the liquor company Tiger Paw committed trademark infringement and disparagement, unfair competition, and other unlawful acts by using Hendrix's trademarks on an unauthorized promotion of Purple Haze Liqueur.[272]  As part of a settlement, the U.S. District Court for the Southern District of Georgia entered a permanent injunction against the defendants in January 2017, prohibiting them from using the names "Jimi Hendrix" and "Jimi," the initials "JH," and any of the Hendrix estate's trademarks that incorporate an image or likeness of Hendrix.[273]  The judgment, however, specified that Tiger Paw could nevertheless continue to sell spirits under titles that explicitly referenced several of Hendrix's songs, and may in fact reference Hendrix directly, as long as those references have a smaller type face and do not infer any endorsement by or affiliation with Hendrix's estate.
Separately, the California Court of Appeal also recently resolved a long-standing contract dispute over whether a film documenting Hendrix's February 1969 performances at the Royal Albert Hall in London would ever be released.  More than four decades after the performances, the Hendrix estate and film documentarian Gerald Goldstein formed a joint venture to distribute a film of the concert.  But the following year, the estate rescinded the deal, claiming that Goldstein breached it by unreasonably refusing to consent to Sony Pictures Entertainment's distribution offer.  As a result, the Hendrix estate sued Goldstein seeking $5 million in restitution.  Goldstein responded by arguing that he envisioned a wide release of at least 1,500 movie theaters for the film and did not want to take the Sony deal, which only offered a limited release of about a half-dozen screens and allegedly would result in minimal, if any, profits.
The Los Angeles Superior Court ruled in Goldstein's favor in October 2014, finding that "[w]hile it appears unlikely that he would have been able to attract sufficient financing to achieve the wide release he had envisioned, Goldstein was not given the opportunity to attempt to obtain third party financing."[274]  The lower court also ordered the Hendrix estate to pay more than $300,000 in attorneys' fees.  On appeal, in May 2017, the court of appeal rejected the estate's arguments and held that Goldstein was within his contractual rights when he rejected Sony Pictures' plans to distribute.[275]  The court affirmed the trial court's finding that Goldstein's longstanding vision for a wide release of the film may not have been a sound business decision, but was within his rights under the contractual terms.[276] 
So far, 2017 has seen a number of interesting developments in areas where social media and the internet intersect with speech and privacy rights.  One such development occurred in New York, where lawmakers are considering enacting a version of the European "Right to Be Forgotten" law, which raises a host of First Amendment considerations not implicated in Europe.
In May 2014, the European Court of Justice ruled that internet search engines must honor an individual's right to be forgotten and delete links that do not serve a compelling public interest and which harm privacy rights.[277]  Since then, European Union policymakers have approved a general data protection regulation ("GDPR"), which goes into effect in May 2018.  The GDPR will require internet providers to balance takedown requests against other competing interests and rights.[278]
One issue currently surrounding the European version of the law is its jurisdictional reach.  In France, the Commission Nationale de l'Informatique et des Libertés ("CNIL") has ordered Google to globally erase content subject to removal regardless of what country the request came from.[279]  Google maintains that it need only remove content from the European versions of its search engine, but government officials disagree, and similar fights would likely result from the New York law, which is styled to apply "regardless of whether such content also was or is published elsewhere."[280]
On February 8, 2017, New York State Assemblyman David I. Weprin introduced The Right to Be Forgotten Act.[281]  Bill A05323, as currently written, would amend the state's civil rights laws so that "[u]pon the request from an individual, all search engines, indexers, publishers and any other persons or entities that make available, on or through the internet . . . , information about the requester, shall remove information, articles, identifying information and other content about such individual . . . that is 'inaccurate', 'irrelevant', 'inadequate' or 'excessive' within thirty days of such request."[282]  The bill proceeds to collectively define "inaccurate," "irrelevant," "inadequate," or "excessive" as "content, which after a significant lapse in time from its first publication, is no longer material to current public debate or discourse, especially when considered in light of the financial, reputational and/or demonstrable other harm that the . . . content is causing to the requester's . . . interest."[283]  However, the bill excludes "content related to convicted felonies, legal matters relating to violence, or a matter that is of significant current public interest."[284]
In addition, the New York law does not appear to sufficiently account for First Amendment free-speech considerations or the need to preserve information that remains in the public's interest, calling into question the bill's constitutionality even before its enactment.[285]  In the United States, non-defamatory social media posts, news articles, and search engine histories are forms of protected speech under the First Amendment, and courts have repeatedly held that the freedom of speech extends to hateful and disagreeable speech.[286]  Therefore, were the law to be enacted, without clearer limitations, New York's Right to Be Forgotten Act is likely to face constitutional challenges.
Even putting aside such constitutional issues, experience with similar laws in Europe has shown that these laws have created uncertainty for internet companies.  And the proposed New York law is likely to raise similar issues.  In particular, critics have raised questions as to the  jurisdictional breadth of the proposed law and the burdens that it would place on the internet companies that would be forced to attempt to interpret and comply with it.  As written, the bill could result in fines of $250 per day against violators after a thirty-day grace period.[287]

---
[1] Cynthia Littleton, Sinclair Broadcast Group Sets $3.9 Billion Deal to Acquire Tribune Media, Variety, May 8, 2017, http://variety.com/2017/tv/news/sinclair-tribune-merger-station-group-1202416416/.
[2] Jenna Ebersole, DC Circuit Lifts Halt on FCC TV Ownership Shift, Law360, June 15, 2017, https://www.law360.com/articles/935104/dc-circuit-lifts-halt-on-fcc-tv-ownership-shift.
[3] Etan Vlessing, Ion Media Buys Three TV Stations, Bringing Total to 63, The Hollywood Rep., June 20, 2017, http://www.hollywoodreporter.com/news/ion-media-buys-three-tv-stations-bringing-total-63-1015058.
[4] Ebersole, supra note 2.
[5] Cynthia Littleton, Appeals Court Removes FCC Roadblock to Sinclair-Tribune Merger, Variety, June 15, 2017, http://variety.com/2017/tv/news/fcc-sinclair-tribune-uhf-discount-appeals-court-1202467351/.
[6] George Szalai, Fox's Sky Deal: Regulators Submit Reports, U.K. Government to Decide by June 29, The Hollywood Rep., June 20, 2017, http://www.hollywoodreporter.com/news/foxs-sky-deal-regulators-submit-reports-uk-government-1014630.
[7] Ivana Kottasova & Alanna Petroff, Murdoch's Fox-Sky Deal in Hands of U.K. Government, CNN Money, June 20, 2017, http://money.cnn.com/2017/06/20/media/sky-fox-deal-rupert-murdoch/index.html.
[8] Szalai, supra note 6.
[9] Jason Douglas & Stu Woo, Fox's Bid for Sky Set for More U.K. Scrutiny, Wall St. J., June 29, 2017, https://www.wsj.com/articles/foxs-bid-for-sky-set-for-more-u-k-scrutiny-1498735307.
[10] Id.
[11] Arjun Kharpal, Verizon Completes Its $4.48 Billion Acquisition of Yahoo; Marissa Meyer Leaves with $23 Million, CNBC, June 13, 2017, http://www.cnbc.com/2017/06/13/verizon-completes-yahoo-acquisition-marissa-mayer-resigns.html.
[12] Id.
[13] Id.
[14] Id.
[15] Ryan Knutson, et al., Verizon Doubles Down on Media with Yahoo Deal, Wall St. J., June 13, 2017, https://www.wsj.com/articles/verizon-doubles-down-on-media-with-yahoo-deal-1469465120.
[16] Kharpal, supra note 11.
[17] Lukas I. Alpert & Shalini Ramachandran, Vice Media Secures $450 Million Investment from Private-Equity Firm TPG, Wall St. J., June 19, 2017, https://www.wsj.com/articles/vice-media-secures-450-million-investment-from-private-equity-firm-tpg-1497882405.
[18] Id.
[19] David Lieberman, Vice Media Grips $450M Investment That CEO Says Raises Valuation to $5.7B, Deadline Hollywood, June 19, 2017, http://deadline.com/2017/06/vice-media-grips-450m-investment-ceo-says-raises-valuation-1202115714/.
[20] Id.
[21] Shalini Ramachandran & Georgia Wells, Time Warner Signs $100 Million Deal With Snap for Shows and Ads, Wall St. J., June 19, 2017, https://www.wsj.com/articles/time-warner-signs-100-million-deal-with-snap-for-shows-and-ads-1497885737.
[22] Shalini Ramachandran, Media Companies Line Up to Make Shows for Snap TV, Wall St. J., May 4, 2017, https://www.wsj.com/articles/media-companies-line-up-to-make-shows-for-snap-tv-1493890205.
[23] Id.
[24] Ramachandran & Wells, supra note 21.
[25] Variety Staff, SiriusXM Sets $480 Million Investment in Pandora, Variety, June 9, 2017, http://variety.com/2017/music/news/siriusxm-480-million-investment-pandora-1202459872/.
[26] Benjamin Horney, 4 Firms Assist On SiriusXM's $480M Investment In Pandora, Law360, June 9, 2017, https://www.law360.com/articles/933029/4-firms-assist-on-siriusxm-s-480m-investment-in-pandora.
[27] Id.; see also Chelsea Naso, Pandora Inks $450M Deal For Event Ticketing Service, Law360, Oct. 7, 2015, https://www.law360.com/articles/711861/pandora-inks-450m-deal-for-event-ticketing-service.
[28]    Brian Heater, Pandora CEO Tim Westergren is Officially Out Amid Company Shakeup, TechCruch, June 27, 2017, https://techcrunch.com/2017/06/27/pandora-ceo-tim-westergren-is-officially-amid-company-shakeup/.
[29] Nick Kostov & Corrie Driebusch, Cable Operator Delivers Biggest U.S. Telecom IPO in 17 Years, Wall St. J., June 21, 2017, https://www.wsj.com/articles/altice-usa-a-mashup-of-telecoms-set-to-be-one-of-the-biggest-ipos-of-the-year-1498053660.
[30] Id.
[31] Alex Barinka & Gerry Smith, Altice USA CEO Goei Thinks Ahead to M&A on First Day of Trading, Bloomberg Tech., June 21, 2017, https://www.bloomberg.com/news/articles/2017-06-21/altice-usa-raises-1-9-billion-in-year-s-second-biggest-u-s-ipo.
[32] Lauren Hirsch & Liana B. Baker, Cable Operator Altice USA Raises $1.9 bln in IPO, Reuters, June 21, 2017, available at http://www.cnbc.com/2017/06/21/reuters-america-update-1-cable-operator-altice-usa-raises-19-bln-in-ipo.html.
[33] Id.
[34] Sruthi Shankar & Laharee Chatterjee, WideOpenWest Shares Fail to Wow in Debut, Reuters, May 25, 2017, http://www.reuters.com/article/us-wideopenwest-ipo-idUSKBN18L1YT.
[35] Ryan Faughnder & David Pierson, The $1-billion deal to sell Dick Clark Productions to China's Wand Group is dead, L.A. Times, March 10, 2017, http://www.latimes.com/business/hollywood/la-fi-ct-wanda-dick-clark-deal-20170309-story.html.
[36] Id.
[37] Sherisse Pham, Dick Clark Productions owner pulls the plug on $1 billion sale to China's Wanda Group, CNN Money, March 13, 2017, http://money.cnn.com/2017/03/13/news/companies/dalian-wanda-dick-clark-deal-dead/index.html.
[38] David Lieberman, Dick Clark Productions Owner Scraps $1B Sale to Wanda Group, Deadline, March 10, 2017, http://deadline.com/2017/03/dick-clark-productions-owner-scraps-sale-wanda-group-1202040693/.
[39] Id.
[40] Brent Lang & Gene Maddaus, After Dick Clark Productions Deal Fails to Close, What's Next for Dalain Wanda, Variety, March 14, 2017, http://variety.com/2017/film/news/wanda-dick-clark-productions-deal-failure-hollywood-1202007964/.
[41] Patrick Brzeski, Crisis Grows at China's LeEco After Courts Freeze Chairman's Millions, The Hollywood Rep., July 4, 2017, http://www.hollywoodreporter.com/news/crisis-grows-at-chinas-leeco-courts-freeze-chairmans-millions-1018664.
[42] Eriq Gardner, Vizio Files Fraud Lawsuit Against China's LeEco After $2 Billion Merger Fails, The Hollywood Rep., July 11, 2017, http://www.hollywoodreporter.com/thr-esq/vizio-files-fraud-lawsuit-chinas-leeco-2-billion-merger-fails-1020120.
[43] Id.
[44] Id.
[45] Gene Maddaus, Chinese Metals Firm in Busted Voltage Deal Says It Can't Be Sued in U.S. Court, Variety, June 2, 2017, http://variety.com/2017/biz/news/anhui-xinke-new-materials-voltage-china-lawsuit-1202452301/.
[46] Patrick Brzeki, Wanda Boards Paramount's 'Transformer 5' as Marketing Partner in China, The Hollywood Rep., June 19, 2017, http://www.hollywoodreporter.com/news/wanda-boards-paramounts-transformers-5-as-marketing-partner-china-1014635.
[47] Mila Galuppo, Blumhouse Inks Multiyear Co-Financing Deal with China's Meridian, The Hollywood Rep., Apr. 25, 2017, http://www.hollywoodreporter.com/news/blumhouse-inks-multiyear-financing-deal-chinas-meridian-997293.
[48] Rebecca Sun, CAA and China's Bona Film Group Establish $150 Million Film Fund, The Hollywood Rep., May 25, 2017, http://www.hollywoodreporter.com/news/caa-chinas-bona-film-group-establish-150-million-film-fund-1007809.
[49] Id.
[50] Patrick Frater, Paramount's Billion-Dollar Deal With Chinese Partners Hits Major Snag, Variety, March 8, 2017, http://variety.com/2017/film/asia/paramount-slate-deal-chinese-partners-hits-road-bump-1202003483/.
[51] Id.
[52] George Szalai, Paramount's China Partners Now Financing 30 Percent of Slate, The Hollywood Rep. May 4, 2017, http://www.hollywoodreporter.com/news/viacom-paramounts-china-deal-is-operation-partners-financing-30-percent-slate-1000160.
[53] Rebecca Sun & Patrick Brzeski, CAA's New China Frontier; Strong Investor Now, Possible IPO Later?, The Hollywood Rep., Apr. 26, 2017, http://www.hollywoodreporter.com/news/caas-new-china-frontier-strong-investor-ipo-997497.
[54] Patrick Brzeski, Cannes: UTA, Tan Media Partners Tem on China Distribution Fund,  The Hollywood Rep., May 21, 2017, http://www.hollywoodreporter.com/news/cannes-uta-tang-media-partners-team-china-distribution-fund-1005959.
[55] Patrick Brzeski, Netflix Signs Licensing Deal with China's iQiyi, The Hollywood Rep., Apr. 24, 2017, http://www.hollywoodreporter.com/news/netflix-signs-licensing-deal-chinas-iqiyi-997071.
[56] Patrick Frater, Netflix to Debut in China Via Original Content Licensing Deal with iQIYI, The Hollywood Rep., Apr. 24, 2017, http://variety.com/2017/digital/asia/netflix-strikes-streaming-deal-with-china-iqiyi-1202394504/.
[57] Brzeski, supra note 54.
[58] Id.
[59] Id.
[60] Frater, supra note 56.
[61] Patrick Frater, Global Streaming Giant Netflix Plays Catch-Up in Asia, The Hollywood Rep., Apr. 27, 2017, http://variety.com/2017/digital/asia/netflix-plays-catch-up-in-asia-1202401071/.
[62] Id.
[63] Id.; Abhishek Madhavan, How Netflix Lost Big to Amazon in India, Wired, Jan. 12, 2017, https://www.wired.com/2017/01/how-netflix-lost-big-to-amazon-in-india/.
[64] Elsa Keslassy, Patrick Drahi's Telco Group Altice Inks Multi-Year Deal with Netflix, Variety, June 12, 2017, http://variety.com/2017/digital/global/patrick-drahis-telco-group-altice-inks-multi-year-deal-with-netflix-1202462301/; see also Section I.A.7, supra.
[65] Todd Spangler, Netflix to Raise $1.1 Billion in New Debt From Non-U.S. Lenders, Variety, Apr. 24, 2017, http://variety.com/2017/digital/news/netflix-1-billion-debt-non-us-content-expansion-1202393530/.
[66] Todd Spangler, Netflix Ups Size of Latest Debt Offering to $1.4 Billion to Fund Content Deals, Variety, Apr. 26, 2017, http://variety.com/2017/digital/news/netflix-debt-offering-1-4-billion-1202399657/.
[67] Todd Spangler, Netflix Streams More Debt as Investors Wait to See Payoff, Variety, May 4, 2017, http://variety.com/2017/biz/news/netflix-more-debt-1202408166/.
[68] Id.
[69] Georg Szalai, Amazon Channels Launches in U.K. With Discovery, NBCU, ITV Content, The Hollywood Rep., May 23, 2017, http://www.hollywoodreporter.com/news/amazon-channels-launches-uk-discovery-nbcu-itv-content-1006625.
[70] Stewart Clarke, Amazon Launches Channels in U.K. and Germany with Discovery, ITV, NBCU, RTL, Variety May 23, 2017, http://variety.com/2017/tv/global/amazon-channels-in-uk-and-germany-discovery-itv-nbcu-rtl-tele-munchen-mgm-bfi-hopster-1202441171/.
[71] Trefis Team, Here's How Amazon Is Expanding Prime Video In India, Forbes, March 20, 2017, https://www.forbes.com/sites/greatspeculations/2017/03/20/heres-how-amazon-is-expanding-prime-video-in-india/#74c6c8fe2ece.
[72] Naman Ramachandran, Amazon Prepares to Launch Prime Video in India, Variety, December 13, 2016, http://variety.com/2016/digital/asia/amazon-prepares-launch-prime-video-india-1201940612/.
[73] Nyay Bhushan, Paramount, Amazon India Strike Licensing Deal, The Hollywood Rep., Apr. 10, 2017, http://www.hollywoodreporter.com/news/paramount-amazon-india-strike-licensing-deal-992360.
[75] Nyay Bhushan, Amazon India, Warner Bros. Ink Licensing Deal, The Hollywood Rep., June 5, 2017, http://www.hollywoodreporter.com/news/amazon-india-warner-ink-licensing-deal-1010113.
[76] Todd Spangler, Hulu Live TV Service Launches With 50 Channels for $40 Monthly, Variety, May 3, 2017, http://variety.com/2017/digital/news/hulu-live-tv-service-launch-channels-1202407778/; Daniel Holloway, Hulu Sets Live TV Carriage Pact for NBCUniversal Channels, Variety, May 1, 2017, http://variety.com/2017/tv/news/hulu-nbcuniversal-carriage-pact-1202404615/.
[77] Spangler, supra note 76.
[78] Id.
[79] Id.  
[80] Andrew Wallenstein Hulu Offers HBO, Cinemax as Subscription Add-Ons, Variety, July 6, 2017,  http://variety.com/2017/tv/news/hulu-offers-hbo-cinemax-as-subscription-add-ons-1202488341/
[81] Id.  
[82] Id.
[83] Michael O'Connell, Hulu Chief Says Library Acquisitions, Like 'Golden Girls,' Still a Key to Streamer's Strategy, The Hollywood Rep., Jan. 17, 2017, http://www.hollywoodreporter.com/live-feed/hulu-chief-says-library-acquisitions-like-golden-girls-still-key-965005.
[84] Nick Vivarelli, iflix Looks to Take On Netflix in Emerging Markets, Variety, May 30, 2017, http://variety.com/2017/digital/news/iflix-middle-east-chief-nader-sobhan-netflix-emerging-markets-1202447431/.
[85] Todd Spangler, Netflix CEO Reed Hastings on Amazon: 'They're Awfully Scary', Variety, May 31, 2017, http://variety.com/2017/digital/news/netflix-reed-hastings-amazon-awfully-scary-1202448694.
[86] Zachary Zagger, Amazon Grabs NFL Thursday Streaming Rights In $50M Deal, Law360, Apr. 5, 2017, https://www.law360.com/media/articles/910148/amazon-grabs-nfl-thursday-streaming-rights-in-50m-deal.
[87] Id.
[88] Cynthia Littleton, Amazon Nabs Streaming Rights to NFL's 'Thursday Night Football' Games, Variety, Apr. 4, 2017, http://variety.com/2017/biz/news/amazon-streaming-nfl-thursday-night-football-deal-1202023105/.
[89] Zachary Zagger, Hulu, Twitter Add Live Sports Options In Cord-Cutting Trend, Law360, May 3, 2017, https://www.law360.com/media/articles/920063/hulu-twitter-add-live-sports-options-in-cord-cutting-trend.
[90] Todd Spangler, Twitter Pushes Live-Video Deals With MLB, NFL, Viacom, BuzzFeed, Live Nation, WNBA and More, Variety, May 1, 2017, http://variety.com/2017/digital/news/twitter-pushes-live-video-deals-with-mlb-buzzfeed-live-nation-wnba-and-others-1202405236/.
[91] Id.
[92] Id.
[93] Peter Warman, eSports Revenues Will Reach $696 Million This Year and Grow to $1.5 Billion by 2020 As Brand Investment Doubles, NewZoo, Feb 14, 2017, https://newzoo.com/insights/articles/esports-revenues-will-reach-696-million-in-2017/.
[94] Evolution of the NA LCS, Esports, June 1, 2017, http://www.lolesports.com/en_US/articles/evolution-of-the-na-lcs.
[95] Id.
[96] AEG Announces Investment in Leading eSports Franchise Immortals, Business Wire, June 20, 2017, http://www.businesswire.com/news/home/20170620005597/en/AEG-Announces-Investment-Leading-Esports-Franchise-Immortals.
[97] Id.
[98] Id.
[99] Jacob Wolf, NBA Announces 17 Teams Will Participate in NBA 2K League, ESPN, May 4, 2017, http://www.espn.com/esports/story/_/id/19305330/nba-announces-17-teams-participate-nba-2k-esports-league.
[100] Id.
[101] Id.
[102] Dave McNary, Writers Guild Strike Averted Without Fanfare, Variety, May 2, 2017, http://variety.com/2017/film/news/writers-guild-strike-averted-1202406222/.
[103] Id.
[104] Id.
[105] David Robb & Erik Pedersen, DEAL! SAG-AFTRA & Producers Reach Tentative Agreement on New Film & TV Contracts; Read The Terms, Deadline, July 4, 2017, http://deadline.com/2017/07/screen-actors-guild-strike-averted-tentative-deal-film-tv-contract-sag-amptp-1202123068/; Jonathan Handel, SAG-AFTRA Reaches Deal with NPR, Strike Averted, The Hollywood Rep., July 16, 2017, http://www.hollywoodreporter.com/news/sag-aftra-reaches-deal-npr-strike-averted-1021565.
[106] Hacker Releases New Episodes of "Orange Is The New Black," The Hollywood Rep., Apr. 28, 2017, http://www.hollywoodreporter.com/news/hacker-threatens-release-new-episodes-orange-is-new-black-998670;  Abid Rahman, Hacker Leaks Episodes of Steve Harvey's ABC Game Show, 'Funderdome,' The Hollywood Rep., June 7, 2017, http://www.hollywoodreporter.com/news/hacker-leaks-episodes-steve-harveys-abc-game-show-funderdome-1010101.
[107] Tatiana Siegel, Netflix, ABC Hacker Promises More Leaks: 'Hollywood Is Under Attack,' The Hollywood Rep., June 6, 2017, http://www.hollywoodreporter.com/news/netflix-abc-hacker-promises-more-leaks-hollywood-is-under-attack-1010789.
[108]   Janko Roettgers, 'Orange Is the New Black' Leak Shows: Hollywood Cybersecurity Lives and Dies With Third-Party Vendors, Variety, Apr. 29, 2017, http://variety.com/2017/digital/news/oitnb-leak-hack-hollywood-security-1202403886/.
[109]   Star Athletica, L.L.C. v. Varsity Brands, Inc., 580 U.S. ___, *1 (2017) ("Op.").
[110]   Id. at *2.
[111]  17 U.S.C. § 101.
[112]   Id.
[113]   Id. (citing 17 U.S.C. § 101). 
[114]   Id.
[115]   Id. at *4.
[116]   Id.
[117]   Id. at *1-*2.
[118]   Id. at *12-*15.
[119]   Id. at *15.
[120]   Id. at *17.
[121] Id. at *12.
[122]   Id. at *9 (Stevens, J., dissenting).
[123]  Steff Yotka, What the Supreme Court's First Ruling on Fashion Copyrights Means for the Runway, Vogue, March 23, 2017, http://www.vogue.com/article/supreme-court-star-athletica-varsity-brands-ruling-fashion-industry ("Designers have relied mostly on trademarks to protect themselves, but now they can argue that more conceptual, less obvious aspects of their designs should be protected by copyright too…You can expect to see designers relying on copyright law more often to challenge what they perceive to be knock-offs.").
[124]   Order Granting Plaintiffs' Motion for Preliminary Injunction, Disney Enterprises, Inc. et al v. VidAngel Inc., Case No. 2:16-cv-04109 – AB (PLAx) at *1-*2 (C.D. Cal. Dec. 12, 2016).
[125]   Id. at *7.
[126]   Id.
[127]   Id. at *7-*8.
[128]   Id. at *13-*14 ("VidAngel's service does not add anything to plaintiff's works. It simply omits portions that viewers find objectionable.").
[129] Ashley Cullins, VidAngel Found in Contempt for Delay in Removing Disputed Films, The Hollywood Rep., Jan. 6, 2017, http://www.hollywoodreporter.com/thr-esq/vidangel-found-contempt-delay-removing-disputed-films-961609.
[130]   Bill Donahue, 9th Circ. Rejects VidAngel's Emergency Stay Bid, Law360, Jan. 5, 2017, https://www.law360.com/articles/877896.
[131]   Eriq Gardner, Hollywood Studios are Suspicious of VidAngel's New Filtering App, The Hollywood Rep., June 21, 2017, http://www.hollywoodreporter.com/thr-esq/hollywood-studios-are-suspicious-vidangels-new-filtering-app-1015521.  
[132] Ashley Cullins, Hollywood Studios Rip VidAngel's New Service in Filtering Fight, The Hollywood Rep., July 3, 2017, http://www.hollywoodreporter.com/thr-esq/hollywood-studios-rip-vidangels-new-service-filtering-fight-1018550.
[133]   Eriq Gardner, Disney Hit With Lawsuit Claiming 'Zootopia' Ripped Off 'Total Recall' Writer, The Hollywood Rep., Mar. 21, 2017, http://www.hollywoodreporter.com/thr-esq/disney-hit-lawsuit-claiming-zootopia-ripped-total-recall-writer-987660.
[134]   Complaint, Esplanade Prods., Inc. v. The Walt Disney Company et al.,  Case No. 2:17-cv-02185 at *1-2, *11-13. (C.D. Cal. Mar. 21, 2017).
[135]   Id. at *13.
[136] Eriq Gardner, Disney Wins Dismissal of 'Zootopia' Copyright Lawsuit (For Now), The Hollywood Rep., July 11, 2017, http://www.hollywoodreporter.com/thr-esq/disney-wins-dismissal-zootopia-copyright-lawsuit-1020026.
[137] Eriq Gardner, Appeals Court Rules TV Streamers Don't Get Compulsory License to Broadcast Networks, The Hollywood Rep., Mar. 21, 2017, http://www.hollywoodreporter.com/thr-esq/appeals-court-rules-tv-streamers-dont-get-compulsory-license-broadcast-networks-987614.  
[138] Opinion, Fox Television Stations Inc. et al. v. Aereokiller LLC et al., Case No. 15-56420 at *25 (9th Cir. Mar. 21, 2017).
[139] Id. ("The Copyright Office says they are not eligible. Because the Office's views are persuasive, and because they are reasonable, we defer to them.").
[140] Eriq Gardner, Broadcasters Settle Copyright Dispute With FilmOn, The Hollywood Rep., May 15, 2017, http://www.hollywoodreporter.com/thr-esq/broadcasters-settle-copyright-dispute-filmon-1003980. 
[141] Id.
[142] Kirtsaeng v. John Wiley & Sons, Inc., 136 S.Ct. 1979 (2016). 
[143] Ashley Cullins, Led Zeppelin Asks Appeals Court to Award Fees for "Stairway" Trial Win, The Hollywood Rep., June 7, 2017, http://www.hollywoodreporter.com/thr-esq/led-zeppelin-asks-appeals-court-award-fees-stairway-trial-win-1011116.
[144] Order re: Defendants' Motion for Attorney's Fees and Costs, Michael Skidmore v. Led Zeppelin et al,  Case No. CV 15-03462 RGK (AGRx) at *2-*5 (C.D. Cal. Aug. 8, 2016).
[145] Combined Answering and Opening Brief, Michael Skidmore v. Led Zeppelin et al., Case Nos. 16-56057 & 16-56287 (9th Cir. June 2, 2017), at *82-*89 ("The District Court — without considering whether its ruling furthered the purposes of the Copyright Act — identified the following Fogerty factors: '(1) "the degree of success obtained on the claim"; (2) "frivolousness"; (3) "motivation"; (4) "objective reasonableness of factual and legal arguments"; and (5) "need for compensation and deterrence."').
[146] TCA Television Corp. et al v. McCollum et al, Report and Recommendation, Case No. 15 Civ. 4325 (GBD) (JCF) at *24 (S.D.N.Y. June 5, 2017).
[147] Id. 
[148] Objections to Report and Recommendation, TCA Television Corp. et al v. McCollum et al,  Case No. 15 Civ. 4325 (GBD) (JCF) at *5-*6 (S.D.N.Y. Jun. 19, 2017).
[149] Id. at *6.
[150] 582 U.S. ___, Slip Op. No. 15-1293, at *1, *3, *6 (Jun. 19, 2017).
[151] Id. at *5-*6 (citing 15 U.S.C. § 1052(a)).
[152] Id. at *6 (quoting Trademark Manual of Examining Procedure § 1203.03(b)(i) (Apr. 2017), p. 1200-150, available at http://tmep.uspto.gov).
[153] Id. at *7; In re Tam, 808 F.3d 1321, 1331 n.2 (CA Fed. 2015) (en banc).
[154] Tam, Slip Op. No. 15-1293, at *7.
[155] Id.
[156] In re Tam, 808 F.3d at 1321-32, 1334-39.
[157] Tam, Slip Op. No. 15-1293, at *18-*19.
[158] Id. at *20-*23.
[159] Id. at *24.
[160] Id. at *1-*8 (Kennedy, J., concurring).
[161] See id. at *1 (Thomas, J., concurring).
[162] Blackhorse v. Pro-Football, Inc., Cancellation No. 92046185 at 81 (T.T.A.B. 2014); Josh Gerstein, Feds Give Up Fight Against Redskins Trademarks, Politico, June 28, 2017, http://www.politico.com/blogs/under-the-radar/2017/06/28/washington-redskins-trademarks-240066.
[163] Viacom Int'l Inc. v. IJR Capital Invs., LLC, — F.Supp.3d —, 2017 WL 1037294 (S.D. Tx. 2017).
[164] Id. at *1-*2.
[165] Id. at *2.
[166] Id. at *3-*4.
[167] Id. at *3.
[168] Id. (internal quotations omitted).
[169] Id. at *4.
[170] Id.
[171] Id. at *5.
[172] Id. at *5-*6.
[173] Id. at *8.  However, Viacom's motion for summary judgement on its dilution claim was denied because "IJR has not used the mark in commerce, and the alleged threats of future dilution are speculative."  Id.
[174] Final Judgment, Viacom Int'l Inc. v. IJR Capital Invs., LLC, No. 4:16-CV-00257 (S.D. Tx. Apr. 11, 2017), ECF at No. 49.
[175] Notice of Appeal, Viacom Int'l Inc. v. IJR Capital Invs., LLC, No. 4:16-CV-00257 (S.D. Tx. May 9, 2017), ECF at No. 53.
[176] Elliott v. Google, Inc., — F.3d —-, 2017 WL 2655528 (9th Cir. 2017) (original opinion amended on June 14, 2017).
[177] Id. at *1 (quoting 15 U.S.C. § 1064(3)).
[178] Id. at *2.
[179] Id. at *3.
[180] Id. at *4-*5.
[181] Id. at *5, *9.
[182] In re Beds & Bars Ltd., No. 85597669, at *1-*3 (T.T.A.B., May 5, 2017).
[183] Id. at *13.
[184] Id. at *4.
[185] Id. at *4.
[186] Id. at *9.
[187] Id. at *8.
[188] Id. at *11.
[189] Id.
[190] Gerlich v. Leath, — F.3d —, 2017 WL 2543363, at *1, *7 (8th Cir. 2017).  ISU also failed to "argue that [its] administration of the trademark licensing program was narrowly tailored to satisfy a compelling government interest."  Id. at *7.
[191] Id. at *9.
[192] Id. at *1.
[193] Id.
[194] Id.
[195] Id.
[196] Id.
[197] Id. at *2, *6.
[198] Id. at *3-*5.
[199] Id. at *4.
[200] Id.
[201] Id.
[202] Id. at *5-*6.  "NORML ISU's use of the cannabis leaf does not violate ISU's trademark policies because the organization advocates for reform to marijuana laws, not the illegal use of marijuana."  Id. at *9.
[203] See Bill Donahue, 8th Cir. Again Says Pot TM Ban Violated First Amendment, Law360, June 13, 2017, https://www.law360.com/articles/934127/8th-circ-again-says-pot-tm-ban-violated-first-amendment.
[204] Cal. Civ. Code §1798.83.5 (2016).
[205] Jonathan Handel. "New California IMDB Age Law Probably Unconstitutional, Experts Say," The Hollywood Rep.,  Sept. 27, 2016, http://www.hollywoodreporter.com/thr-esq/new-california-imdb-age-law-932808.
[206] Id.
[207] "Submission Guides: Biographical Information," IMDB, (last visited June 25, 2017) available at http://www.imdb.com/help/search?domain=helpdesk_faq&index=2&file=bio_all_guides&ref_=hlp_sr_2#birthdeath
[208] Handel, supra note 205.
[209] IMDB.COM, Inc. v. Becerra. No. 16-cv-06535-VC, 2017 WL 772346 at *2 (N.D.Cal. Feb. 22, 2017).
[210] Id. at *1.
[211] Id.
[212] Id.
[213] Id.
[214] IMDB.COM, Inc. v. Becerra, No. 16-cv-06535-VC, 2017 WL 2859063, at 1 (N.D.Cal. June 27, 2017).
[215] Id. at *3.
[216] Id.
[217] Id.
[218] Vir. Citizens Def. League v. Couric. No. 3:16-cv-00757-JAG 2017 WL 2364198 at *1 (May 31, 2017).
[219] Id. at *2.
[220] Id. at *3.
[221] Id. at *4.
[222] Id.
[223] Id. at *3.
[224] Id.
[225] Id. at *5.
[226] Id.
[227] Complaint, Fridman. v. Buzzfeed., Inc., No. 154895/2017 (N.Y. Sup. Ct. N.Y. Cty. 2017).
[228] Paul Colgan. "BuzzFeed CEO Jonah Peretti says Lawsuit Over Trump Dossier is an 'Outrageous Attempt' to Silence Media" Business Insider, May 30, 2017, http://www.businessinsider.com/buzzfeed-ceo-says-trump-dossier-lawsuit-is-an-attempt-to-silence-media-2017-5.
[229] Peter Kafka, After Being Sued, BuzzFeed has Apologies to a Russian Executive Named in the Unverified Trump Dossier, Recode, Feb. 3, 2017, https://www.recode.net/2017/2/3/14505574/buzzfeed-russian-trump-dossier-defamation-suit-apology.
[230] Complaint for Damages, Gubarev v. Buzzfeed, Inc., No. 0:17-cv-60426-UU (S.D.Fla. Feb. 3, 2017).
[231] Kafka, supra note 229.
[232] Murray Energy Corp. v. Reorg Research, Inc., 47 N.Y.S.3d 871 (N.Y. Cty. 2017).
[233] N.Y. Civ. Rights L. §79-h (1970).
[234] 47 N.Y.S.3d at 881-82.
[235] Id. at 879.
[236] Id.
[237] Id. at 879-82.
[238] Murray Energy Corp. v. Reorg Research, Inc., 2017 WL 2977781 at *1 (July, 13 2017).
[239] Id.
[240] Id.
[241] Id.
[242] Id. at *2.
[243] Sebert v. Gottwald, No. BC560468 (L.A. Super. Ct. Oct. 10, 2014).
[244] Gottwald v. Sebert, No. 653118/2014, Dkt. 1 (N.Y. Sup. Ct. Oct. 14, 2014).
[245] Gottwald v. Sebert, No. 653118/2014, Dkt. 252 at 13 (N.Y. Sup. Ct. July 7, 2015).
[246] Gottwald v. Sebert, No. 653118/2014, Dkt. 496 (N.Y. Sup. Ct. Feb. 9, 2016).
[247] Gottwald v. Sebert, No. 653118/2014, Dkt. 626-630 (N.Y. Sup. Ct. Jan. 30, 2017).
[248] Gottwald v. Sebert, No. 653118/2014, Dkt. 621-625 (N.Y. Sup. Ct. Jan. 30, 2017).
[249] Gottwald v. Sebert, No. 653118/2014, Dkt. 808 at 10 (N.Y. Sup. Ct. Mar. 21, 2017).
[250] Id. at 9.
[251] Id. at 9-11.
[252] Gottwald v. Sebert, No. 653118/2014, Dkt. 828-832 (N.Y. Sup. Ct. Apr. 21, 2017).
[253] Ben Sisario, Prince's Post-1995 Albums and Music From His Vault Will Be Released by Universal, The New York Times, Feb. 9, 2017, https://www.nytimes.com/2017/02/09/arts/music/prince-estate-universal-music-group-vault.html.
[254] Jem Aswad, Universal May Try to Nullify Recorded-Music Deal With Prince Estate, Variety, Apr. 14, 2017, http://variety.com/2017/music/news/prince-recorded-music-universal-music-group-warner-bros-records-1202031182/.
[255] Jem Aswad, It's Official: Prince's Estate Manager and Universal Music Group Move to Nullify Recorded-Music Deal, Variety, May 19, 2017, http://variety.com/2017/music/news/prince-recorded-music-universal-music-group-warner-bros-records-1202031182/.
[256] Jem Aswad, Universal's Move to Nullify $31 Million Prince Deal Approved by Judge, Variety, July 13, 2017, http://variety.com/2017/music/news/universals-move-to-nullify-31-million-prince-deal-approved-by-judge-1202495369/.
[257] Paisley Park Enterprises, Inc. v. Boxill, No. 0:17-cv-01212, Dkt. 18-2 (D. Minn. Apr. 19, 2017).
[258] Id. at 1.
[259] Andy Warhol Foundation for the Visual Arts, Inc. v. Goldsmith, No. 1:17-cv-02532, Dkt. 6 at 1 (S.D.N.Y. Apr. 7, 2017).
[260] Id. at 2.
[261] Id.
[262] Lynn Goldsmith, Facebook (Apr. 9, 2017), https://www.facebook.com/lynn.goldsmith/posts/10155098104516758.
[263] Andy Warhol Foundation for the Visual Arts, Inc. v. Goldsmith, No. 1:17-cv-02532, Dkt. 20 (S.D.N.Y. July 10, 2017).
[264] Ferrick v. Spotify USA Inc., No. 1:16-cv-08412-AJN, at Dkt. 165 (S.D.N.Y. May 26, 2017).
[265] Ed Christman, Spotify and Publishing Group Reach $30 Million Settlement Agreement Over Unpaid Royalties, Billboard, Mar. 17, 2016, http://www.billboard.com/articles/business/7263747/spotify-nmpa-publishing-30-million-settlement-unpaid-royalties.
[266] Emmanuel Legrand, US Copyright Royalty Board holds hearings on mechanical rates, Music Week, Mar. 8, 2017, http://www.musicweek.com/publishing/read/us-copyright-royalty-board-holds-hearings-on-mechanical-rates/067751.
[267] Estate of James Oscar Smith v. Cash Money Records, Inc., No. 1:14-cv-02703-WHP, Dkt. 135 at 21 (S.D.N.Y. May 30, 2017).
[268] Estate of James Oscar Smith v. Cash Money Records, Inc., No. 1:14-cv-02703-WHP, Dkt. 2 (S.D.N.Y. Apr. 16, 2014).
[269] Estate of James Oscar Smith v. Cash Money Records, Inc., No. 1:14-cv-02703-WHP, Dkt. 135 at 16 (S.D.N.Y. May 30, 2017).
[270] Id. at 17.
[271] Estate of James Oscar Smith v. Cash Money Records, Inc., No. 1:14-cv-02703-WHP, Dkt. 157 (S.D.N.Y. July 13, 2017).
[272] Experience Hendrix, LLC v. Tiger Paw Distributors, LLC, No. 4:16-cv-00107-JRH-GRS, Dkt. 1 (S.D. Ga. Feb. 29, 2016).
[273] Experience Hendrix, LLC v. Tiger Paw Distributors, LLC, No. 4:16-cv-00107-JRH-GRS, Dkt. 206 at 2-6 (S.D. Ga. Jan. 27, 2017); see also Kevin Penton, Jimi Hendrix Estate, Booze Co. Settle TM Row, Law360, Jan. 30, 2017, https://www.law360.com/articles/885939. 
[274] Experience Hendrix, LLC v. The Last Experience, Inc., No. BC460695 (L.A. Super. Ct. Aug. 5, 2015).
[275] Experience Hendrix, LLC v. The Last Experience, Inc., No. B268414 at 2 (Cal. Ct. App. May 8, 2017).
[276] Id. at 10.
[277] Allison Grande, NY's 'Right To Be Forgotten' Bill Needs Narrower Focus, Law360, Mar. 28, 2017, https://www.law360.com/articles/906491/ny-s-right-to-be-forgotten-bill-needs-narrower-focus.
[278] Id.
[279] See Shanti Salas, Conducting Due Diligence In A 'Right To Be Forgotten' Age, Law360, May 30, 2017, https://www.law360.com/articles/928932/conducting-due-diligence-in-a-right-to-be-forgotten-age.
[280] Grande, supra note 277; see also Bill A05323, available at http://nyassembly.gov/leg/?default_fld=&leg_video=&bn=A05323&term=&Summary=Y&Text=Y.
[281] Bill A05323.
[282] Id.
[283] Id.
[284] Id.
[285] See Grande, supra note 277.
[286] See, e.g., Matal v. Tam, 582 U.S. ___, Slip Op. No. 15-1293, at 25 (Jun. 19, 2017) (the First Amendment "protect[s] the freedom to express 'the thought[s] that we hate.'" (quoting United States v. Schwimmer, 279 U. S. 644, 655 (1929) (Holmes, J., dissenting))).
[287] See id.
---
The following Gibson Dunn lawyers assisted in the preparation of this client update: Ruth Fisher, Scott Edelman, Howard Hogan, Nathaniel Bach, Corey Singer, Sean O'Neill, Anthony Vita, Jerry Tower, Sara Ciccolari-Micaldi, Lauryn Togioka, DeDe Mann, and Joseph Ireland.
Gibson Dunn lawyers are available to assist in addressing any questions you may have regarding these developments.  Please contact the Gibson Dunn lawyer with whom you usually work, the authors, or the following leaders and members of the firm's Media, Entertainment & Technology Practice Group:
Scott A. Edelman – Co-Chair, Los Angeles (+1 310-557-8061, sedelman@gibsondunn.com)
Ruth E. Fisher – Co-Chair, Los Angeles (+1 310-557-8057, rfisher@gibsondunn.com)
Orin Snyder– Co-Chair, New York (+1 212-351-2400, osnyder@gibsondunn.com)
Howard S. Hogan – Washington, D.C. (+1 202-887-3640, hhogan@gibsondunn.com)
Ari Lanin – Los Angeles (+1 310-552-8581, alanin@gibsondunn.com)
Benyamin S. Ross – Los Angeles (+1 213-229-7048, bross@gibsondunn.com)
Helgi C. Walker – Washington, D.C. (+1 202-887-3599, hwalker@gibsondunn.com)
---
© 2017 Gibson, Dunn & Crutcher LLP
Attorney Advertising:  The enclosed materials have been prepared for general informational purposes only and are not intended as legal advice.